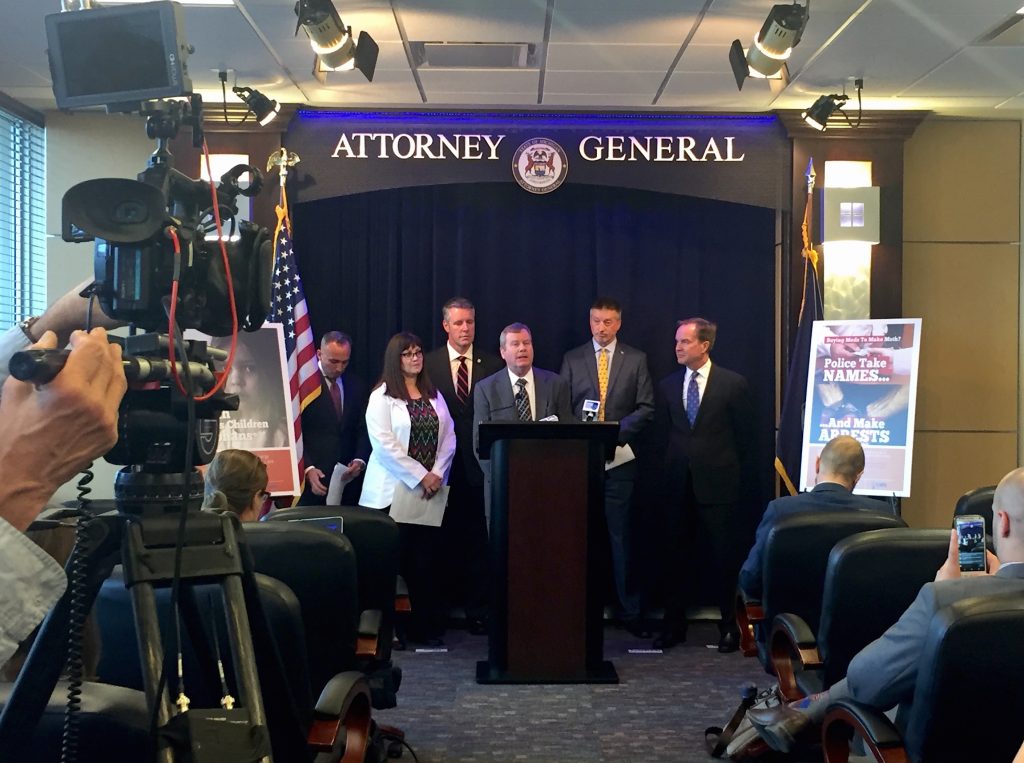 Michigan Supreme Court changes
The past two months have seen a number of changes to the makeup of the Michigan Supreme Court. Gov. Rick Snyder on Wednesday named Court of Appeals Judge Kurtis Wilder to the Michigan Supreme Court.
Wilder is a former chief judge of the Washtenaw County Circuit Court and previously worked at Foster, Swift, Collins & Smith in Lansing and Butzel Long in Detroit. He holds a bachelor's degree in political science and a law degree, both from the University of Michigan.
Snyder's appointment restores the court to a 5-2 majority of Republican nominees, following the April resignation of former Chief Justice Robert Young, Jr. Mr. Young resigned in order to return to private practice. There is some speculation that Mr. Young may run for the U.S. Senate in 2018.
Snyder is expected to make another appointment soon as another Snyder-appointed judge, Justice Joan Larsen, was nominated Monday by President Donald Trump to the U.S. 6th Circuit Court of Appeals. The 6th Circuit, based in Cincinnati, handles federal appeals from Michigan, Kentucky, Ohio and Tennessee. Justice Larsen had reportedly been on President Trump's short list for a potential nomination to the U.S. Supreme Court.
Budget update
The House and Senate have both passed their versions of the state FY 17-18 budget in the first week of May. For the last six years under Gov. Snyder budgets have traditionally been completed by early June, well before the state's October 1 deadline.
MRA has been following two budget items that are of particular interest to members related to the Medicaid dispensing fees and a possible low-income food assistance snack and beverage restriction waiver. As we reported on April 28, the low-income food assistance snack and beverage restriction waiver was defeated in the House version of the Department of Health and Human Services (DHHS) budget. The senate and governor never included the language in their version of the DHHS budget. [Read more]
Also in the DHHS budget is language detailing the professional dispensing fees for pharmacies that fill prescriptions for Medicaid patients. MRA has been engaged on this issue for members for over a year since a federal rule change required states to change their reimbursement formula. While the boilerplate language was not changed in either the House or Senate version of the DHHS budget, the two chambers disagreed on the amount of funding which means it will continue to be debated in a conference committee. MRA has submitted proposed boilerplate language to legislators and is working to have it included in the conference report.
Tax Tribunal improvement bill gets hearing
Legislation that seeks to improve the Michigan Tax Tribunal by increasing pay for judges and updating certain procedures received a hearing in the House Tax Policy Committee on May 3. While supporters of HB 4412 were careful not to criticize the current tribunal, much of the focus centered on the ability to attract better judges and to ensure all positions are filled. Currently, a judicial position for an accountant remains vacant in part due to the low pay, which is lower than staff positions supporting the tribunal judges, and limitations requiring judges to work in Lansing. The bill would improve salaries as well as overall training for tribunal staff.
While HB 4412 does not suggest any changes to the appeals process or procedures, supporters of changes that would make it more difficult for property owners to file an appeal advocated for those items to be included in the bill. The committee did not take a vote on the legislation and continues to review all the suggestions. MRA has been informed there is not support to include changes to the appeals procedure in HB 4412 but will continue to carefully monitor the bill.
MRA joins anti-smurfing effort
MRA participated in a press conference with Michigan Attorney General Bill Schuette, State Senator John Proos (R-St. Joseph), Tuscola County Prosecutor Mark Renee, and the Michigan Pharmacists Association on May 4 to raise awareness of a campaign designed to stop smurfing, the practice of purchasing products containing pseudoephedrine with the intent to make meth. The campaign, led by the Consumer Healthcare Products Association, will distribute posters and educational material to retailers and consumers.
MRA President and CEO Jim Hallan spoke at the press conference, "Retailers are on the front lines of the meth fight every day and we take very seriously our responsibility to the community. The posters and other collateral material will be a strong proactive way to discourage smurfing, while protecting the rights of law abiding cold and allergy sufferers in Michigan." 8,744 boxes of cold and allergy medicine were blocked from sale in 2016 after being flagged by the National Precursor Log Exchange (NPLEx) database.
Other important items to note:
GROCERY/CONVENIENCE
LABOR
Compensation questions: SB 353, introduced on May 2, would prohibit local governments from banning employers from asking questions related to previous/current compensation. The bill was referred to the Senate Commerce Committee and is likely in response to New York City's recent action to prohibit employers from asking applicants about compensation.
PHARMACY
REGULATIONS
Age-based preemption: Legislation intended to stop local Tobacco 21 ordinances and other age-based limitations stricter than state law was introduced on May 2 as SB 355. The bill would ensure the state's right to determine at which age certain products are sold or can be obtained including controlled substances, pseudoephedrine, tobacco, alcohol, guns, fireworks, ammunition, defensive spray, signaling devices, violent video games, explosives, raffle tickets, lottery/charity prizes, tattoos and overnight rooms. MRA supports the bill and worked with the bill sponsor on its introduction. The bill was referred to the Senate Regulatory Reform Committee.
Fireworks: Legislation introduced as SB 351 on May 2 would allow local government to restrict the use of fireworks except on the Fourth of July. The bill was referred to the Senate Government Operations Committee, which usually indicates the bill will not be considered.
TAX
PPT exemption deadline: SB 359 would move the deadline to submit a document for an exemption from the Personal Property Tax (PPT) from February 20 to May 31. The bill seeks a resolution to the problem that February 20 is a federal holiday (President's Day) which really requires the exemption be sent several days prior. The bill was introduced on May 2 and referred to the Senate Finance Committee which reported the bill on Tuesday.
OTHER
Internet gaming: The House approved legislation, SB 202, that would legalize and regulate Internet gaming on May 2. The legislation now heads to the governor's desk.
Voter Bill of Rights: A proposed constitutional amendment, HJR O, that would include the right to no-reason absentee voting and in-person early voting up to 15 days before an election and would automatically register any eligible person issued a state driver's license or identification card was introduced on May 3. The resolution was referred to the House Elections and Ethics Committee. In order to become law, the resolution would need a two-thirds majority vote in both the House and Senate and would then need to be voted on statewide to become law.