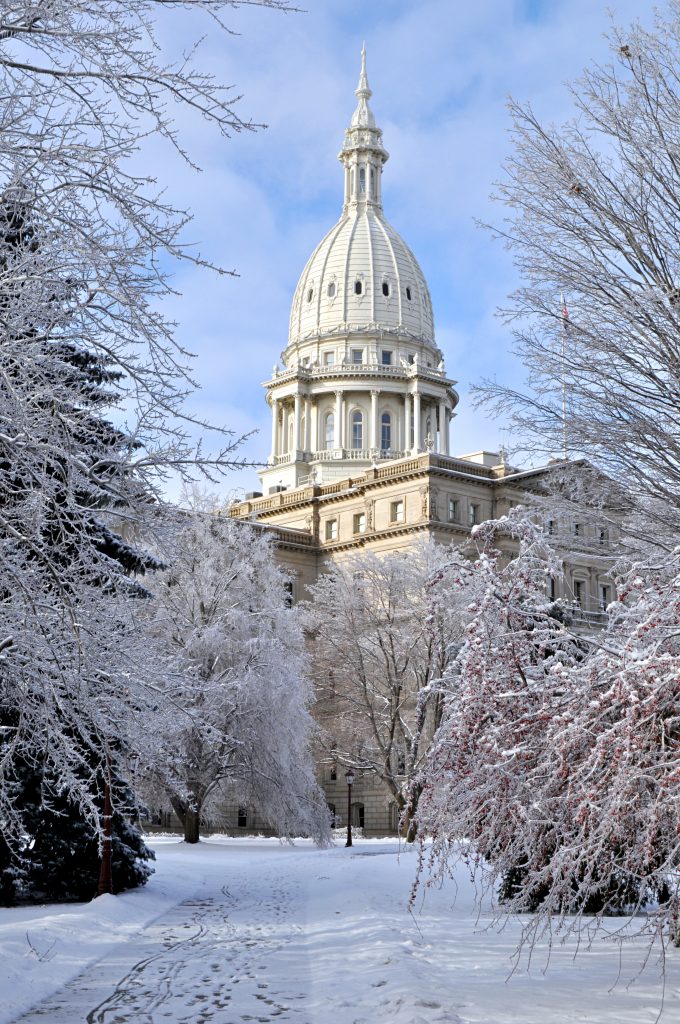 Despite the snow and ice, it's spring in Michigan
This update covers the tail end of the March session prior to the legislature's two-week spring break and legislators' first week back in regular session. The legislature will remain in session until almost the end of June while they finish up the FY 18-19 budget and attempt to tie up loose ends before campaign season gets into full swing.
Speaking of campaign season, the candidate filing deadline is coming up on April 24. Every single legislative office will appear on the ballot this year. Many legislators are term-limited or seeking different offices, which results in a lot of new candidates to evaluate. MRA will start the process of evaluating candidates through voting records and/or candidate questionnaires to determine who qualifies as a Friend of Retail. A list of candidates who meet our criteria as a Friend of Retail will be shared with MRA members prior to both the primary and general elections.
Use tax responsibility on owner-supplied materials
The Senate Finance Committee heard testimony and approved legislation at the end of March that seeks to clarify who is responsible for sales or use tax when a property owner supplies material that will be used by contractors. The bill, SB 887, was introduced after contractors ran into problems with the Michigan Department of Treasury. Treasury audited and assessed several contractors for Use Tax on owner-supplied materials for projects that affix tangible personal property to real property making it a structural part of the real estate. Committee members heard testimony from several contractors and were extremely sympathetic to the red tape contractors and property owners were forced to go through to prove to the department that sales or use tax was paid. The bill will clarify that the tax liability for tangible property purchased by another person and provided to a contractor for installation is the responsibility of the purchaser, not the contractor. Next step: Senate floor. | MRA Position: Monitoring, likely support.
Committee talks high-demand beer and wine and special events
The House Regulatory Reform Committee heard testimony on HB 5767–5768 last week. The bills would clarify and codify current rules on special licensees for events and address issues with product in high demand. HB 5768 would eliminate impediments to the flow of commerce by codifying and amending current rules that govern how beer and wine comes from suppliers to distributers to retailers. Under the bill, an exemption to skip a hold period on the wholesaler's floor would be created for product in high demand. This would get beer and wine in high demand that frequently sells out quickly back in stock and on the shelves for retailers or for a special event.
HB 5767 would allow retailers to provide wine dispensing equipment for special event licensees. Currently, only beer dispensing equipment can be provided. Special licensees could also receive logoed tents for events. One last problem the bill seeks to address is extending the timeline for product deliveries to beer festivals or other events. Allowing delivery before the event's licensed period solves the problem of trying to get delivery trucks in the day of the event. The changes would allow deliveries to take place once the festival or event has obtained a special license. Next step: House Regulatory Reform Committee vote. | MRA Position: Support.
House committee learns about pharmacy benefit managers
The House Health Policy Committee heard testimony from a representative of the Pharmaceutical Care Management Association (PCMA) about Pharmacy Benefit Managers (PBMs) last week. The committee got an overview of what a PBM is, what role they serve, and how manufacturer rebates are passed along to health plans, employers or government programs. A PBM is a company that works with a healthcare payer to administer the pharmacy component. PBMs attempt to help an insurer, employer or government program drive down the net cost of providing prescription drugs to consumers.
Committee members had lots of questions about PBM reimbursement to pharmacies and the impact in particular on smaller, independently-owned pharmacies. This hearing was one of many while the House digs into prescription drug pricing and the escalating costs of prescriptions and customer co-pays. Several weeks ago, the committee heard from drug manufacturers. While it has not been announced, it seems likely the chairman will also want to hear from health plans and pharmacies about their role in prescription drug pricing.
Other important items to note: