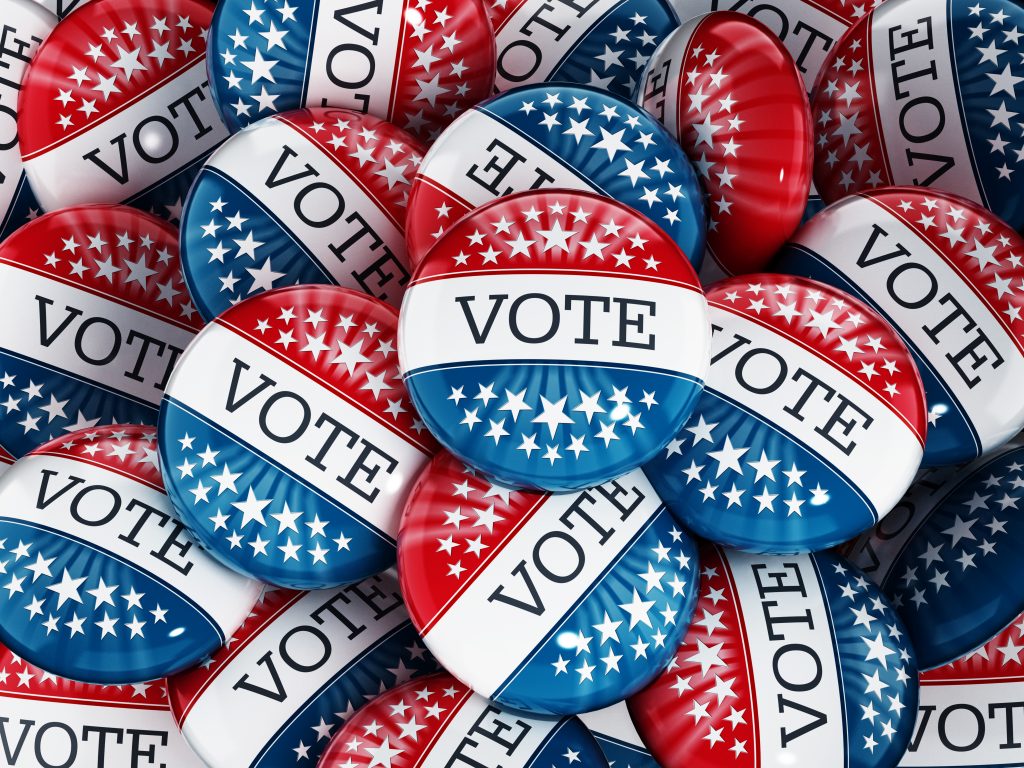 Get ready to vote on Tuesday, August 7

One of the best and easiest ways to make your voice heard is to vote for candidates who have a record of supporting retail. Read below which candidates MRA has designated as a "Friend of Retail" based on a careful analysis of voting records and questionnaire responses. 
Personalized ballot information
Not sure if you're registered to vote or where your polling place is located? Curious which legislative districts you can vote for? Want to see a sample ballot? Go to www.michigan.gov/vote for all the information you need about your ballot.
Friends of Retail
Before you head to the polls on Tuesday, take note of which candidates can be trusted to protect your business by supporting important retail issues. 
After careful analysis, Michigan Retailers Association designated 120 legislative candidates (41 state senate candidates and 79 state house candidates) in the August 7 primary election as "Friends of Retail" who deserve member support. Candidates earning a Friend of Retail designation have demonstrated through their votes on key issues and their answers to critical policy questions that they understand the importance of the retail industry to Michigan's economy.
Click here for a printable list of MRA's 2018 Friends of Retail.
Michigan State Senate

2   Adam J. Hollier (D-Detroit)
5   David Knezek (D-Dearborn Heights)
6   Robert Kosowski (D-Westland)
7   Laura Cox (R-Livonia)
8   Peter Lucido (R-Shelby Township)
10   Joseph Bogdan (R-Clinton Township)
10   Mike MacDonald (R-Sterling Heights)
10   Henry Yanez (D-Sterling Heights)
12   Michael McCready (R-Bloomfield Hills)
12   Jim Tedder (R-Clarkston)
13   Marty Knollenberg (R-Troy)
14   Ruth Johnson (R-Holly)
15   Jim Runestad (R-White Lake)
16   Mike Shirkey (R-Clarklake)
17   Dale Zorn (R-Ida)
18   Martin Church (R-Ypsilanti)
20   Margaret O'Brien (R-Portage)
21   Kim LaSata (R-Bainbridge Township)
21   Dave Pagel (R-Berrien Springs)
22   Lana Theis (R-Brighton)
23   Curtis Hertel (D-East Lansing)


24   Tom Barrett (R-Potterville)
24   Brett Roberts (R-Eaton Township)
25   Dan Lauwers (R-Brockway)
27   Jim Ananich (D-Flint)
28   Peter MacGregor (R-Rockford)
29   Chris Afendoulis (R-Grand Rapids Township)
29   Dan Oesch (R-Alto)
30   Daniela Garcia (R-Holland)
30   Joe Haveman (R-Zeeland)
30   Roger Victory (R-Georgetown Township)
31   Gary Glenn (R-Williams Township)
32   Ken Horn (R-Frankenmuth)
33   Rick Outman (R-Six Lakes)
34   Jon Bumstead (R-Newaygo)
34   Holly Hughes (R-White River Twp.)
35   Bruce R. Rendon (R-Lake City)
35   Curt VanderWall (R-Ludington)
36   Jim Stamas (R-Midland)
37   Wayne Schmidt (R-Traverse City)
38   Mike Carey (R-Channing)

Michigan House of Representatives

4 Rabbi Alam (D-Hamtramck)
4 Justin Jessop (D-Hamtramck)
13 Frank Liberati (D-Allen Park)
17 Joseph Bellino (R-Monroe)
20 Jeff Noble (R-Plymouth)
24 Steve Marino (R-Harrison Township)
30 Diana Farrington (R-Utica)
32 Pamela Hornberger (R-Chesterfield)
33 Jeff Yaroch (R-Richmond)
36 Scott Czasak (R-Washington Township)
36 Karen Potchynock-Lund (R-Shelby Township)
38 Kathy Crawford (R-Novi)
39 Ryan Berman (R-Bloomfield Hills)
39 Marsha Kosmatka (R-West Bloomfield)
40 David Wolkinson (R-Birmingham)
40 Joe Zane (R-Birmingham)
41 Ethan Baker (R-Troy)
41 Doug Tietz (R-Troy)
43 Jose Aliaga (R-Clarkston)
44 Matt Maddock (R-Milford)
44 Matt Marko (R-Waterford)
45 Michael Webber (R-Rochester Hills)
46 John Reilly (R-Oakland Township)
47 Hank Vaupel (R-Handy Township)
51 Matthew D. Anderson (R-Swartz Creek)
51 Ian Shetron (R-Flushing)
52 Teri Aiuto (R-Manchester)
53 Jean E. Holland (R-Ann Arbor)
56 Jason Sheppard (R-Temperance)
57 Bronna Kahle (R-Clinton)
58 Eric Leutheuser (R-Hillsdale)
59 Aaron Miller (R-Sturgis)
61 Brandt Iden (R-Oshtemo Township)
62 Dave Morgan (R-Marshall)
63 Matt Hall (R-Battle Creek)
64 Julie Alexander (R-Hanover)
65 Sarah Lightner (R-Springport)
66 Beth Griffin (R-Mattawan)
67 Zach Moreau (L-Lansing)
67 Clyde L. Thomas (R-Dansville)


70 James Lower (R-Cedar Lake)
71 Christine Barnes (R-Grand Ledge)
71 Chris Stewart (R-Grand Ledge)
72 Steven Johnson (R-Wayland)
74 Mark Huizenga (R-Walker)
77 Tommy Brann (R-Wyoming)
78 Daniel Hinkle (R-Niles)
78 Brad Ryan Paquette (R-Niles)
79 Bruce Gorenflo (R-St. Joseph)
79 Maria Moen (R-St. Joseph)
79 Troy Rolling (R-Benton Harbor)
79 Pauline Wendzel (R-Coloma)
80 Mary Whiteford (R-Casco Township)
81 Joel Williams (R-Emmett)
82 Gary Howell (R-North Branch)
83 Shane Hernandez (R-Port Huron)
84 Philip A. Green (R-Millington)
84 Dean Smith (R-Bay Port)
85 Ben Frederick (R-Owosso)
86 Thomas Albert (R-Lowell)
87 Julie Calley (R-Portland)
88 Jason Minier (R-Jenison)
89 Jim Lilly (R-Park Township)
91 Greg VanWoerkom (R-Norton Shores)
93 Madhu Anderson (R-East Lansing)
93 Graham Filler (R-DeWitt)
94 Rodney Wakeman (R-Saginaw)
95 Vanessa Guerra (D-Saginaw)
97 Jason Wentworth (R-Clare)
99 Roger Hauck (R-Mount Pleasant)
100 Scott VanSingel (R-Grant)
101 Jack O'Malley (R-Lake Ann)
102 Michele Hoitenga (R-Manton)
103 Daire Rendon (R-Lake City)
104 Larry Inman (R-Williamsburg)
105 Triston Cole (R-Mancelona)
106 Sue Allor (R-Wolverine)
107 Lee Chatfield (R-Levering)
108 Beau LaFave (R-Iron Mountain)