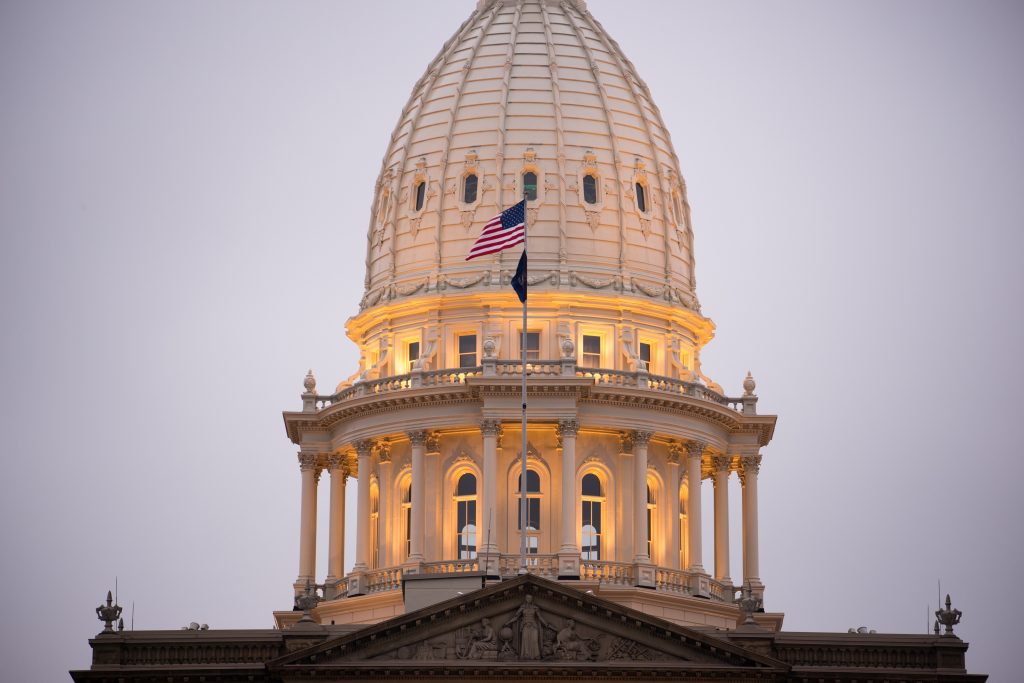 In this issue:
Agreement reached to complete the budget before roads
Governor announces flavored vaping/alternative nicotine product ban
E-prescribing bills reported from house committee
Bills introduced to bolster AG's wage theft task force
Governor proclaims September as Family Meals Month
Regulatory round-up
Agreement reached to complete the budget before roads
After much back and forth all year and parting shots all summer, legislative leaders and Gov. Whitmer have agreed they will focus on completing the state's budget before the Sept. 30 deadline and then turn their focus to roads. The news came first thing this morning and signals a much less contentious budget fight. It also comes after Senate Majority Leader Mike Shirkey declared late last week that the senate would send budget bills to the governor without a road plan. Avoiding the uncertainty of a government shutdown is good for Michigan's retail economy.
Governor announces flavored vaping/alternative nicotine product ban
Last week, Gov. Whitmer made a splash in the press when she announced the state would soon be filing an emergency rule banning the sale of flavored vaping products and flavored alternative nicotine products. The emergency rule, which will be filed on the grounds of a public health emergency, has not been filed yet but will be effective immediately once it is filed. MRA believes the rule will be filed this week, potentially on Thursday, Sept. 12. MDHHS has confirmed that there will be a 30-day delay in enforcement to ensure that all parties, including law enforcement, are prepared.
The rule will prohibit the sale of flavored vapor products (vapes, vaporizers, vape pens, hookah pens, and e-cigarettes) and flavored alternative nicotine products online and at retail locations. This includes menthol-flavored products despite those being permissible in cigarettes and all flavors being allowed for tobacco products. Other flavored tobacco products including cigars, cigarillos, chew, hookah, dip and snuff will still be legal to sell to individuals over the age of 18. Also covered by the rule is a prohibition on advertising or marketing using terms such as clean, safe, harmless, or healthy. Advertisements for vapor products and alternative nicotine products are prohibited within 25 feet of the point of sale, candy, foodstuff or soft drinks and cannot be visible by a person standing at a distance of 25 feet from the building.
Once the emergency rule is filed, the only permissible flavors of vapor or alternative nicotine products will be unflavored or tobacco-flavored products. Vapor products and alternative nicotine products approved as a drug or device by the FDA for smoking cessation will not be included in the ban. Some flavored alternative nicotine products, also referred to sometimes as nicotine replacement therapy drugs/devices are approved by the FDA and therefore not covered by the emergency rule. These include mint-flavored Nicorette gum, Nicotine Polacrilex gum and lozenges, and may include others. MRA is seeking a complete list of flavored alternative nicotine products that will still be legal to sell.
The administration has released some FAQs on the emergency rule on flavored products. The FAQs answer the question of what is and is not included as a vapor or alternative nicotine product. MDHHS tells MRA that a retailer toolkit is in development.
The American Vaping Association, vapor product manufacturers, and some tobacco/vape specialty retailers are seriously considering legal action. E-cigarettes, vapor products and tobacco products cannot be sold to anyone under the age of 18 in Michigan. Sales of non-menthol flavored cigarettes were prohibited by the FDA in 2009. The FDA is currently considering a ban on flavored tobacco and vaping products and is reviewing comments submitted last summer by the industry and other interested parties.
E-prescribing bills reported from house committee
Last Thursday, the House Health Policy Committee reported out an amended version of our e-prescribing legislation, HB 4217.  The substitute bill includes some of the changes made in SB 248 and 254, reported out of the senate committee in June, including adding clarity around what circumstances allow a prescriber to obtain a waiver, mirroring the federal CMS implementation date of Jan. 1, 2021, and allowing the state to delay implementation if CMS delays implementation federally.
In addition, the house bill also includes a requirement that pharmacists make a good faith effort using their professional judgement that prescriptions are legitimate, includes a requirement for prescribers to document the reason for issuing a paper prescription under exemptions that allow for a judgement call, and increases the penalties for noncompliance. The bills strike a balance between requests from the state for clarity and flexibility/conformity with other deadlines prescribers are under. MRA expects the House Ways and Means Committee will take up the legislation over the next few weeks. Next steps: House Ways and Means Committee. MRA Position: Support.
Bills introduced to bolster AG's wage theft task force
In an effort to add statutory muscle to Attorney General Dana Nessel's wage theft task force, House and Senate democrats introduced a package of bills to crack down on payroll fraud. The bills, HB 4868-4879 and SB 477-488, would increase criminal penalties for payroll fraud, prohibit policies on non-disclosure of wages and non-compete agreements, allow anonymous complaints of employment misclassification, and punish employers for falsely classifying an employee as an independent contractor. Next steps: House Commerce Committee/Senate Government Operations Committee. MRA Position: Oppose.
Governor proclaims September as Family Meals Month
Gov. Whitmer recently issued a formal proclamation declaring September 2019 as Family Meals Month in Michigan. MRA partners with the Food Marketing Institute (FMI) to help promote the campaign, which encourages families to share more meals together. The proclamation lists the many social and health benefits from families eating more meals at home together. Materials are available for retailers and grocers who want to share the message in their own marketing and social media. In the past, MRA members and other retailers have done cooking demos, photo/recipe contests, sponsored meals, discounts on meal kits and other creative marketing to promote more meals eaten at home around the table.
Regulatory round-up:
On Aug. 26, Pat Gagliardi became the Michigan Liquor Control Commission's new chairman. He previously served on the commission from 2003-2011. Also appointed by Gov. Whitmer was Geralyn Lasher. They fill the spots currently held by Andy Deloney, who served as chair since 2011, and Teri Quimby whose terms expired in June. Both appointments are subject to the advice and consent of the Senate.
Whitmer created the Michigan Opioids Task Force via executive order 2019-18. The task force members include leaders from various state departments as well as the chief justice of the Michigan Supreme Court and is headed up by Chief Medical Executive Dr. Joneigh Khaldun.
The Michigan Department of Health and Human Service (MDHHS) Medicaid pharmacy provider payments will be delayed one day for pay cycle 40 from 10/03/2019 to 10/04/2019. This delay will include both EFT and paper warrants along with CHAMPSRemittance Advices (RA), i.e. HIPAA Electronic 835 transactions and paper.
Michigan won a $4 million CDC grant to improve monitoring of residents' toxic chemical exposure. Biomonitoring is the measurement of environmental chemicals in body tissues or fluids, such as blood or urine, to determine the amount of chemical that actually enters the body. Data collected from biomonitoring helps identify at-risk population groups and assess the effectiveness of interventions to prevent harm.
A draft rule that would require pharmacists and veterinarians to receive a one-time training on opioids and controlled substances awareness by pharmacists before dispensing schedule 2-5 controlled substances was filed with the Joint Committee on Administrative Rules. It would also require pharmacists and veterinarians to report data to an electronic drug monitoring system (Michigan's MAPs system) when they dispense schedule 2 to 5 controlled substances.
A public hearing on draft rules on the taxation of marijuana products will be held on Sept. 25 in Lansing. The rules cover both the application of sales and use taxes as well as the 10 percent excise tax on marijuana products authorized by Proposal 1 of 2018.
Medicaid Health Plans will hold an Oct. 7 meeting on the list of prescription drugs covered under Managed Care Organizations Common Formulary. The annual meeting will be from 9:30 a.m. to noon in the Lansing Community College West Campus Auditorium, 5708 Cornerstone Drive in Delta Township near Lansing.