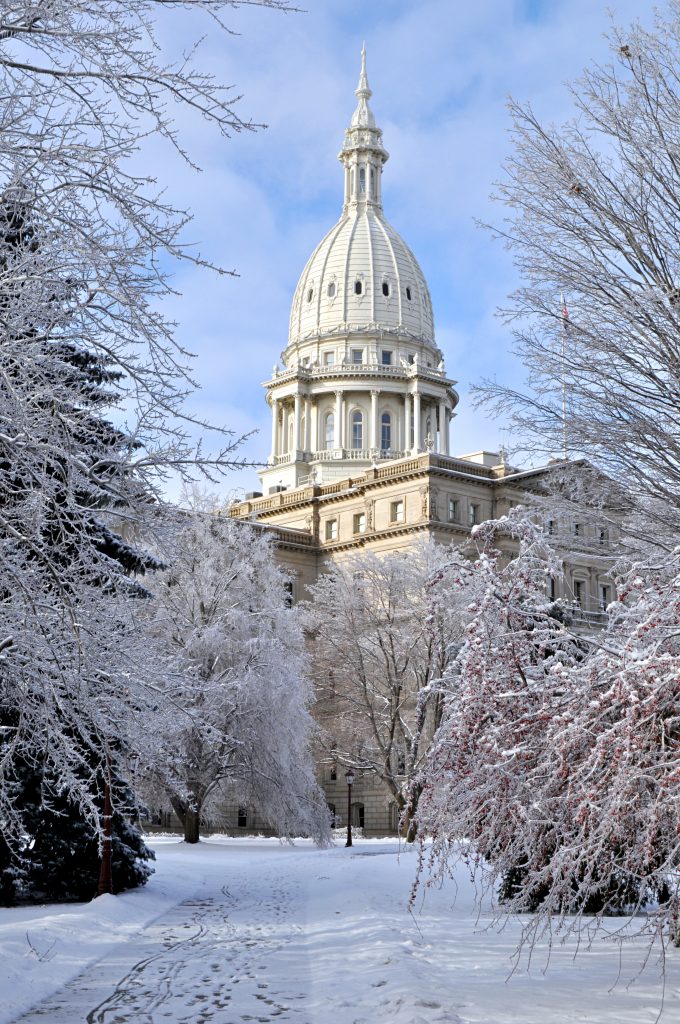 In this issue:
Governor focuses on working alone in second State of the State address
Commission approves liquor packaging changes
Changes to bottle deposit escheats introduced
Pharmacy members please note: Michigan close to decision on carving out of the Medicaid pharmacy benefit from managed care
Regulatory round-up
Governor focuses on working alone in second State of the State address
In the shortest State of the State speech in memory, Gov. Whitmer laid out her plans to do what she feels needs to be done with or without the legislature's help. At that top of her to-do list is kicking off "plan B" to fix the roads through issuing state bonds that don't require the legislature's approval. This morning, the State Transportation Commission met to discuss issuing $3.5 billion in bonds to fix state-owned roads including trunklines and freeways. The revenue from bonds could not be used to repair local roads. The governor asked citizens to call their legislators when they hit potholes on local roads to push them to find a permanent funding solution to fix all Michigan roads.
Other ways she intends to work around the legislature include using the Department of Labor and Economic Opportunity (LEO) to expand overtime pay to salaried workers and crack down on payroll fraud. The overtime expansion would go beyond the recent increase to the salary threshold to workers making less than $35,568 the federal government approved and took effect Jan. 1. LEO would like to raise that to something between $50,673 (the original figure the federal government targeted under the Obama administration, adjusted for inflation) and $61,272 (the ALICE threshold calculated by the United Way). Whitmer also plans to launch a task force on prescription drug price transparency to come up with recommendations to help residents save money.
Among the few requests she had for lawmakers was to enshrine the federal Affordable Care Act (ACA) protections into state law. This would ensure health coverage remains in place for Michigan residents with preexisting conditions even if the U.S. Supreme Court overturns the ACA. She also asked for a job training program dubbed Michigan Reconnect to be available to students 25 and older and to include funding for expanded and extended health coverage for pregnant women and new moms in the state budget. Overall the governor led and closed with a theme of impatience. She refuses to let partisan gridlock stand prevent her from achieving as many policy goals as she can using the powers of the executive office. This signals another year that MRA will keep a close eye on state departments' regulatory actions and rulemaking.
Liquor Control Commission approves packaging changes
This week, the Michigan Liquor Control Commission met and approved two orders impacting listed products that will be allowed after May 3. The orders were approved unanimously and limit packaging options for multipacks, variety cases, and value-added packs. While impacted products will be delisted from the commission's database on May 3 and won't be available for pickup or purchase, retailers will be able to sell products on store shelves so long as they were purchased prior to that date. Retailers will also be able to discount these products to move them off shelves faster using the normal discount approval process.
The commission provided several examples of the changes under the two orders:
Administrative Order 2020-01 covers value-added packaging changes including:
The discounting of up to 33% of two or more items in a package is eliminated. Example: Product ABC and Product DEF 50 ml 2-pack with a shelf price for the unit that is 33% less than the shelf prices of the individual items will no longer be accepted.
If the bonus item for a value-added package is a spirit, it can now be no larger than one 50 ml bottle. Example: Product ABC with 50 ml is acceptable.  Product ABC with four 50 mls is not acceptable and will no longer be allowed.
**Please note the commission does not allow separating value-added items from holiday packs and putting them back on the shelves. This is in the current Administrative Order 2015-02 and continues on in Administrative Order 2020-01.
Administrative Order No 2020-02 covers multipack and variety cases including:
There can now only be one multipack per brand per size. Example: Product ABC 200 ml 10 pack is currently approved. Anymore multi-packs for this product for this size will be denied. Product ABC 200 ml 15 pack will be denied.
All multipack items must be listed with the State. Example: Watermelon and Peach vodka 50 ml multipack. Both the watermelon and peach vodkas must be listed as individual items in Michigan.
For multi-packs and variety cases, non-standard bottle sizes can no longer be added together to make a standard size. Example: Four 25 ml containers cannot be packaged together to equal a standard 100 ml size.
This is the start of a trend by the new commission chairman to reduce the availability of "cheap" liquor. More changes will be coming in the future to manage the size of the number of products available and crack down on low-priced alcohol availability.
Changes to bottle deposit escheats introduced
A package of bills introduced yesterday as HB 5422-5424 would shift the distribution formula for any unclaimed deposits returned to the state. The new distribution formula would include 20% to distributors and 15% for fraud investigations by state and local law enforcement agencies. There are no changes proposed to the 25% retailers receive today. The remaining 40% would be returned to the Department of Environment, Great Lakes and Energy (EGLE). Of those funds returned to EGLE, 75% would be used to improve recycling in Michigan through grants to counties, local government units and others used for materials management planning, recycling infrastructure, local recycling outreach campaigns, and recycling market development.
The bills also crack down on distributors/retailers selling returnable containers without first originating the deposit on the container. Distributors believe a large amount of fraud is happening in Michigan that cannot be stopped because of a lack of funding and tools to crack down on perpetrators. Next Step: House Reg. Reform Committee hearing. MRA Position: Support increases in recycling funds
Pharmacy members please note: Michigan close to decision on carving out of the Medicaid pharmacy benefit from managed care
The state is expected to announce a decision next week on pharmacy policy 1936 that would eliminate Medicaid prescriptions from the Medicaid Managed Care to the fee-for-service (FFS) reimbursement methodology. Fee-for-service is an improved reimbursement model for pharmacies since it has a higher reimbursement amount for each prescription filled. MRA submitted comments on behalf of members to the department in support of this change. To ensure the state does adopt pharmacy policy 1936 please contact the Governor's office at (517) 335-7858, your state legislators (find my state representative and state senator), and MDHHS at (517) 335-6611 and tell them to enact pharmacy policy 1936 as soon as possible. 
Regulatory round-up:
REMINDER: Wage statements due by Friday, Jan. 31. These include W-2, W-2G, 1099-R and 1099-MISC and must be sent to the Michigan Department of Treasury. Statements can be uploaded electronically.
REMINDER: Sales, Use and Withholding Taxes Annual Return (Form 5081) is due on Feb. 28. The department reminded business taxpayers it's easy to file SUW returns online with the SUW EZ Annual Return (Form 5081 EZ) available through Michigan Treasury Online. To use the new SUW EZ Form, go to michigan.gov/mtobusinessand create a Michigan Treasury Online account. No personally identifiable or sensitive information will be required.
EGLE offering $3 million in organics management grants for the development of food waste management programs.
Grants are available for up to $1 million for government entities and nonprofits for projects focused on food waste that result in a finished or partial compost product. The Request for Proposal and additional information is posted on EGLE's recycling grants web page. The application deadline is 5 p.m., April 20. Proposals must be submitted electronically in one PDF file that contains the complete grant application to EGLE-RecyclingGrant@Michigan.gov. For more information, contact Erica Richard at (517) 284-8337 or RichardE1@Michigan.gov.