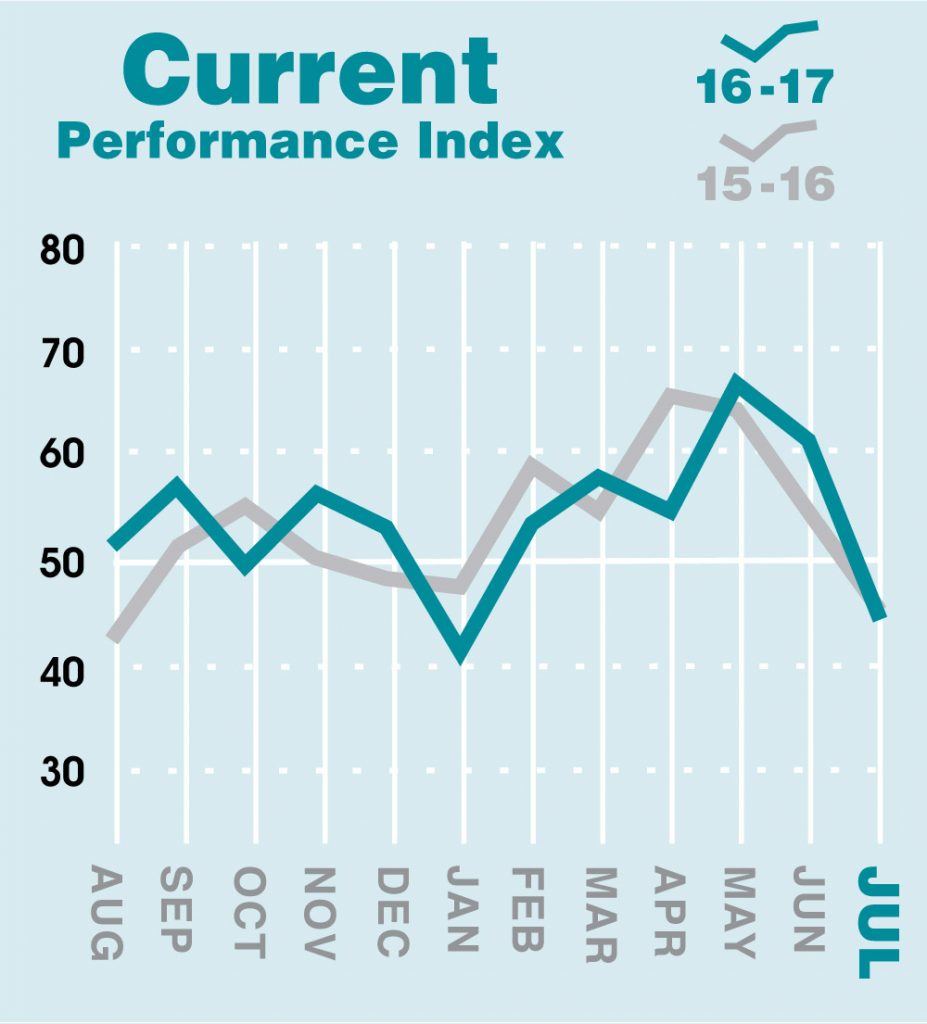 LANSING – Michigan retailers reported a slight drop in sales activity for July over a month ago, but they're optimistic that the next three months will be better, according to the Michigan Retail Index, a joint project of Michigan Retailers Association (MRA) and the Federal Reserve Bank of Chicago.
Just less than half – 49 percent – of retailers posted sales increases in July, but 64 percent expect the sales activity to increase for the next three months – up from the 60 percent reported in June.
"We're hoping we'll see an uptick in the August numbers once back-to-school sales numbers are reported for Michigan," said MRA President and CEO James P. Hallan.
Numbers are mixed for the Michigan economy, with unemployment and sales tax receipts headed in the right direction. July unemployment fell to 3.7 percent in Michigan – below the national rate of 4.3 percent. But the drop in the rate reflects fewer people in the state's labor market actively seeking employment, according to Jason Palmer, director of the Bureau of Labor Market Information and Strategic Initiatives.
While the number of payroll jobs grew in July, the monthly job growth so far this year lags behind 2016. Still, total employment in the state has advanced every year since 2010, according to the Michigan Department of Technology, Management and Budget (DTMB).
The Michigan Retail Index's July survey found that while 49 percent reported sales increases over June, 42 percent recorded declines and nine percent reported no change. The results create a seasonally adjusted performance index of 44.5, down from 60.1 in June and 45.9 in July 2016.
The 100-point index gauges the performance of the state's overall retail industry, based on monthly surveys conducted by MRA and the Federal Reserve Bank of Chicago's Detroit branch. Index values above 50 generally indicate positive activity; the higher the number, the stronger the activity.
A recent poll released by the National Retail Federation (NRF) shows parents and students are procrastinating on back-to-school shopping. Of parents surveyed August 1-9, only 13 percent had completed all their shopping, and 23 percent had not started at all.
The NRF had forecast that families will spend $83.6 billion on back-to-school this year, including $29.5 billion on K-12 and $54.1 billion on college.
Among K-12 parents, 79 percent said they still needed to buy basic supplies such as pencils and paper, followed by 75 percent who needed to buy apparel and 58 percent who still needed to buy shoes. All percentages were up by one or two points from last year's national survey.
While 64 percent of Michigan retailers expect sales during August-October to increase,15 percent predict a decrease and 21 percent no change. That puts the seasonally adjusted outlook index at 73, according to the Retail Index survey.
There's room for such optimism. On the national level, the picture for retail sales is better than expected, recording the biggest increase since December 2016, the Commerce Department reports. Retail sales jumped 0.6 percent last month, better than the projected 0.4. The department also revised June and May numbers up, indicating that the economy continues to gradually gain momentum.
The Michigan Senate Fiscal Agency reports an uptick an unexpected uptick in sales tax receipts. Those totaled $738.3 million in July, $60.3 million above the forecast and up 11.0 percent from July 2016. Without adjusting for inflation, sales tax collections in July hit a new high, up 6.2 percent from the previous record set in January 2017. Year-to-date sales tax collections are 7.3 percent above the 2016 level, and $67.8 million above what was predicted.
Note: William Strauss, senior economist and economic advisor with the Federal Reserve Bank of Chicago, can be reached at 312.322.8151.