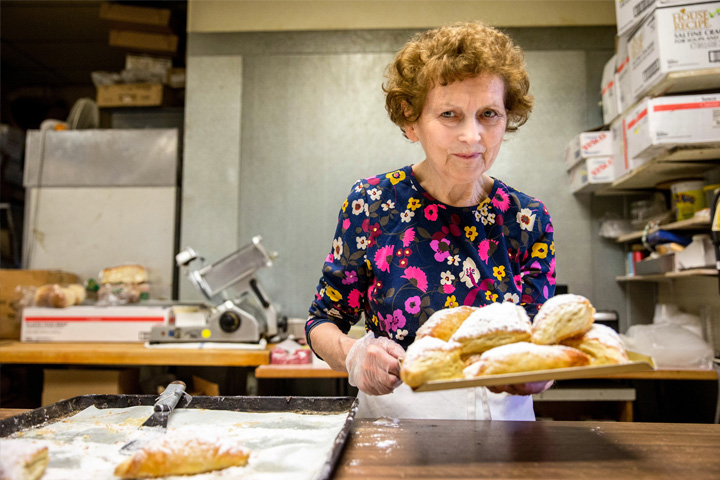 By RACHEL SCHRAUBEN
If you go to Robaire's Bakery website, you won't see owner Dina Desormes' name. But make no mistake, the French native has been the force behind the popular stop in Mount Pleasant since 1961.
Owner Dina Desormes was a child when the Nazis occupied her hometown during WWII. Her father took a huge risk when he agreed to hide two American pilots shot down over her family's farm. That sense of doing right is what drives her to continue working and running the bakery at age 79.
After the war, she married Robaire Desormes, and the couple emigrated to America and forged a gratifying life here through their bakery. Her husband died in 1993.
Desormes' background provides a rich story behind Robaire's Bakery, not to mention a French flair found in the pastries. Desormes talks about her background and her 55+ years of experience in retailing.
Dina talks about what brought her into the world of bakery retail:
IN HER OWN WORDS
It must've been tough for my parents to make the decision to hide the pilots. I always think about what must've been going through their minds and thinking about the family. It made me a stronger person. Growing up and dealing with the war, it taught me to be resilient, to keep going and not give in.
The giant supermarket in town needed a bakery and Robaire happened to have restaurant and bakery experience. Then one of our friends owned a bakery and after their baker quit, and because Robaire had experience, he took over.
(In a college town) we notice less business in the later summer months mostly because the students are gone. We do many doughnuts for special events when school begins, such as CMU's Safari, a special program the school puts on to welcome new students into town. Students do stop by the store, but we get more orders from the kitchens and doughnuts for football games over foot traffic.
The biggest challenge is always having something unique and special to attract new customers. And having big corporate businesses come into town. It keeps it interesting being able to compete locally with big companies and still keep our head above water.
We're busiest between October and New Year's with loads of rolls, doughnuts and cakes for all kinds of occasions. May to June we are busiest with cakes for graduation and weddings. My favorite is making homemade fancy desserts. From special cakes to our beautiful sugar cookies spanning even further to crème brûlée, petit fours, unique cake bites and many more.
Buying locally is very important to us. We locally source our vegetables for our soups and fruit for our pies, even the greenery and flowers for outside of the front window in the warmer months. Buying Nearby helps us support our community by putting money back into it.
ROBAIRE'S BAKERY
Opened: 1961
Location: 1903 S. Mission St., Mount Pleasant
Specialties: Robaire's has become a destination bakery in Mount Pleasant, gaining fame for special-occasion cakes, beautifully decorated sugar cookies, fancy petit fours, French croissants, cinnamon raisin rolls with butter frosting, cream cheese danishes and tasty doughnuts. And let's not forget our homemade buttery dinner rolls and sandwich buns.
MRA member since: 2000
MRA services: Bankcard
Owner: Dina Desormes
Does your business have a unique story? Contact rschrauben@retailers.com.