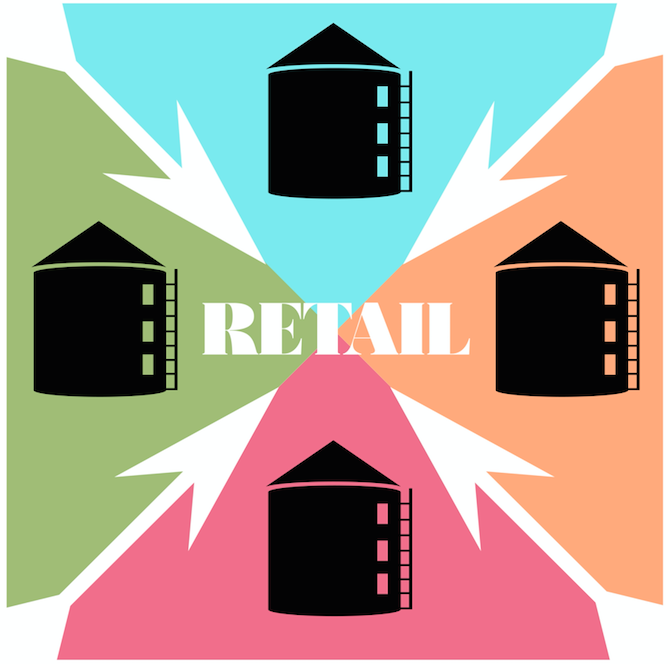 By Shandra Martinez
Retailers from around the country gathered recently in Detroit for the design:retail Forum, marking the first time the conference was held in the Motor City. The city's comeback spirit was the perfect backdrop for conversations about the future of retail, said Editor in Chief/Associate Publisher Alison Embrey Medina.
She kicked off the three-day event with a riveting presentation about the industry's radical transformation. Medina, who travels the country tracking trends, products and projects that are crafting tomorrow's most innovative retail environments, broke down the future of the industry into six trend buckets. Here they are:
Hybrid Future
Definition: It's no longer bricks versus clicks. Customers are shopping in stores and buying online. It's now completely fluid. Retail has to be omnipresent. It has to be anywhere and whenever the shopper needs it.
Example: That's why Kate Hudson's Fabletics website plans to quadruple its footprint to 100 stores. The athletic apparel company co-founded by the actress is strategically opening locations where the brand has large clusters of customers.
Smart retail
Definition: Stores will be decked out with Internet of Technology (ioT) such as lights, floors and shelving that will track products and communicate with customers. Retailers who do not inject their stores with this technology run the risk of quickly losing relevance, Medina said.
Example: High-tech, staff-less convenience stores already are opening around the globe. Closer to home, grocery giant Kroger has a high-tech shelf display in the works that not only shows pricing and nutritional information, but communicates with smartphones to help shoppers find the products they are looking for.
Hyper-personalization
Definition: Shoppers want to be treated as a customer of one with a retail experience tailored to their exact individual tastes, their desires and their shopping purchase history. It's not easy to personalize them if you don't know who the customers are when they walk into the store. This where the data comes into play in retail going forward.
Example: Stitch Fix, an online subscription and personal shopping service, sends customers monthly outfits based on their personal profiles, purchase history and feedback on products. Medina said she was surprised when she learned Natalie, the personal shopper sending her emails, wasn't a person but an algorithm.
Tactile Tech
Definition: This is part of a trend of digitally immersed consumption where the customer loves being part of something interesting or inspiring.
Example: Those LED bracelets handed out at Taylor Swift concerts that light up with different colors for each song or only on some concertgoers to create a giant heart that everyone in the arena can see. "It brings 60,000 people together in an intimate way using a tactile technology that's now immersing us in a way that maybe we couldn't have done before with our little lighters," Medina said.
Tribetailing
Definition: The retail practice of tailoring everything you do — from your products to your store design, marketing and communication — for a specific group of people or a niche. It's a shift away from generalist marketing that aims not to offend anyone.
Example: While this strategy has given small brands loyal followings, mega brands are employing it as well. Starbucks announced plans to rid of straws by 2020 to take an environmental stand, Dick's Sporting Goods responded to gun violence with a decision to stop selling firearms, and Nike took a side in the Black Lives Matter debate by putting Colin Kaepernick in a commercial.
Up the analog
Definition: For every layer of tech, add a human layer to balance. This might mean more store associates who have to time to talk to shoppers or more art in a space. These kind of immersive experiences engage the senses. There has to be a balance. If it's all tech, you lose the shopper and the shopping experience, Medina said.
Example: Neiman Marcus launched the Idea Factory in a few select stores. This experience includes artists coming in to customize sportswear, jeans, jackets and accessories with their art.