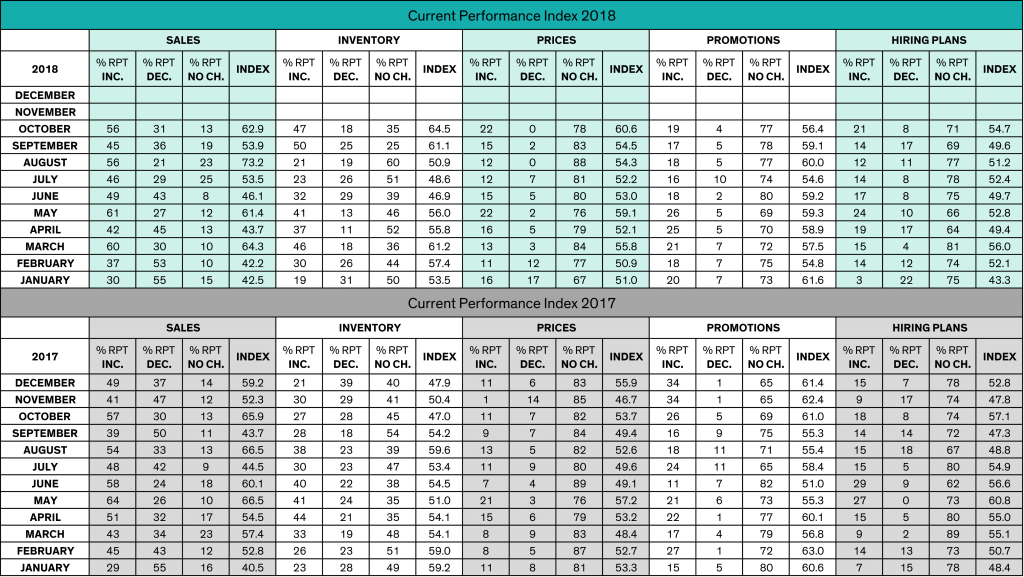 October continues to be an excellent month for Michigan retailers, according to the monthly Retail Index survey that Michigan Retailers Association (MRA) conducts in cooperation with the Federal Reserve Bank of Chicago's Detroit branch.
The seasonally adjusted performance index of 62.9, up significantly from September's 53.9, shows positive growth as consumers head into the biggest shopping weeks of the holiday season. A year ago, the Retail Index was 65.9.
The 100-point index provides a snapshot of the state's overall retail industry. Index values above 50 generally indicate positive activity; the higher the number, the stronger the activity.
Halloween sales closed in on $9 billion, according to the National Retail Federation, with the average celebrant spending $87 on costumes, decorations and more.
"We're finding consumers are hiking their spending on Halloween, but also starting to shop for the winter holidays in October," said James P. Hallan, MRA President and CEO.
The survey showed that 56 percent of respondents reported sales increases over September. Thirty-one percent of retailers recorded declines in October and 13 percent reported no change.
The Retail Index shows that 58 percent of Michigan retailers expect strong sales through January, while 13 percent predict a decrease and 29 percent expect no change. That results in an adjusted outlook index of 79.0 – a positive note as consumers finish up their holiday season.
According to the National Retail Federation, more than 164 million consumers plan to shop over the five-day Thansgiving weekend – a key for a successful November.
"We expect this coming shopping weekend, with Black Friday and Small Business Saturday will also benefit retailers' bottom lines," Hallan said. "We always like to remind consumers this time of year that it really makes a huge difference if you keep your shopping dollars in your community. If you want those stores around for years to come, you need to support them rather than send your dollars out of state."
Michigan's jobless rate fell one tenth of a percentage again from September to October, down to 3.9 percent – the lowest since 2000. The national rate remains at 3.7 percent. A year ago in Michigan, it was 4.7 percent.
According to the Senate Fiscal Agency, October 2018 sales tax receipts totaled $660.7 million, down 3.3 percent over last year. Tax receipts were $72.2 million below the May 2018 consensus estimates.