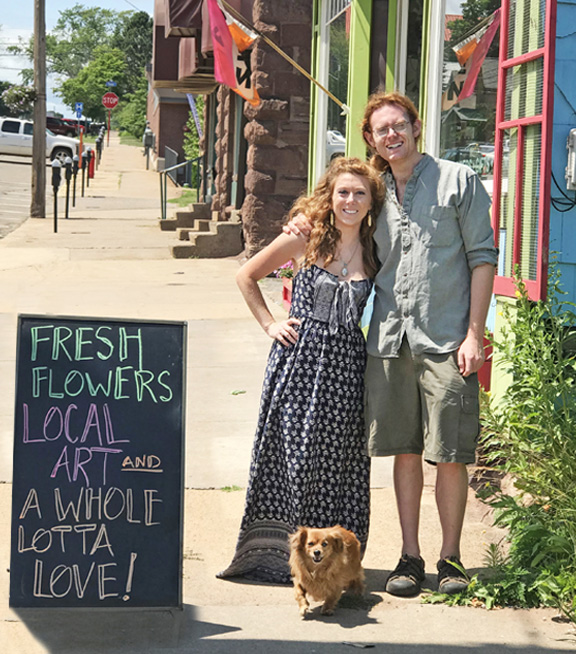 By SHANDRA MARTINEZ
Rachel Nisch is like many millennial retailers, she is finding a new way to reach customers her own age and keep them coming back.
The 31-year-old is buying Graye's Greenhouse in the Detroit suburb of Plymouth, where she has worked at for the past two years for the businesses' owners, who are in their 70s.
She jokes the greenhouse sells the experience of exploring its six-acre oasis as much as potted plants.
"People also just come to hang out and spend time here," says Nisch, who has started hosting workshops featuring different artists. Her customers happily fork over $50 to $100 to do projects using terrariums out of reclaimed materials, macrame plant hangers, and succulent mosaics.
Nisch is making smart moves in the constantly changing retail environment, says her dad, Ken.
That's isn't just parental pride speaking. The elder Nisch is chairman of JGA, a Metro Detroit-based retail-focused architectural and design firm and a perennial presenter at the National Retail Federation's annual conference in New York City.
SOCIAL SHOPPING
Millennial shoppers are looking for less of a transactional experience and more of a relationship with a retailer. If it sounds old-fashioned, that's because it is.
There's a joke that millennials hate their parents but love their grandparents. Maybe hate is too strong of a word, but they are critical of their parents' generation for pursuing commercialism and consumption at the expense of the environment.
Millennials want to live smaller and more local, as their grandparents and earlier generations did. Technology affords them a more compact life.
They want their possessions to be authentic and handcrafted. They want to know the person creating their food or jewelry, so a story becomes part of that purchase, Ken Nisch says.
This retail experience that millennials crave is what Ken Nisch describes as social shopping.
"They take care of their needs online, but for their wants, in many cases, they'd rather buy in a place as part of an experience," he said.
Ken Nisch points to his client, Tapper's Diamonds & Fine Jewelry, a retailer that is embracing this philosophy by transforming its storefront at Somerset Collection, a high-end Troy mall.
AN EXPERIENCE LIKE 'NO OTHER'
The space was reimagined as a 5,600-square-foot luxury showroom with an U-shape bridal bar of engagement rings, Michigan's only Rolex shop and a pub called Tapper's Tap Room. The elegant bar and high-top seating lets shoppers gather as friends or couples to have a Michigan craft beer or a glass of wine while they browse.
The high-tech, 8-foot-square digital wall usually is programmed with content about jewelry — unless a must-see sporting event is taking place. Then, customers may watch the World Cup, Detroit Tigers baseball, Michigan football or the NCAA Tournament.
"We really wanted to give them an experience that was like no other," said Mark Tapper, president of the business with three locations in Southeastern Michigan.
At 37, Tapper is at the far edge of the millennial generation. His perspective about retail reflects his childhood growing up in the three-generation family business as well as his experience earning a Harvard MBA and working for luxury retailer Louis Vuitton.
The new "more personalized and engaging shopping experience" is living up to the initial buzz. Tapper credits the setting for people lingering longer and spending more.
He tells the story of a man who came into to watch a March Madness game while his wife shopped. Tapper offered him a beer, and the two had a conversation. Five weeks later, the man returned to buy his wife a $7,000 piece of jewelry as a Mother's Day gift.
That's a good return on "a $2 beer and just being nice and friendly," Tapper says.
SPEND MORE ON SOCIAL MEDIA
Like Tapper, Jacob and Adam Bishop returned to Michigan to give their family's shoe business a millennial-friendly upgrade.
In 2012, they merged Soles, their successful high-end Florida sneaker boutiques, with dad Alan Bishop's Metro Detroit-area Mr. Alan's shoe and clothing chain, rebranding stores as Mr. Alan's Elite.
That strategy has paid off. The average unit price quadrupled to $125 with the focus on luxury sneaker brands, while the average age of the customer base dropped to the coveted 18 to 35 range. Last year, revenue and store count jumped 50 percent. There are plans to grow the 31 stores — located across Michigan, Illinois and Florida — by another dozen locations over the next 18 months.
More than a decade ago, the Bishop brothers — Jacob is now 32 and Adam is 34 — capitalized on the demand for specialty retail when they opened their first Miami Beach boutique. They were among the first to introduce new shoes with midnight parties and release events.
Jacob Bishop's advice to other retailers: Devote a bigger portion of your marketing budget on social media. His company spends 75 percent of their ad budget on social media.
The brothers also use social media – particularly Instagram – to grab immediate feedback during product development. A positive reaction might mean a larger order, while a thumbs down could result in scrapping the whole project.
"I think the customer is moving so fast that what they want yesterday is not what they're going to want tomorrow," said Jacob Bishop.
MAKE AN EMOTIONAL CONNECTION
Magdalene Finwall's business, Garden Bouquet and Design, which she owns with her brother, DJ Finwall, in downtown Marquette has benefitted from collaborating with other businesses on social media.
The best way for the photogenic flower shop to connect with clients has been Instagram, which she uses to showcase her creations, advertise events and promote sales.
She has found the benefits of social media multiply when a circle of retailers tag each other in the photos, creating a millennial-to-millennial connection for the businesses.
But social media isn't often the first step of a meaningful connection, Finwall says. Real relationship-building begins when customers walk through the doors. She gets to know her customers, often asking what they are trying to communicate with an arrangement. Then, she selects blooms that reflect the sentiment, such as lilies for peace or hellebore for courage.
"I feel like people aren't going to remember what they bought, they are going to remember how they felt," Finwall said.