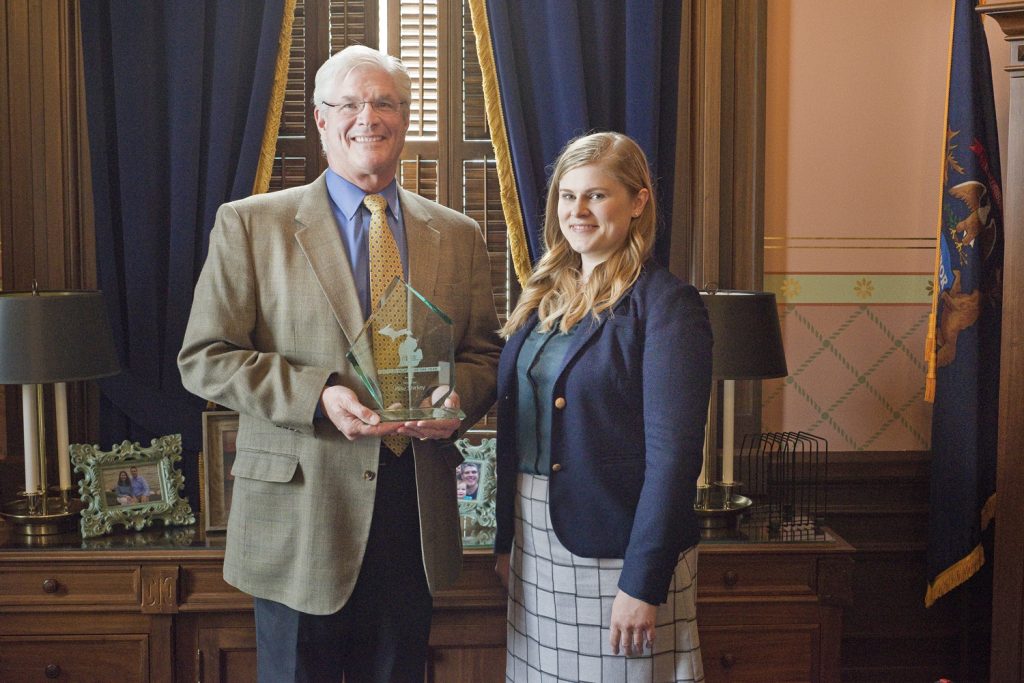 By AMY DRUMM
State Senator Mike Shirkey (R-Clarklake) is in his second and final term in the Michigan Senate, where he was recently elected Senate Majority Leader by his Republican colleagues for the next four years. In his new role, he will also serve as Chair of the Senate Government Operations Committee. He represents Branch, Hillsdale and Jackson counties.
He was first elected in November 2010 to a partial term representing Michigan's 65th House District, also winning election at that time as representative from 2011-2012. Shirkey served two terms in the House and was elected to Michigan's 16th Senate District in November 2014. He has been named a Friend of Retail in all three of his elections (2012, 2014 and 2018) since MRA began the designation in 2012.
Last year he sponsored legislation (SB 1175, Public Act 369 of 2018) that successfully amended the onerous paid sick leave requirements. SB 1175 made the requirements in the adopted ballot proposal far more palatable for retailers and employers. His leadership role helped secure the necessary votes to win approval of the changes and he created a system to ensure all parties worked together to draft the new language in a seamless fashion.
In addition, as chairman of the Senate Health Policy Committee last term he was a tremendous advocate for retail pharmacies. Sen. Shirkey was instrumental in brokering a legislative victory to modernize language around pharmacy drug substitution pricing. This was a long-desired outcome to update archaic language and remove potential liability from retail pharmacies after a 2014 Michigan Supreme Court decision highlighted the need for changes.
Shirkey is the founder and owner of Orbitform, which provides world-class prototype engineering services for assembly of parts and specialized forming and fastening. He has also worked for General Motors, holding various management and engineering roles over 13 years.
Shirkey served on the Columbia Central School Board in the 1980s and '90s and is the past board chair of Allegiance Health System. He holds a bachelor's degree from General Motors Institute (GMI) and a master's of science in mechanical engineering from the University of Wisconsin at Madison.
Shirkey and his wife Sue live in Clarklake. They have three children and several grandchildren. He is an active member of the Jackson Free Methodist Church, where he leads major construction/expansion projects. He enjoys hunting, fishing, golfing, working out and woodworking.