Two MRA employees have earned a prestigious national designation that recognizes professionalism and expertise in the increasingly complex arena of credit card processing and other electronic payments systems.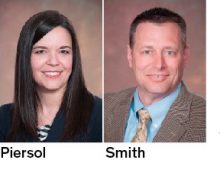 Chris Smith, manager of business development and national sales, and Miranda Piersol, business development representative for southeast Michigan, both passed the requirements to become Certified Payments Professionals (CPP).
The certification from the Electronic Transactions Association, headquartered in Washington, D.C., shows clients that MRA representatives can deliver the highest level of knowledge about credit card processing.
MRA's nationally recognized credit card processing program has clients in all 50 states. Its annual volume is expected to reach $1.5 billion this year.