Wall or no wall? That is the question.
Current politics aside, should your credit card terminal have a wall around it or not? Should it be on a deserted data island?
My advice: Don't let a wall shut down your business.
In today's world, your systems shouldn't be on their own islands or have walls built around them. For efficiency's sake, they need to talk to each other (as long as it follows PCI compliance).
In the old days, your credit card terminal sat, disconnected, from your inventory system. Only the largest, most sophisticated merchants were able to afford an integrated system that "talked" to the merchant processing system.
Today, that has changed.
With the movement of tablets and touch screens into the business world and then into the point of sale, more and more merchants are able to leverage a complete package for a very small cost. This allows you, as the business owner, to give your customers a retail experience that in the past was associated only with the large multi-store, multi-state retailers.
MRA has partnered with TSYS, one of our merchant processing vendors, and is offering a solution that is made for the small merchant community. The Vital point of sale system sits on a single powerful platform that gives business owners the tools they need to be successful.
It all starts with the redesign of the traditional cash register. This tablet system is designed to sit on the counter at the cash-wrap station and handle all of your customer interactions, including a customer-facing signature capture and/or gratuity tool.
This system will handle all of your customer facing needs, from ringing up a sale, to payment processing (cash, check, or card), to capturing the relevant information about your customer so you can market to them in the future.
And when you aren't open for business, you can keep doing business (since business owners never sleep, right?) The cloud-based back-office tools allow you to manage all aspects of your business from almost anywhere.
*Access to all data elements in one spot
*Real time sales reporting
*Inventory management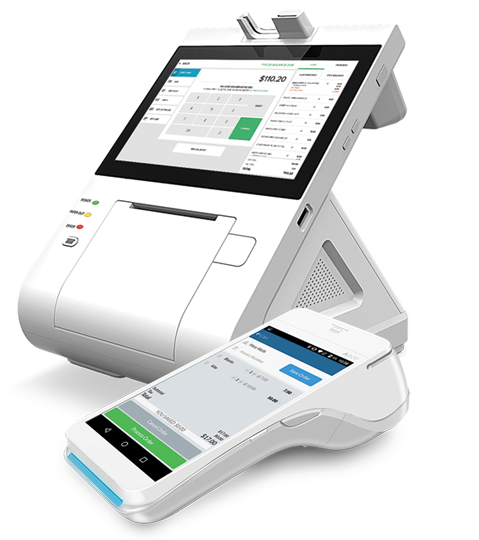 *Pricing controls
*Scalability to support a growing and
changing business
The system can even support mobile solutions, if your business model demands it. We can help, whether your mobile is just Wi-Fi, or a cellular away-from-the-office solution.
This new system will support business solutions that require you to take the cash-out process to the consumer, such as pay at the table for restaurants, or other unique retail experiences designed to fit your vision of the purchase experience.
And since more and more consumers are not interested in taking a "receipt" with them at the point of sale, you can email the receipts to the customer.
In addition to the traditional card-processing solution that your old credit card terminal supported, these new systems can support "apps" that you choose to download. These apps will allow you to leverage the hardware sitting on the counter to do things like time and attendance, inventory, customer databases, etc.
Thankfully, gone is the day that your credit card terminal, your cash register, your timeclock, and your inventory ordering system don't talk to each other.
Both the MRA customer service team and the MRA sales team are ready to answer questions and help design the best solutions for your needs. Please feel free to contact either of them at 800-366-3699. Paraphrasing the immortal words of President Ronald Reagan, "Mr. Retailer, tear down the wall!"