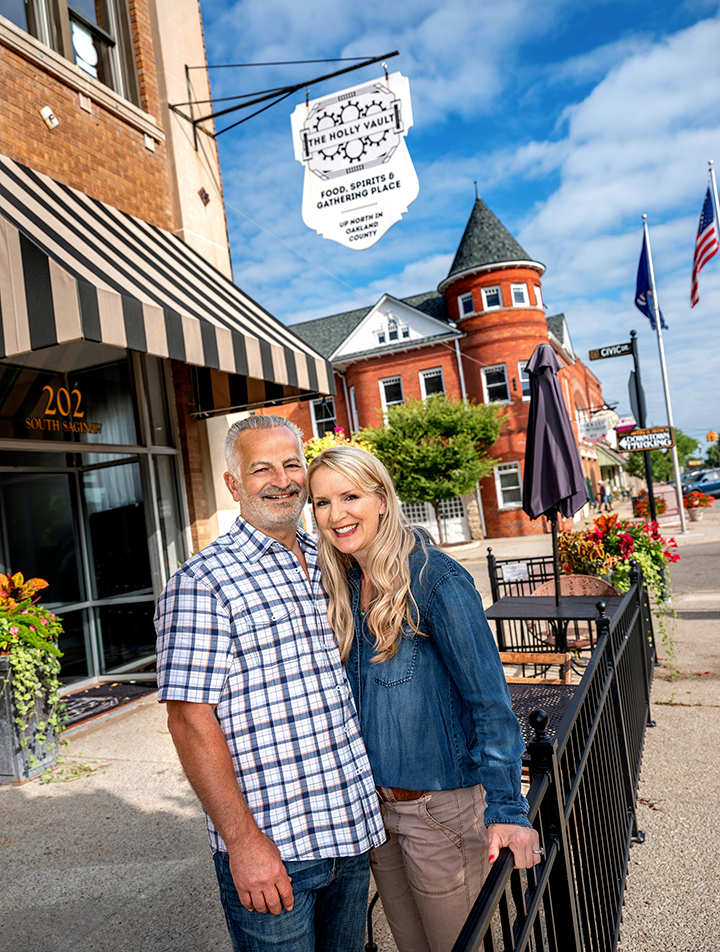 By SHANDRA MARTINEZ
Photos STEVE JESSMORE
HOLLY, MICHIGAN – It's not uncommon for people to come to Holly in search of Cari Cucksey, the star of the HGTV show "Cash & Cari."
The show, from the producers of American Pickers, finished after a 3-year run, but reruns still air in more than 40 countries.
Cucksey arrived in Holly in 2015 with her famed vintage store called RePurpose. The shop, which originally opened in Northville in 2010, went along with the TV show that started that year. Located an hour's drive northwest of Detroit, the shop offered a retail storefront to her longtime estate sale business, which fed into her show about how to find treasures at estate sales.
What started out as one retail storefront and an estate sale business has grown to include two event venues, a chapel, accommodations, a café and soon a beer garden. It shows how one couple with enough working capital and a lot of energy can help transform a downtown.
Their expansion started because Cucksey listened to her customers.
"People kept coming into the store and asking about a place to get married. I said, 'I think we're supposed to open an event venue,'" said Cucksey, a Michigan Retailers Association member.
So in 2017 after the birth of their daughter, Orion, Cucksey and husband, Vince Iafano, decided to shift to a business that would afford them more family time. Now, most of their treasure hunting has turned into discovering the historical features hidden in old buildings and homes in and around Holly's historic red-bricked downtown.
This two-year business venture has the couple slowly transforming the Oakland County village into what they hope will be the ultimate historic wedding destination.
"It all kind of symbiotically goes together," explains Cucksey.
Cucksey describes the charming village as a Norman Rockwell painting crossed with a Hallmark movie, where everybody still waves a welcome.
WEDDING TRAFFIC
The downtown is benefitting from the wedding traffic the couple is generating. They'll do 80 weddings in 2019 and are booked through 2020.
"It's great for the town because we're bringing in hundreds of people every weekend that have never been here before and they're like, 'Wow, beautiful.' Then they come back," Iafano said.
The couple lives, works and plays in Holly. They reside above their main venue, The Holly Vault, in a sprawling 4,500-square foot loft filled with salvaged treasures.
When they bought The Holly Vault, the former bank and hardware store had been partially converted to a Pilates studio and offices. The purple and turquoise decor has since been replaced with elegant gray and white hues. Soft lighting comes from glass chandeliers and lights strung around wood beams. The namesake vault has been turned into a backdrop for the bar.
More recently, they bought a 110-year-old chapel a short walk away. Their renovation has unearthed the original oak floors below orange carpet and tin ceiling tiles behind 1970s pressboard. Damaged by fire, each tile had to be scrubbed – a chore that took weeks on scaffolding.
They've have also acquired an old 9,000 square-foot carriage house on Holly Road near I-75 they are renovating into a rustic wedding venue. The next big project will be the community's former high school, built in1913. The sprawling 44,000-square-foot complex is being transformed into more wedding event space and a little boutique hotel for guests.
Ramps and other features have been added to the buildings to make them ADA compliant.
"It's actually a great selling feature," said Iafano. "We just want to make sure we check every box when someone's looking. We are offering one-stop shopping for weddings and events."
Their renovations are going beyond gathering spots. They have bought up six houses in Holly and rehabbed them.
Funding for the projects has come from a combination of savings, real estate investments and construction loans. The village has been helpful, selling them The Vault on land contract. And Huron Valley State Bank in Milford has been a helpful lender. "We used a local bank to keep it in the community. We have since paid off the land contract and grown tremendously," Cucksey said.
A LITTLE PATINA
Cucksey believes good antiques are like people.
"It's just bringing something back to life, but keeping the vintage feel, not polishing it up too much. You want it to have a little bit of character, a little patina. And it's just like somebody, if they haven't been through a lot, then there's really not much depth to them," Cucksey said.
The silver-haired Iafano was semi-retired after selling his successful decorative concrete business when he met Cucksey. He had grown the business from five guys to 200 employees, by landing contracts with one of the nation's largest homebuilders and Habitat for Humanity.
He sold the business to his employees as he was resetting his life after being left a widower with two children, ages 11 and 13. He met Cucksey when a friend recommended her as a mentor for his youngest.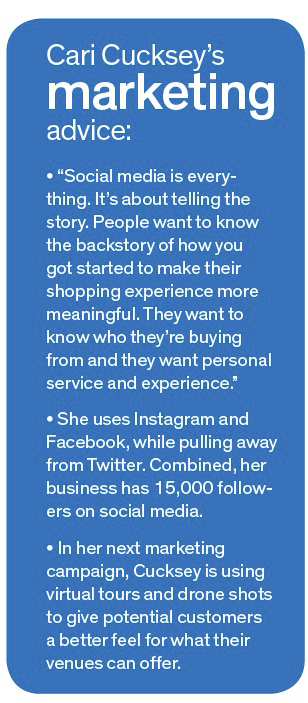 "The more she came around, the more I'm like, 'She's kinda nice'," said Iafano.
It didn't take long for the Italian-born Iafano to fall in love with Cucksey and her passion for vintage.
"It's already ingrained in me. I love history. I love the past, so it was a good merger," says Iafano.
Like Holly, Cucksey has a no-fuss charm to her. She wears her blonde tresses down and minimal makeup. This day, she has paired a denim shirt with tan cargo pants. The ensemble is punctuated by an oversized belt buckle of a Phoenix made with turquoise and other stones. It was one of her first estate sale finds.
As she is talking to Michigan Retailer, fan Alice Matich comes up to gush over her. She has driven two hours from Tawas with her husband, Dirk, to visit RePurpose. Although disappointed there isn't a store, she is thrilled to finally meet Cucksey.
"I've been watching your show forever," Matich tells Cucksey. "I'm into the antiques and repurposing things just like you are."
THE CARI STAMP
Holly business owners are also inspired by Cucksey, says Katy Golden, Holly's Downtown Development Authority director, and the assistant village manager.
"They talk about there being a Cari Stamp," says Golden. "It's kind of just bringing everything up a notch like the mural on her cafe and her flair for details."
Cucksey was recruited for the village's DDA board and made the head of Main Street promotion team.
Golden says there's renewed interest in taking advantage of DDA matching grants to make facade improvements. One shop owner plans to replace tired cedar shake shingles with a rollout awning after finding the original in a basement.
"Cari has done so much to her buildings with the renovation and other improvements, and now it seems like the other business owners are following suit," Golden said.
Iafano credits Holly for being an easy community to work with. Since they arrived in 2015, the occupancy rate for the downtown district — which has about 70 storefronts — has climbed to nearly 100 percent.
"Being in construction, there was a lot of towns or cities I worked in. Sometimes they made it a little difficult on you, but over here they really embraced us and really wanted our suggestions," Iafano said.
The two are already thinking about additional projects they would like to tackle in Holly. Whatever the future holds, Cucksey and Iafano know they will embrace it together.
"I've got a construction background and she has a creative background so the two really work hand-in-hand together."