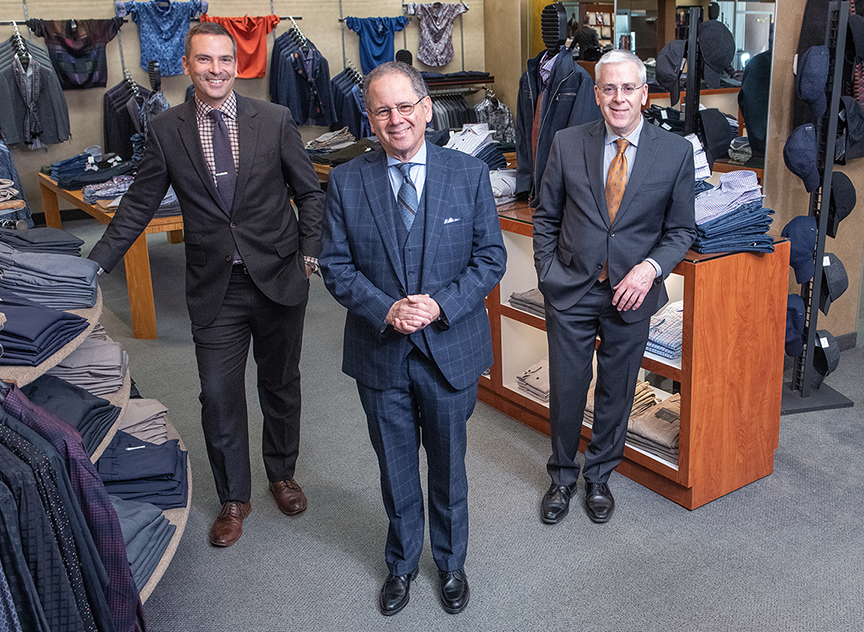 By MEEGAN HOLLAND
Photos DAVID TRUMPIE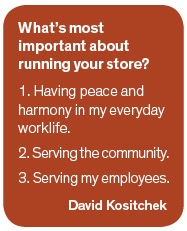 LANSING – Walk into Kositchek's men's clothing store, and you'll see racks of men's suits and sportcoats, hangers with colorful shirts, tables of silk ties, a shoe department and a salon. On the second floor is a room full of the latest resort wear, ready to be snatched up by snowbirds.
It can be a bit intimidating for someone not used to touching such fine fabrics or getting shoes polished on a regular basis.
But the people who greet you immediately put you at ease – and one of them may very well be fourth-generation store owner David Kositchek.
Beautifully suited, Kositchek calls you by name and makes you feel at home. It's all about the art of service, and every employee understands that core principle, from General Manager Matt McLeod to the receiving room clerk.
That's the key to staying in business for 154 years.
"A customer for life is a customer who feels the appreciation. Otherwise you don't create loyalty. They might as well shop on Amazon," Kostichek says. "They have to feel the hug. You can't be in business today and take your customers for granted. If you do, you're not in charge of your own destiny."
Service is ingrained in Kositchek's DNA. His great grandfather Henry, born to immigrants from Austria, started selling dry goods from a wagon and then opened a store in nearby Eaton Rapids in 1865, when the country was healing from the Civil War. He soon moved the store to Michigan's new state capital city of Lansing, and emphasized that he embraced the core principles of service and integrity.
Before Henry died in 1925, he groomed son Louis for 20 years. Louis' eye for quality and fashion made the store a go-to place for lawmakers, lobbyists and anyone who wanted to impress. His business acumen pulled the store through the Depression, a World War, a baby boom and beyond, until his death in 1975 – an extraordinary 70-year career.
Enter son Richard, who had a keen sense for hiring the right people, and under his leadership, Kositchek's grew to the largest footprint of any store in downtown Lansing. It included departments for boys, junior menswear, hats, shoes and even a Boy Scout department.
Richard brought on the fourth generation, sons David and Jeffrey, in the early 1960s. Richard's activism in civic and social causes spread the store's reputation even further, adding to its customer base and influence on mid-Michigan fashion.
Richard remained a guiding force until his death in 1997. He hired teenager Matt McLeod to perform household tasks and eventually work at the store. McLeod has now been with Kositchek's for almost 40 years and is David's right-hand man.
David eventually took over the store and credits McLeod for helping him take the store to the next level. Both also carry on the tradition of community service, having donated thousands of dollars in suits through an annual Father's Day writing contest and even more to women's health issues at the local hospital by putting on a "Dapper Dad's" fashion show with local celebrities.
They are so in sync that they often finish each other's sentences.
"A lot of stores fall into that discount price to compete on the big market," McLeod says. "But if you just take care of your customers, price is secondary. You have to be cognizant of it, but more people are hungry for service."
David chimes in: "We don't care whether they're buying a pair of socks or an expensive suit, it doesn't matter. It's all about respect."
The store is now an iconic institution with a customer base from state government, General Motors and Michigan State University. It became a safe place for the powerful to chat about their day with their favorite wardrobe specialist or David himself, knowing that their revelations or gripes would go nowhere.
"People come in here to feel good. If I'm having a bad day or an issue on my mind, I typically never share it because they don't want to hear it," says Kositchek, with McLeod adding, "We're good about being the listener. If (retailers) have to wear their political or religious opinions on their sleeve, they better be prepared for the consequences. You got to keep that close to the vest."
The newest sales associate has been there six months, but all the rest have worked there from 15 to 40 years. "Turnover hurts you," Kostichek says.
Kositchek's web site provides information on the sales staff and the brands found at the store, but you can't buy online. "The expertise of our team is part of the experience we offer," David says.
The marketing budget is about 3.5 percent of the budget. The store advertises on TV, billboards and social media, with photos pairing a stylish tie, shirt and suitcoat on Instagram and Facebook.
Kositchek and McLeod take pride that the store is contemporary but not trendy. Its largest customer base is ages 18 to 40, an indication that millennials want quality.
One such customer, Jonathan Oosting, laughed as he tells his experience before his September nuptials.
His fiancé (Sarah Mullkoff) "was so mad, because she had spent a whole day looking for a wedding dress," Oosting said. "We walked into Kositchek's, and I told the salesman I needed a navy blue suit for our wedding ant that I wanted something modern and slim fitting. He knew exactly the type I was looking for and pulled a suit off the rack that fit almost perfectly. I was out of the store in a half hour."
That salesman was Carl Dorman, a fitness trainer who 15 years ago applied for a job at Kositchek's, with no experience in the clothing business. David had a good feeling about him during the interview, hired him and then made sure other wardrobe experts mentored him along the way. He now is a buyer for the store.
The right instincts about people and an adherence to the core principles of service and integrity have driven Kositchek's for 150-plus years.
"Is there a succession plan? The answer is no. We're just going to enjoy every day," says Kositchek.