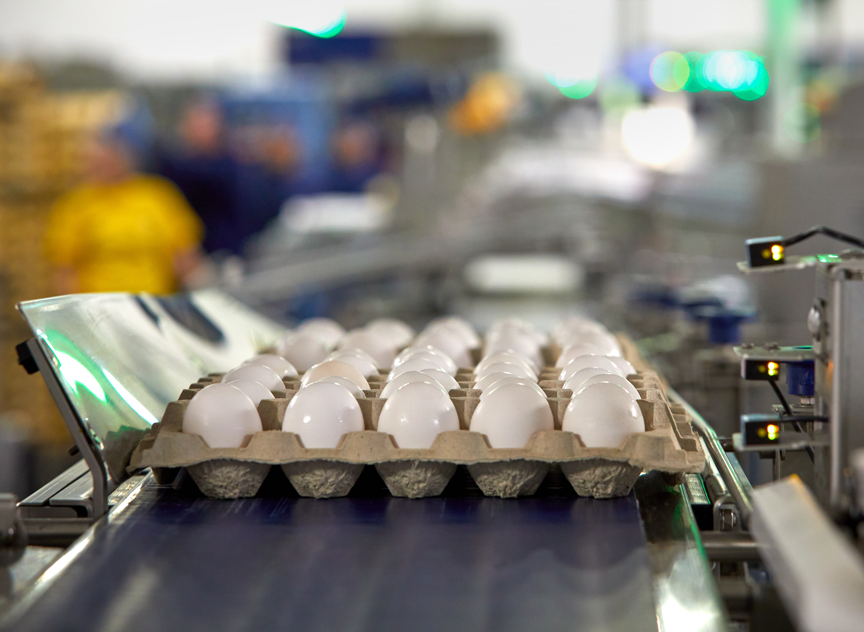 By SHANDRA MARTINEZ
Photos STEVE JESSMORE
SARANAC, Mich. – Looking at the relatively modest Herbruck's headquarters, you wouldn't know the company is the biggest egg producer in Michigan and the 10th largest in the nation.
The brown ranch-style building off Grand River Avenue resembles a residence more than an office. Built in the 1980s, the structure was designed with big windows to take in the view of the surrounding woods and the certified trout stream that runs through the property. Inside, family portraits of three generations of Herbrucks hang above an alcove in the small lobby.
Farther up the hill is the childhood home, also ranch-style, where the late Harry Herbruck Jr. and Marilyn raised their five children and grew their poultry ranch. At 88, Marilyn still lives there, making it easy for her three sons who run the business – Stephen, Greg and Herb – to come up for coffee and a chat.
In many ways, the brothers see their business as an extension of family. They like to say they don't hire people but rather adopt them into the culture of their 62-year-old enterprise that is flourishing, thanks to the vision that began with their dad.
The brothers are third-generation egg producers. Their grandfather was a butter and egg distributor. Their dad, Harry, began selling pullets in 1958, and eventually started producing eggs on the current Saranac farm location.
EXPANSION
Accelerated growth has come under the brothers' leadership. In the past 35 years, production has tripled. They credit that expansion to using cutting-edge technology and putting a focus on the health of the birds.
MRA member Herbruck's Poultry Ranch supplies nearly 3 billion eggs to major grocery retailers including Meijer, SpartanNash, Kroger, Costco, Fresh Thyme, Jewel-Osco and Super Value, and all of the McDonald's east of the Mississippi through longtime customer Cargill, the Minnesota-based agribusiness giant. "It was easier, I think, with three of us to divide and conquer," explains Stephen, Herbruck's President and CEO.
Stephen's expertise is marketing and business oversight. Greg, who wanted to be a veterinarian, oversees the care of the birds, while Herb, a self-described gearhead, focuses on technology and the mechanical aspect of the operation.
As they are gathered around a conference table, their comfort with each other shows in the way they finish each other's sentences. While Stephen is the leader, the brothers make decisions together.
Missing from the group are siblings Terry and Melanie. Terry, the second-oldest, retired from the business 10 years ago and now operates a pair of golf courses – Shadow Ridge and Rolling Hills in Ionia County. Melanie, the only sister, traded Michigan for Florida in the '90s, and consults for the business.
'WE SERVE THE BIRD'
The company's motto is "We serve the bird."
"We found more and more success in the better you care for your animals – and the better housing and feed – result in healthier chickens that lay more eggs in the long run. We generally get more eggs because we'll do the little things that make a difference in their lives. We're about serving the bird, so it thrives," explains Greg.
When their grandfather started in the business, eggs were just eggs. But their dad, Harry, saw the potential for specialty eggs. The brothers figured out how to expand to offer organic, cage-free and nutrient-enhanced eggs.
Herbruck's was among the first to invest in a franchise of Eggland's Best, the Pennsylvania-based company that started the concept of nutritionally enhanced eggs that come from feeding chickens enhanced grains. The original 19 franchisees have consolidated to 10, who own half the co-op, along with Minnesota-based Land O'Lakes. Stephen is chairman of the board.
'OPPORTUNITY IN CHANGE'
The family business has a culture that embraces change.
"We find opportunity in change. That's why we started organic and cage-free back in the late '90s. Everybody else thought it was a fad. We said, 'If these things are part of the future, we want to be a leader in it. We've got to figure out how to do this and do this well,'" Greg said.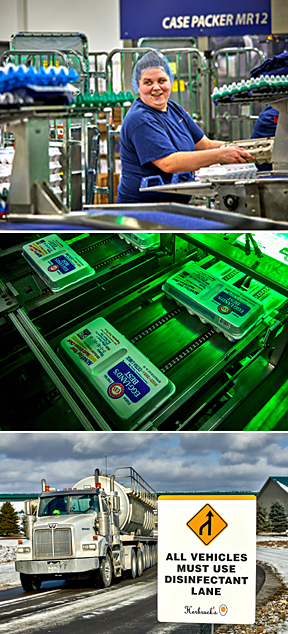 What sets Herbruck's apart from most of the competition is the "we serve the bird" philosophy, Stephen believes. The company is committed to being part of the 20% in the industry that do everything they can to maximize the performance of the bird vs. those who are trying to minimize costs to produce the cheapest eggs on the market.
That's why they weren't worried when Michigan Legislature in late 2019 voted to speed up the industry's plans to go cage-free by 2024.
Two decades ago, one of their biggest customers sent them copies of the book, "Who Moved My Cheese: An Amazing Way to Deal with Change in Your Work and in Your Life." The company president told them the book was about Herbruck's approach to business.
"He said, 'You're always the ones that are out there looking for the next thing. You've hit it right on a lot of things.' Coming from such a large customer, it was high praise to us," Herb said.
The brothers look to technology for better ways to serve the bird.
Stephen started Poultry Management Systems 30 years ago, which became the biggest tech supplier in the industry when it comes to bird monitoring and tracking in egg plants. They sold the company six years ago to farming equipment manufacturer Big Dutchman, a company started more than a century ago in Holland, Mich., that is now German-owned. Herbruck's remains the biggest customer of the firm, now located in Lowell.
"For the last 30 years, we've been the supplier of technology to most of our peers and, in some cases, our competitors," said Stephen, who is chairman of that board.
AN INTEGRATED INDUSTRY
Compared to other agriculture industries, the egg industry is very integrated. Herbruck's controls the process from the genetics of its chickens to the delivery of eggs to customers. Chicks arrive when they are a day old from a hatchery that is a partner of Herbruck's. They are fed with corn and grains milled on-site and grown on farms throughout Ionia County.
The company puts a priority on having skilled personnel to care for the birds. Its staff includes three veterinarians. There is also a fulltime USDA inspector on site.
They have very strict biosecurity measures not only for the health of the chicken but economic reasons. Very few people are allowed into the facility. The farm's complex automation system is designed so once the eggs are cleaned no human hands touch them again until they are brought home from the store.
"Dad picked a great spot because there's nobody around us, and you're trying to make yourself an island. We actually are trying to make each site an island since they're all close. It makes them easier to manage, but if something happens in one, there's less risk of it happening to others," Greg said.
It's why Herbruck's doesn't use outside contractors, which is how the outbreak of avian influenza subtype H5N2 bird flu spread back in 2015, resulting in 43 million chickens and turkeys in 15 states being destroyed. Herbruck's flocks weren't impacted but the company learned from the crisis and tightened biosecurity measures. There are strict protocols in place, including that employees can't own or be around birds outside of work. Their uniforms of boots, clothes and coats stay on-site to avoid contamination.
CARE OF EMPLOYEES
Stephen makes a point of meeting every new employee during orientation to talk about the family culture and the priority placed on the health of the chickens.
Herbruck's takes similar care with employees. The company pays 100% of insurance costs, which means its nearly 900 employees don't pay premiums or deductibles. It just opened up a wellness clinic in a converted farmhouse, designed to be more convenient for workers and reduce absenteeism.
It is operated through ProMedico, a clinic management service provider.
"It's about taking care of our people and making it right. I think it's surprising to them when they can make an appointment and be seen the same day," Herb said.
The brothers are looking to the fourth generation of Herbruck's to take the company to the next level. At this point, that group includes a son of each of the brothers and a daughter of Terry's. The brothers think the next generation is up to the challenge.
"We've got a customer base that is growing, so you have to have to prepare for it. We try to take advantage of these opportunities to go after and meet that customer's need and do it better than our peers," Greg said.
---
Conventional or cage-free?
Organic or Eggland's Best?
Egg options abound
Until fairly recently, eggs have been a commodity-driven category, with consumers paying the most attention to price.
But in the past 15 years, consumers have had more options when it comes to what kind of eggs they can buy.
In terms of pricing, the cost of eggs rise with each category they choose: conventional, cage-free, free range, organic and pasture-raised.
To educate customers about what these categories mean – and the differences between the eggs – Herbruck's is launching a new website, loveyoureggs.com, in February. It features a hen character, Mamma H, who helps consumers find the type of egg best suited to their needs.
"We want to educate consumers on what they are buying," said Ric Herrera, vice president of marketing for the Saranac-based egg producer.
The biggest difference in egg categories is how the hens are housed followed by what they are fed. But that has little to do with egg nutrition, which is tied to the hen's diet. Improved egg nutrition is what's behind Eggland's Best, for which Herbruck's holds the regional franchise. Those eggs, which come from hens fed a proprietary blend of grains, are marketed as an "excellent source of B2, B5 and Riboflavin plus Omega 3 and 25% lower in saturated fat."
Certified Organic eggs come from cage-free birds fed a certified organic feed. Herbruck's free-range eggs come mainly from Mennonite and Amish farmers they work with in northern Indiana.
With so many choices, the egg section at the grocery store can be confusing.
"Is it better for me? Is it better for the bird? Is it better for the environment? You literally can have people scratching their heads, going, 'I don't know what I'm buying.'" said Herrera. "What we're trying to do is educate them so they can make that decision based on facts versus marketing hype."
Education is more important than ever as egg producers and retailers prepare for a new Michigan law that will require all eggs sold in the state to come from cage-free hens by the end of 2024 instead of 2025. Some of Herbruck's customers like Meijer have already switched their store-branded eggs to cage free.
With those changes will come higher prices because operational costs will increase.
"The last thing that we want to do is, as a responsible egg farmer, is to have consumers confused and watch the category really take the hit with all the confusion," Herrera said.
In addition to helping consumers understand their egg choices, the campaign aims to humanize a business that has had its share of criticism from animal rights groups. The new website gives consumers an opportunity to see the different hen environments, from conventional to free range. They can type or scan a code from the egg carton onto the website to watch a video of the people who care for the birds and get a glimpse of the birds in their environments.
"Everything we do is to support the birds' health," said Herrera. "It shows in what we do for retailers, distributors and customers in support of our "We serve the bird' philosophy."
Herrera describes eggs as one of the last categories in the store where people aren't well-educated. For example, shoppers understand the difference between the 80-20 and 90-10 ratios when it comes to ground beef, or what processed cheese is versus real cheese. But in the egg category confusion lingers.
Herbruck's has been working on its consumer-focused campaign for six months to educate people who buy their eggs through the company's customers, including Meijer, Fresh Thyme and Kroger among many others.
"It is really meant to drive awareness in the category. We're not saying Herbruck's eggs or Eggland's Best," Herrera says. "We're trying to drive the category, and we're teaming with our retail partners, who have millions of followers on their social media or digital sites."