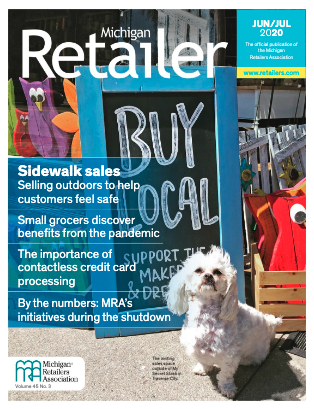 The June/July issue of Michigan Retailer magazine is out!
Retailers are looking for ways to sell outdoors as a way to make customers feel more safe during the pandemic. The cover story provides great tips to hold a successful sidewalk sale.
Small grocers talk about the spike in sales they've seen during COVID, as they attracted more business while restaurants were shut down.
In addition:
MRA President ad CEO Bill Hallan writes about the conundrum of enforcing face masks with customers.
VP of Government Affairs Amy Drumm gives an overview of MRA's actions during the shutdown.
General Counsel Tom Clement talks about best ways to bring employees back to work, including tips on how to use the workshare program.
There are lots of tips on how to prevent credit card fraud, including a column by MRA credit card expert John Mayleben encouraging retailers to train their staffs to be skeptical about unusual phone orders.
A column by a commercial real estate developer helps you figure out how to negotiate with your landlord for a rent deferral or reduction.
Check out the issue, and if you have any questions or comments, feel free to write Editor Meegan Holland at mholland@retailers.com.