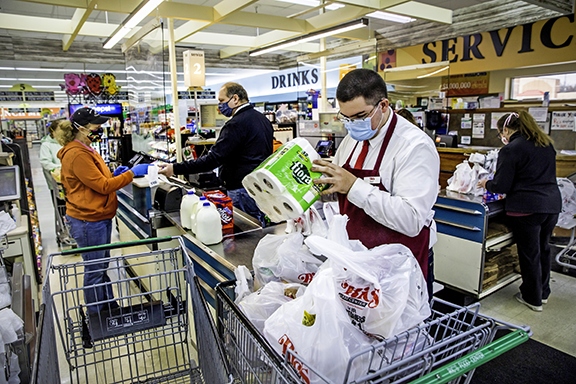 By SHANDRA MARTINEZ
Photos STEVE JESSMORE
As retail sales in general plunged amid coronavirus lockdowns that have essentially shuttered much of the economy, small grocers like Ric's Food Centers are seeing a spike in sales, even as they are scaling back hours.
"We haven't had this good of sales since 2008, during the Great Recession," said Tom Baumann, vice president of operations for the three-store grocery chain started in Isabella County.
With smaller grocers like Ric's benefit from a boost in sales, they are scrambling to address issues such as keeping shelves filled, an extra level of cleanliness and new rules designed to keep employees and customers safe from the spread of COVID-19.
Even as Ric's reduced hours from 24/7 to 7 a.m. to 10:30 p.m. during March and April, sales climbed.
"We didn't have the staff to run 24 hours, and our business has just shifted to daytime business. It used to be 3-7 p.m. was your peak, when you did 80% of your sales. Now it's just a constant, steady stream. At 7 a.m., people shop like crazy because they want to beat the rush," Baumann said.
PULLING IN BUSINESS
He doesn't think he is pulling business from retail giants — Meijer, Walmart, Costco or Amazon — but from restaurants, which haven't been able to offer dine-in service since the state's shelter-in-place order went into effect in March.
As unemployment has climbed to the highest level since The Great Depression in the 1930s, Baumann has struggled to find enough workers to keep up with the pace of demand. He lost some of the company's 120 store employees as college students returned home when Central Michigan University switched to online classes. Other employees had underlying health concerns, and high school students stopped working when their parents were concerned about their safety.
Ric's, like most stores, quickly put safety measures in place. Shields were installed at checkouts. Masks were distributed to employees. Cleaning procedures were stepped up. Employees were assigned to sanitize every cart before they were given to customers to use. Every night, the fronts of the cases and anything a customer may touch are cleaned.
Baumann says the masks, which were initially hard to find, cost him about $1-$1.30 apiece. At first, he started to sell them at the store for $1 to people who show up to shop without one, but soon began to give them away.
MASK CONTROVERSY
Recognizing Gov. Gretchen Whitmer has become a polarizing figure with her "Stay Home, Stay Safe" orders, he doesn't mention her by name in asking customers to follow the order to wear masks.
"We put up a sign that said, 'Due to the COVID-19 virus, the state of Michigan requires masks to be worn in all enclosed public buildings. We are working hard to keep all our employees and customers as safe as possible,'" Baumann said. Since his name and phone numbers are on the bottom of every receipt, he's received calls from people complaining that not all customers are wearing masks.
While the store requires customers to wear masks, Baumann doesn't expect employees to confront customers. For the most part, people follow the rules.
UNEASY ABOUT MASKED SHOPPERS
Darryl Nelson, the owner of Holiday Shopper and Terrace Shopper, two Traverse City-area liquor stores, said he doesn't feel comfortable when he can't see a customer's face.
"We're a liquor store. If somebody walks in with glasses and mask and hat, and all that kind of stuff, it scares the heck out of us," said Nelson.
Masked customers are instructed to pull down their masks so a camera can grab the image of their face. They also have to pull down their masks when presenting their ID to employees to show they are old enough to buy alcohol.
Initially, around 75% of Nelson's customers were wearing masks when they came into his stores, but that dropped to less than 25% in June, and about a third of them take them off when they see others in the store without masks.
KEEPING SHELVES STOCKED
Another issue that grocers had to pivot with during the pandemic is supply-chain disruption. It got so difficult to keep shelves stocked that Baumann dropped Ric's print advertising because there was no way to guarantee the stores would have listed items.
Alan Hartline, owner of Kingma's Market in Grand Rapids, said having Michigan suppliers has paid off. Local farmers supply the store's pork and beef. As reports have surfaced of workers falling ill and dying of COVID-19 at large meat processing plants, more consumers feel safer buying meat from small farms.
"Our meat business has probably doubled from what it used to be. People are concerned about sources of supply," Hartline said.
DIFFERENT SUPPLIERS
As his traditional grocery suppliers have struggled with inventory, he has turned to restaurant suppliers like Sysco and Gordon Food Service.
The store got a supply of Michigan beefsteak tomatoes originally grown for restaurants to put on salads and sandwiches. He had a similar situation with fresh chicken produced for higher-end restaurants.
"We've been working with them and getting great-quality products at a good value because they need to move it, so it's been kind of a win-win," said Hartline. "The biggest challenge for retailers is being nimble enough to find other sources, and certainly the food service suppliers like Gordon and Sysco can be an alternative."
BONUS VS. HAZARD PAY
Many retailers, from Walmart to Amazon, have been offering $2 extra an hour in hazard pay because employees are considered front-line workers. Baumann decided to give Ric's employees three bonuses instead.
"Anytime you give somebody so much per hour, that becomes part of their paycheck and that's so difficult to take it back," said Baumann.
He added that he appreciated how much his employees have stepped up during the pandemic to serve customers.