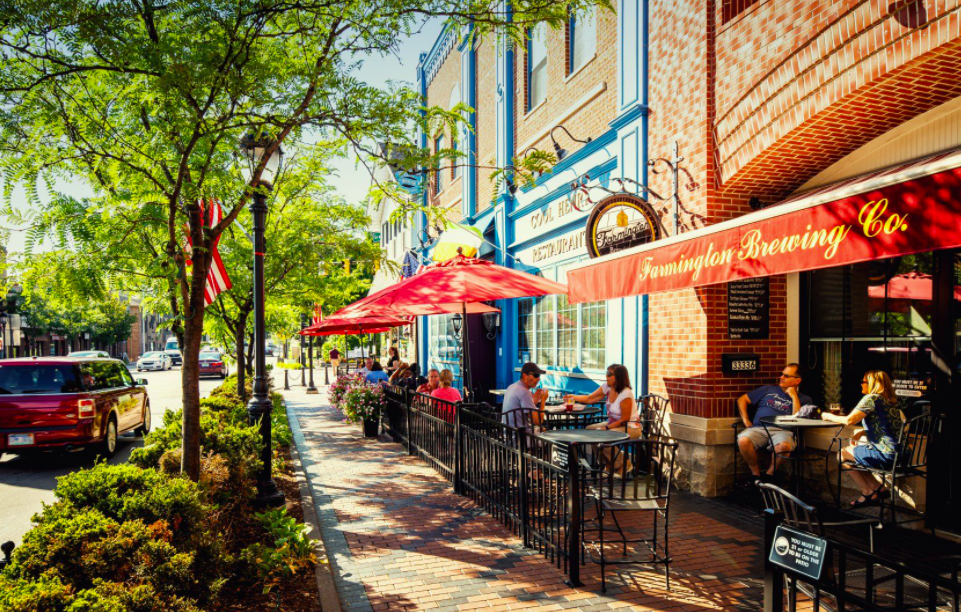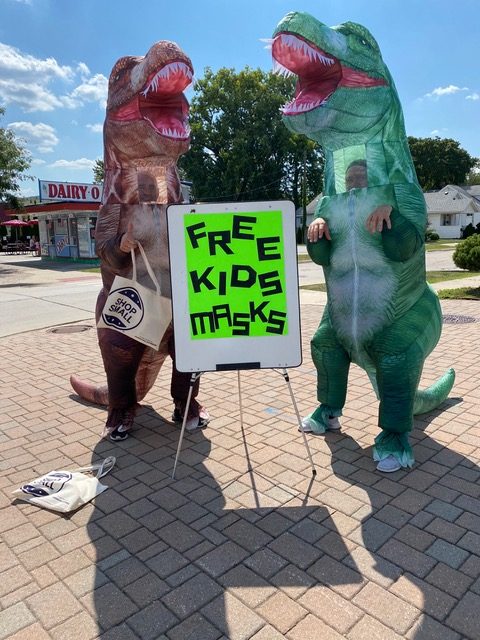 BY SHANDRA MARTINEZ
Whether it's providing access to experts or adding more outdoor seating, downtowns across Michigan are finding creative ways to support small business during the global pandemic.
With restrictions that limit the number of shoppers inside buildings, taking advantage of outdoor space has been crucial.
There are many ways Downtown Development Authorities can support retailers, according to Dana Walker, Michigan Downtown Association director. As people feel more comfortable dining al fresco, Walker suggests DDAs consider an effort to keep those people downtown.
"We've had to use a really wide variety of tools to try to address each business' specific, unique needs," said Lori Ward, director of the Northville DDA. "I think we've done a pretty good job of trying to give everybody an opportunity to succeed, so that's exciting."
Here are some other ways DDAs and other organizations are supporting merchants across the state:
1. Social districts. Grand Rapids, Northville, Cadillac and Muskegon are among the communities taking advantage of newly passed legislation enabling carryout options for alcoholic drinks from restaurants and bars. It also gives local governments the power to create social districts that allow participating restaurants and bars to obtain a special permit to sell alcohol that can be consumed in the common areas of the downtown.
Muskegon expects to launch its social district this fall and expand it by several square blocks in the spring. "This is a new tool to get more people out and about. We want to create a permanent street festival atmosphere downtown," said Dave Alexander, Muskegon DDA's business development manager.
Northville dubbed its social district "The Twist," inspired by its logo touting Northville as "timeless … with a twist." The social district includes two closed streets connected to the downtown's two plazas, now filled with moveable tables and chairs. "Normally, we have yoga classes and performances there, but this summer we really wanted to leave the plazas for our residents and our visitors just to have a kind of safe haven that they could control," Ward said.
2. Grants. Dearborn (which consists of East and West DDAs) partnered with local nonprofits to provide $150,000 in grants to help 70 of the city's small businesses. Most of the grants were between $2,500-$5,000. The collaboration pumped money back into the downtown.
The Michigan West Coast Chamber of Commerce, which serves the neighboring communities of Holland and Zeeland, offered grants of up to $10,000 to struggling businesses through its foundation to help pay rent and utilities.
3. Expertise. Farmington's DDA partnered with a local attorney, who offered a 30-minute free consultation with merchants to answer legal questions about a range of issues — from how to prevent evictions to dealing with vendors during the pandemic. Nearly a dozen businesses took advantage of the service, which is still available. The Farmington DDA also contracted with a liquor license advocate to help local businesses apply for permission to extend their liquor licenses to serve drinks outdoors.
Dearborn launched a business assistance team, partnering with more than 25 organizations from the University of Michigan-Dearborn to the Small Business Administration to provide a range of free resources. "This is something that we had been looking at doing for a while and, when we went into shutdown, we said, 'We've got to get this up and running,'" said Cristina Sheppard-Decius, executive director of the East and West Dearborn DDAs. "This brings together a lot of resources that can help businesses look at things from a different angle and give them some good suggestions on what they can tweak."
4. Campaigns. The city of South Lyon, Lyon Township and the Kensington Valley Chamber of Commerce are collaborating on a "Show Your Love For Lyon" campaign. It encourages the community to unite behind businesses and support them to generate some needed dollars for the local economy.
"We passed out free marketing kits to merchants with posters for windows and checkouts, stickers and an option to order T-shirts," said DDA Director Nathan Mack. "We're also doing an advertising campaign and feather flags and banners with our message, 'Shop Local Dine Local.'" Dearborn spent more than $25,000 on "Love Your Local. Reimmerse in Commerce" campaign, featuring advertising, banners, window displays, sanitizing stations and campaign videos.
Other communities are reminding residents of the importance of supporting the local economy with signage and logos. There's "Love Local Rochester" and Zeeland's "Heal the Zeel." In northern Ottawa County, Grand Haven, Spring Lake and Ferrysburg are doing versions of "For the Love of" community masks to encourage people to wear masks so businesses can stay open.
5. Promoting outdoor space. Traverse City and Northville were among downtowns that closed down streets, while other downtowns let merchants take over sidewalk and parking spaces. Northville used a special event application approved by the city council to close two streets to provide room for businesses to expand outdoors.
"We're able to allow the retailers to move onto the sidewalk so that they could sell merchandise outside," said Northville DDA's Ward. "A lot of them really rose to the occasion. They put up beautiful displays, and they lug stuff out every day and they lug it back in without a complaint."
Northville also brought back live music every Friday and Saturday evening that's meant to be background music while people dine and shop, rather than a performance that draws an audience. "We don't have them on a stage where people will crowd in and just sit close to each other," Ward said.
The city of Holland extended its outdoor expansion program through Dec. 1 so shops and restaurants can continue to use sidewalks and parking spaces. Milford created a program where restaurants could purchase decking that fits together like Legos to create expanded outdoor space. Milford Public Works installed the decks.
"We had to find a system that we could use fast and that is adjustable to different ground surfaces," said DDA Milford Executive Director Ann Barnette, adding that a local builder suggested a floating paver system. Each paver can be adjusted up or down by two to four inches. "That allowed us to approve all the decks at once instead of individually, which saved a lot of time."
Farmington spent money on umbrellas for outdoor seating at downtown restaurants and stores. "We wanted to create a district that was a destination," explained Kate Knight, with Farmington's DDA, which invested in the umbrellas, tables, chairs and containers to create a uniform look.
6. Outdoor activities. Several downtowns are using sidewalk sales to create outdoor shopping opportunities. Farmington did both a sidewalk sale and Girlfriends Night Out, with many merchants taking part and promoting the events.
Clawson held an Open Air Sidewalk Sale in August that featured eye-catching circus performers on unicycles and stilts. "We had a lot of activity along the sidewalks, and it was all planned out so people could keep moving," said Clawson DDA Director Joan Horton, noting that two merchants teamed up to buy children's masks decorated with dinosaurs and then had people dressed like dinosaurs hand them out. The DDA is planning another strolling event in October, she said.
While the challenges of the pandemic have resulted in some downtown businesses closing, there have also been businesses expanding and trying out new concepts.
"I have been blown away by the creativity and the resilience of some of the retailers in the downtown," said Northville's Ward. "We've had three downtown businesses expand or open. I'm just awestruck that there are still people able to grow in this time."
Some of the changes the DDA developed during the pandemic to help merchants might stick, like offering live background music instead of concerts.
"I think we've learned some things through this great experiment that we've been doing," Ward said.
Looking toward the snowy season downtowns are looking at winter markets, over-the-top window displays, literal window shopping with QR codes for shoppers who want to buy on the spot, and lots of propane heaters for outdoor seating areas. Let us know what you plan and we may write about it in our December issue! Send your winter activation plan to Meegan Holland at mholland@retailers.com.