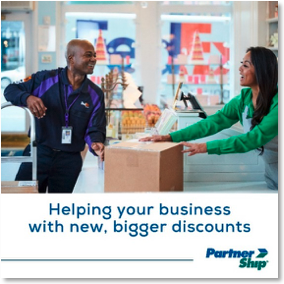 MRA is excited to announce that our members now have access to better FedEx discounts off list rates than ever before.
Members receive exclusive discounts on inbound and outbound shipments through the MRA Shipping Program, managed by PartnerShip®. Whether your shipment is going across the country or across the world, you'll ship smarter with this free MRA member benefit.
Save on small package shipping with discounts of 40% on FedEx Express and 30% on FedEx Ground.
Reduce your freight costs with competitive LTL and truckload rates from UPS Freight, YRC Freight, XPO, and many others.
Improve your supply chain efficiency with affordable warehouse storage and fulfillment services.
Enroll in the MRA Shipping Program today to start saving. For members who are already using the program, but don't have the current FedEx discounts, make sure you re-enroll to receive the improved pricing. If you have any questions about using the program or would like a quote, contact PartnerShip.
With all of the challenges businesses are facing right now, it's more important than ever to take advantage of cost-saving benefits. Whether you're shipping orders to customers, getting shipments in from suppliers, or managing customer returns, you'll be able to reduce your costs.