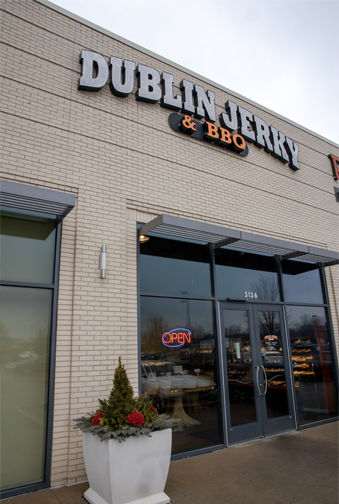 Dublin's Troy Fischer Keeps the Family Business Thriving in Grandville
By JENNIFER ROOK
Photos STEVE JESSMORE
Troy Fischer, purveyor of Dublin Jerky & BBQ in Grandville, MI, known as "Dublin Jerky," remembers the day after his parents' flagship store in Manistee County burned to the ground in November 2019 as if it happened yesterday.
"I remember driving and feeling this incredible void," said Fischer. "When I arrived, the devastation just took my breath away. It was just 100 percent gone. I knew immediately how much this tragedy impacted the community because there were at least fifty people on site filming the wreckage with their camera phones and feeling as awful as we did."
Later that morning, as Fischer sat at a nearby picnic table with his parents and an insurance representative reviewing the details of the loss, one thought came to Fischer, "Well, it's all on me now."
The weight of the legacy of Dublin Jerky, the breath of the store's fan base that spanned generations, and years of sweat and tears that his family poured into the business for 85 years, since 1935, seemed daunting as one might imagine. Yet, it only fueled Fischer's drive to push forward.
"I don't believe in plateauing. Regardless of how overwhelming the situation was, I knew that this was no time to roll over," said Fischer.
Flash forward to April 2020. During the early weeks of the pandemic shut down, Fischer witnessed high levels of hoarding happening in and around them on top of customers' safety concerns that kept many from shopping in person.
"I remember working those first early days of the pandemic with little to no customers in the store thinking about my wife and six kids wondering how we were going to survive," recalled Fischer.
Between the loss of his parents' store and now the pandemic shutdown, the odds seem stacked against Dublin Jerky. But, a window of opportunity cracked open.
"I started to get calls from suppliers who were looking to unload fresh meat and poultry inventory due to the restaurant closures," said Fischer. "Prime cuts of beef that typically went to restaurants were now available. As tough as it was to see restaurants close around us, as a business owner, I saw an opportunity and took it."
Fischer started taking the surplus inventory and expanded his fresh offerings. Encountering limited inventories with beef and poultry elsewhere, drove customers to replenish their supply at Dublin Jerky.
"We typically sell large quantities in bulk, so customers started coming to our store as they learned that we had inventory," said Fischer. "I had one customer purchase 480 pounds of chicken that he gave to everyone on his street. As much stocking up we saw, we also witnessed quite a bit of generosity among our customers. That was incredible."
In addition, Fischer started experimenting with smoking the prime cuts of beef and notified customers via email and Facebook.  Fischer uses an on-premise, wood-burning rotisserie smoker to cook the store's supply of pulled pork and beef, brisket, ribs and chicken.
"We were able to sell these amazing cuts of beef at a reasonable price," said Fischer. "I smoked 30 prime choice tri-tip roasts. Once I sent out the notice, we sold out in 15 minutes. It was fun to do it and our customers loved them."
Fischer, a passionate foodie at heart, makes his own rubs, from more than a dozen spices, peppers and herbs, garlic being the base ingredient. Fischer is always experimenting with spices and meat to create new recipes.
"Experimenting is part of the thrill of the business," said Fischer. "I use my pallet to find the next combination that will delight customers."
Fischer's devotion to making a unique and delectable product has led to some fan favorites, including maple bacon bratwursts, apple jack beef jerky, and a legendary dip known as THE Dublin Jerky Spread. The store carries more than 70 varieties of jerky, made from beef, turkey, chicken, pork, buffalo, venison, elk, ostrich, yak, pheasant, duck, wild boar, gator, rabbit and even python.
Fischer maintains a customer email list of about 8,000 names and a Facebook fan base of 36,000. Fischer's average email open rate is 32 percent, higher than the national average of 21percent of emails in a similar category.
Over the past 10 months, Fischer reports that despite the shutdown and the in-store traffic restrictions put in place, business remained steady and to the delight of Fischer and his staff, swung to record levels by the holidays.
"We consistently offered flash sales and promotions just to stay connected with our customers remotely," said Fischer. "We also poured a lot of time into product research and development, and quality. At times, this included trying suggestions from our customers. I knew that having a quality product and keeping a constant flow of communication with our customers was vital to our survival."
Dublin Jerky ships direct to its vast customer base around the country and enables customers to buy products via Amazon. Many of his customers make regular trips from the Kalamazoo and Portage area, and over the summer, several customers in the Grandville store were from Chicago. Fischer maintains that it was the constant flow of encouragement from customers that helped to keep the spirits of the staff at Dublin Jerky high.
"The outpouring of support from fans in 2019 when our store up north burned and throughout this pandemic just kept us going," said Fischer.
As 2021 continues to unfold, Fischer keeps focused on doing what his shop does best – making a great product. He also will be exploring potential new partnerships. Between the setback of losing the flagship store, which fortunately, reopened in September 2020, and the turbulent time of the pandemic, Fischer emphasized that keeping focused on not idling and not maintaining status quo is key to thriving.
"Business owners should continue to look for ways to stay nimble," said Fischer. "I love what I do. I love the product we provide to our customers. I never want to settle. Fortunately, the end of the pandemic is on the horizon. However, even when the 'good times' return, we believe it's important to stay alert and focused because, as we learned, anything can change in a moment's notice."