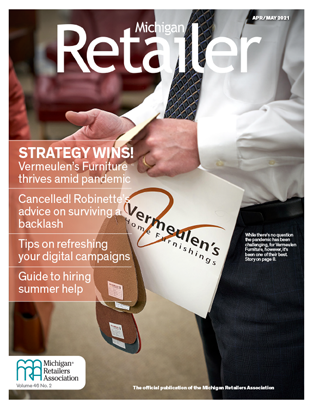 The April/May issue of the Michigan Retailer is now available!
This issue is all about moving forward. Our feature story on Vermeulen's Furniture highlights their winning strategy helping them thrive through the pandemic.
We also feature Karey Robinette's battle against backlash after a prominent political figure visited her business, Robinette's Apple Haus, this fall. She shares her advice on how not to to get cancelled in today's "cancel culture."
The In Her Own Words (IHOW) section features Jennifer Stehouwer, owner of Ball Park Floral & Gifts in Grand Rapids. She shares how her passion for nature led her into a career in floral design.
We also feature insights from MRA President Bill Hallan, Chief Counsel Thomas Clement, and Government Affairs VP Amy Drumm.
Lastly, we have tips to refresh your digital campaigns and a guide to hiring summer help.
If you have any questions, comments, or ideas for future stories, contact Jennifer Rook, at jrook@retailers.com.
Read it your preferred way – by PDF or on the issuu platform.