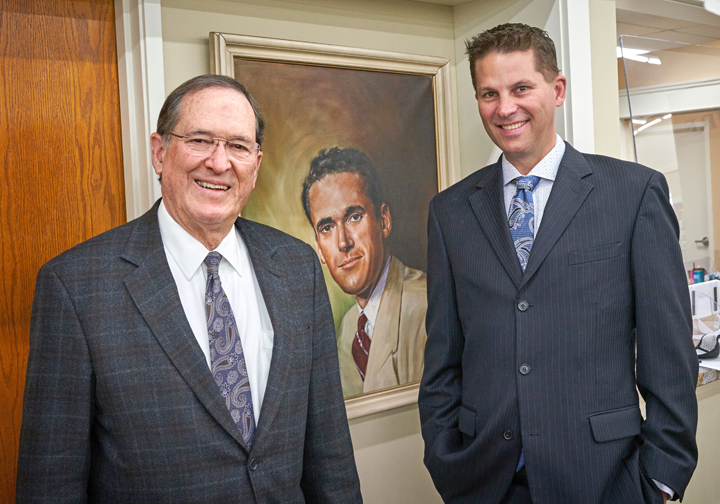 By SHANDRA MARTINEZ
Photos STEVE JESSMORE
The Vermeulens have been in the furniture business for three generations. While there's no question the pandemic has been challenging, the past year has been one of the company's most successful — even with being forced to shut down their stores for two months last spring.
"We are experiencing a big uptick in business," said Vermeulen Furniture owner Lynn Vermeulen, explaining that business doubled in January compared to a year earlier. "We've had to hire another delivery crew and buy another truck. It's pretty crazy right now."
The family business includes a 45,000-square-foot main store in Jackson and two La-Z-Boy galleries in Lansing and Portage.
A PERFECT STORM
The retailer is benefiting from a perfect storm, from the closure of competitor Art Van in their three markets in February to an extended quarantine period that had people spending money sprucing up their homes with new furniture that otherwise might have gone toward vacations.
While other retailers might have pulled back on marketing with rising sales, the Vermeulens maintained the budget. Their marketing strategy is a combination of old-fashioned direct mailers using high-quality paper and color photos along with targeted emails and Facebook videos.
Direct mail campaigns have been the most effective. Their advertising agency, Knorr Marketing in Traverse City, uses technology to target certain demographics and specific areas within ZIP codes. They know the ads are working because people are walking through their doors daily with the mailings in hand.
"We have a pretty big customer base. Now, with Art Van closings, a lot of customers out there may not be familiar with our store, so we want to get in front of them," said Lynn's son, Nate. "We can target literally by neighborhood."
STRATEGIC STORAGE
In May, the Vermeulens recognized that merchandise was getting difficult to order so they bought more and rented a second warehouse to store it.
"It puts us in a good position to be able to deliver things to people right now, which is helping us a lot," Lynn said, noting the current wait time for a manufacturer to deliver a product is about six months.
Demand has skyrocketed for mattresses and upholstered items, such as stationary sofas, motion sofas and recliners.
To help ensure the safety of customers and staff, the company invested in electrostatic misting, which sprays an antiviral mist that is very effective against all kinds of viruses, including COVID-19.
With people spending more time online, the Vermeulens are taking advantage of Facebook, where they have about 18,000 followers. They are live-streaming videos that take people through the store, showing off new products and even bringing designers on to discuss trends in colors, fabrics and design. The engagement has been strong, Lynn said.
DIGITAL DEVELOPMENT
When most of the state's businesses closed from March 23 to May 26 under the governor's orders to reduce the spread of COVID-19, the experience sped up the company's plans to develop a digital presence.
"I'm in a performance group with 10 other stores around the U.S. and Canada," Lynn said. "The stores that were e-commerce-capable during the closure did a lot of business, where the rest of us didn't do any."
The business is also moving forward with launching an e-commerce website. But that is easier said than done. Lynn has learned he needs to put an employee in charge of an e-commerce site to quickly respond to questions. Essentially, he needs to treat it like opening another store.
"It's a difficult process to get e-commerce-capable," Lynn said. "We did our website at the same time, so it was a big job. You have to have a good, strong website that's interesting to people. And then you add the e-commerce component."
A BENEFICIAL MOVE
For more than 80 years, the furniture store was located in downtown Jackson. It left in 2014, when there was an opportunity to locate in the home of a former Felpausch grocery store at 2105 W. Michigan Ave. in Summit Township. Not only was the new space about 12,000 square feet larger and all on one level, it was also located in a higher traffic area near Westwood Mall and Walmart. The aging downtown building was getting costly to maintain. And, with nine floors, it wasn't easy for customers to navigate.
In the first year at the new location, the business doubled its volume and increased sales.
"You cannot take locations for granted," said Nate. "We're on one floor with good lighting and tons of parking, which is better for the customer."
LA-Z-BOY LOCATIONS
About 25 years ago, Lynn opened his first La-Z-Boy Gallery in Portage. In the past decade, the business added locations in Grand Rapids and Lansing. Corporate bought back the Grand Rapids location. The 25,000-square-foot Portage location was recently remodeled, and the Lansing store relocated to a new 16,000-square-foot building in 2017. Both are thriving, Nate said.
"The La-Z-Boy locations don't compete with the Jackson store. We're in different markets and we run them independently of each other. They've been successful. Frankly, a lot of people don't even know we own them," Nate said.
"I'm somewhat content with how the store is doing right now, but there are always other markets that we keep our eyes on," he said. "We're getting a bid on expanding the on-site warehouse because, if we continue with this kind of volume, we are going to need more warehouse space."
A FAMILY VENTURE
The pandemic hasn't pushed Lynn, 76, into retirement as it has others, although he admits to not being as energetic as he used to be. He feels good about the businesses' future with both his grown children involved. Nate runs the main store while daughter Maggie oversees the La-Z-Boy galleries.
Nate, 47, began working in the warehouse in high school. After college, he joined full time. He'll mark his 25th year in May. He likes working with his dad, and the company's 25 employees feel like family. Most have been on staff for years, if not decades.
"There's always something different. It keeps you on your toes. It's fun to wear a lot of different hats," Nate said.