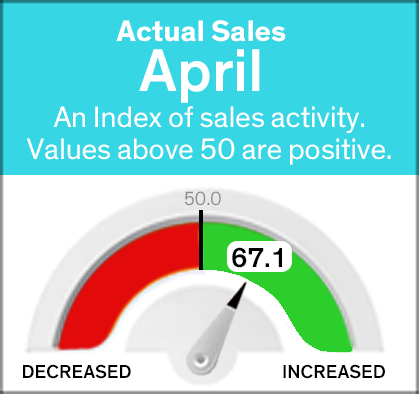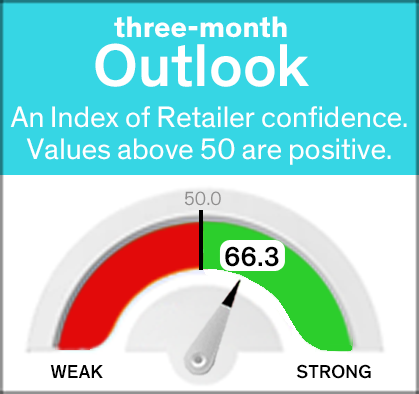 Michigan Retailers Association today reports a decrease in retail sales, month-over-month, for the first time since November 2020.
The April Retail Index survey came in at 67.1, a decrease from March's 92.4. Fifty-eight percent (58%) of Michigan retailers reported an increase in sales over March, 22% reported a sales decline; and 20% reported no change. The seasonally adjusted performance Index is conducted by Michigan Retailers Association (MRA) in cooperation with the Federal Reserve Bank of Chicago's Detroit branch.
The 100-point Index provides a snapshot of the state's overall retail industry. Index values above 50 generally indicate positive activity; the higher the number, the stronger the activity.
Fifty-seven percent (57%) of retailers predict their sales will continue to rise through July, but 15% said they expect a sales decline, and 28% anticipate no change. That results in an 66.3 Index rating, a drop from last month's Index rating of 80.3.
"Labor shortages and supply chain challenges that have been noted around the country have contributed to the decline we experienced in April here in Michigan," said William J. Hallan, President and CEO of Michigan Retailers Association. "We are optimistic that sales will trend higher in May due to the increase in vaccinations and Michiganders eager to resume their lives pre-COVID."
Sales year-over-year are up. According to MRA's April retail volume report, home furnishing sales have been strong over the past year, increasing more than 1.7K% over April 2020, department store purchases increased by 214.28%, and clothing and shoe stores are up 209.36%.
Many businesses that took the survey report their biggest challenges are finding enough people to work and waiting on supply chain delays. One business said, "We cannot hire enough people to operate our store at the old schedule and staff our company. I've never seen this in my 55 years of being in business."  Another added, "Product availability remains our biggest concern. It is much worse than pre-pandemic and last summer, and is not expected to improve until at least the end of 2022."
Michigan's unemployment rate in April 2021 has not yet been announced. In March, the unemployment rate in Michigan was 5.1%. Last year, Michigan's unemployment rate was 23.6%. In April 2021, the national unemployment rate rose to 6.1% compared to March's 6.0%.
Note: Paul Traub with the Federal Reserve Bank of Chicago, can be reached at 313.964.6297.