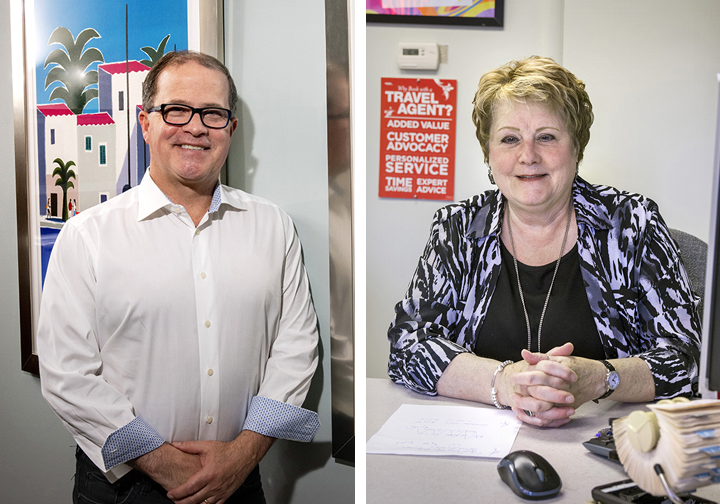 By SHANDRA MARTINEZ
Photos STEVE JESSMORE
In a year when most people stayed home, those in the travel planning business proved their value to clients.
"COVID has really shone a light on the extra services we bring to the table," said Chris Conlin, president and owner of Conlin Travel, the largest travel management company in Michigan.
Conlin and others are finding an important silver lining in what will be remembered as one of the most devastating periods for the travel industry, which collectively saw a 42% decline in revenues, according to data provided by the U.S. Travel Association.
While many travelers scrambled to get through to the airlines or the cruise lines to claim their refunds or rebookings, his clients benefitted from his staff's special phone lines to the companies that put them at the head of the line. Those who followed the company's counsel to buy insurance policies found recouping their money much easier.
"We have a different level of service with them. A lot of people had travel insurance, so we were able to get money back and get refunds for people that wouldn't have been able to do otherwise," Conlin said.
BOOKING AND REBOOKING
Staff double- and even triple-rebooked clients' bookings a few times over the winter as the goalposts for recovery kept moving.
"All of our clients know how valuable we are, and looking down the road we are well-positioned for growth and prosperity, and that excites us as well," Conlin said.
Carol Grussing also has heard from clients who are glad that they had a professional travel agent in their corner when their travel plans fell apart because of the pandemic. She is the owner of Lenger Travel Center in the Grand Rapids suburb of Byron Center, which she has co-owned since 1985.
"We've heard repeatedly from clients who said, 'We don't know how we would have been able to get through this without you,'" Grussing said. "Our client base has definitely become much stronger. We have people who used our services once or twice before say, 'We're never going anywhere else.'"
She compares booking trips on the internet to changing your car's oil yourself or perming your own hair. It's a cheaper option, but many people are willing to pay more for the convenience and better results of having an expert handle the duties.
PENT-UP DEMAND
With the opening of European and Asian destinations expected to take a while, it's going to take longer for the international travel market to rebound, so a lot of trips have been domestic. Cruises are in hot demand, with bookings for 2022 exceeding 2019, thanks to pent-up travel demand.
Conlin says his clients tend to skew toward 50 and older. Most have been vaccinated, which has given them the confidence to finally resume traveling.
Mexico and the Caribbean are currently the most popular international destinations for U.S. travelers, who are required to get tested for COVID-19 — either coming or going, depending on the location. In the U.S., Florida is the hotspot, and closer to home, Northern Michigan continues to be a favorite for getaways.
Grussing also is seeing pent-up demand from clients eager to travel to Europe and take cruises.
"They want the world back. They want it back now. They don't want to wait another two years to travel," she said. "No one travels like Americans. Nobody."
OFFERING EXPERTISE
An important aspect of working with travel counselors is that clients benefit from their expertise and vendor relationships.
"In many cases, we have special amenities, such as early or late check-ins, and upgrade and meal credits," said Conlin, "But, generally, it is the expertise that the travel counselors bring to the table, making sure clients pick the right product for them. Our counselors start with people by really interviewing them, finding out what they want to achieve with their vacations."
Conlin's dad started the business in 1959, and he purchased it in 2000, not too long before 9/11, another devastating chapter for the industry. Leisure and business travel stopped almost overnight.
"That was more widespread then, but it didn't affect us as much as COVID-19, which has been very targeted to tourism and hospitality," Conlin said.
ECONOMIC IMPACT
The travel-related economic impact of COVID-19 is projected to be nine times worse than 9/11, according to the U.S. Travel Association. The industry isn't expected to get back to pre-COVID sale levels for a few years.
While leisure travel is picking up, business travel continues to be mostly halted as remote work continues. But Conlin said he is beginning to see the return of travel for conferences and conventions.
Conlin says he had to reduce hours or furlough much of his 75-person staff in the past year but has been increasing hours and bringing employees back to their offices since March.
Still, there was the opportunity to expand during the pandemic. Conlin Travel acquired two agencies — one in East Lansing and the other in Rochester Hills — and is completing a deal for an out-of-state business. Growth through acquisition has been a successful strategy over the past three decades. During that period, Conlin Travel bought up 15 competitors to expand services to different markets.
MRA: A 'FANTASTIC' RESOURCE
As information about health, safety and restrictions continually evolves, the Michigan Retailer Association (MRA) has been a crucial resource throughout the pandemic with its webinars and newsletters.
Grussing appreciates the mutual encouragement among retailers. "It's probably more evident than I've seen in the past," she said. "When you have a professional organization that is in place to provide assistance and structure, the good old networking is not a bad thing to make use of.
"I am kept well informed of anything that may be new on the market or things that should cause me to be concerned. Also, if there are scams or situations that we should be aware of, as far as financial and payment plans would go, that's important. The retail association is important for that. I have not lacked for information, and if I had any questions, I knew exactly where I could go."
Conlin made the decision about 15 years ago to join the MRA, drawn by the low fees for credit card processing.
"We have had different companies over the years but none have been as easy to work with and really understood our business," he said. "MRA reps have taken the time to understand our business and bring the products and services to us. We've had a fantastic relationship with the Michigan Retailer Association, mainly because of that."