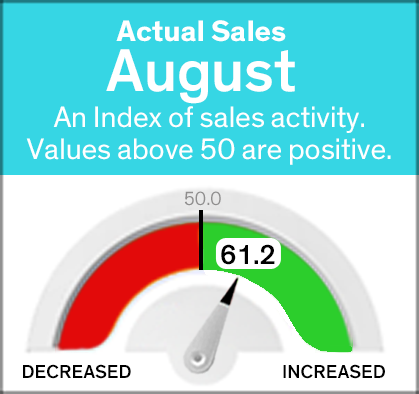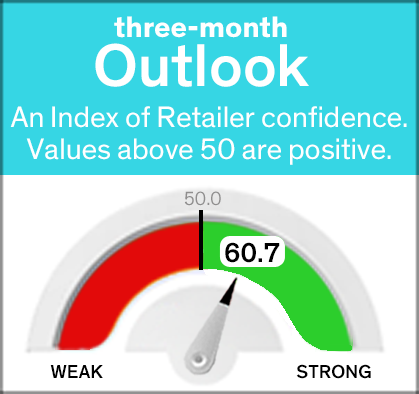 Sales plateau last two months, retailers remain hopeful for stronger sales in Q4
LANSING, Mich. – Michigan Retailers Association today reports a small increase in August sales performance over July.
The August Retail Index survey came in at 61.2, up slightly from July's 59.1. Sixty-four percent (64%) of Michigan retailers reported an increase in sales over July, 24% reported a sales decline; and 12% reported no change.
The seasonally adjusted performance Index is conducted by Michigan Retailers Association (MRA) in cooperation with the Federal Reserve Bank of Chicago's Detroit branch.
The 100-point Index provides a snapshot of the state's overall retail industry. Index values above 50 generally indicate positive activity; the higher the number, the stronger the activity.
Fifty-five percent (55%) of retailers predict their sales will continue to rise through November, but 26% said they expect a sales decline. Nineteen percent (19%) anticipate no change. That results in a 60.7 Index rating, a small drop from last month's prediction Index rating of 61.1.
"Retailers are experiencing a mild sales plateau. They're still positive, but they aren't increasing at the rate that we expected during the back-to-school sales period," said William J. Hallan, President and CEO of Michigan Retailers Association.
According to MRA's August retail volume report, clothing and shoe stores, home furnishings, and department stores continue to out-perform 2020. Clothing and shoes are up 42%, home furnishings are up 23% and department stores are up 32%. The only industry not showing growth over August 2020 is hardware and home repair stores.
"With back-to-school shopping behind us, retailers now focus on the holidays. We expect the 3-month prediction Index number to grow for the next few months as more consumers begin buying holiday gifts."
Michigan's unemployment rate in August 2021 preliminarily dropped to 4.7% from July's 4.8%. Last year, Michigan's unemployment rate was 8.5%. In August 2021, the national unemployment rate dropped to 5.2%, compared to July's 5.4%.