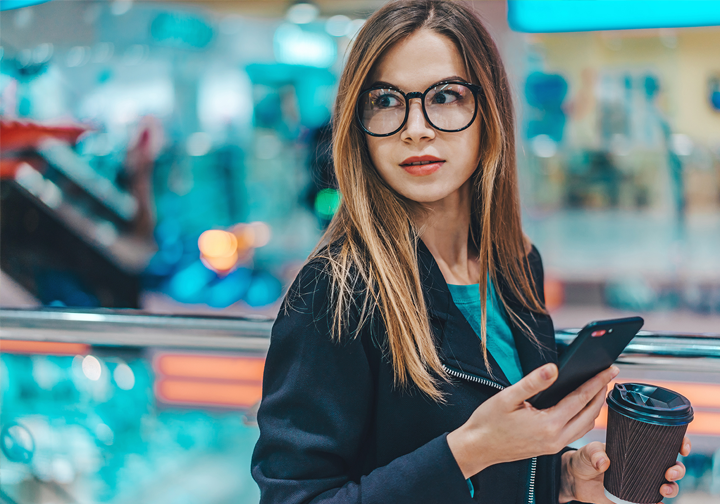 The practice of secret shopping has been deployed by business owners for some time. Lately, businesses large and small are using secret shoppers in new ways in a pandemic.
By JENNIFER ROOK
The aftershocks of the pandemic are still being felt across the state. In some places, stores are busier than ever. In others, crickets. Businesses having to contend with labor shortages and supply chain issues, are doing everything they can to retain customers and hope the efforts they have made just to keep the lights on are also keeping their customers happy.
But how do you know for sure?
Mystery Shopping expert Lindsey Dahl of Shopper's View, a Michigan-based, top mystery shopping firm that specializes in consumer research and competitive analysis, shares what secret shoppers across Michigan are noticing 18 months into a pandemic.
1. Customers are willing to chat.
As challenging and limited as shopping has been, Dahl notes that consumers, overall, are happy to be in the company of other people. This can be seen in customers' interactions with store employees.
"As vaccinations increased and consumers felt more comfortable resuming their routines, they found their way into stores just for the human interaction," said Dahl.
Dahl says that is one of the surprising behaviors that her shoppers have seen is consumers wanting to chat with employees.
"For the longest time, consumers avoided employees," said Dahl. "Exhibiting behaviors like giving quick answers and shying away when asked if they needed assistance. The pandemic has resurrected the art of spontaneous conversations."
This type of behavior has rung true from stores to doctor's offices. People are happier to interact.
2. Consumers are complaining about lack of supply.
Businesses of all types from retail stores to restaurants to beauty salons have been feeling the effects of supply chain shortages – a trend that's expected to continue into the first half of 2022. As much effort businesses have taken to minimize the appearance of shortages, shoppers are noticing and that has given rise to more complaints.
"On a macro-level, shoppers understand there's a supply chain shortage just by watching the news," said Dahl. "But it doesn't hit home until they can't find their favorite brand of spaghetti sauce, much loved hair product, or even that brand of protein powder they usually get at the gym. Every category is impacted at the moment – and some shoppers are having a hard time accepting that."
Dahl says that employees continue to do a great job in quelling emotions, so far, by checking when next shipments are coming in, offering to reserve products, and offering to call other locations or even – local competitors.
"Businesses feel if they can at least go the distance the effort will go a long way with customers – even if they can't get the item they need at the moment," said Dahl.
3. Shoppers don't exactly find online shopping as fulfilling.
Yes, there's no doubt e-commerce activity rose substantially over the past 18 months. According to the U.S. Census Bureau, national e-commerce sales have increased from 8.8 percent of total retail sales in 2017 to 10.7 percent in 2019, and then to 13.6 percent in 2020. (U.S. Census Bureau May 18, 2021)
A recent Buy Nearby Study conducted by PSC, Inc. on behalf of MRA, found that Michigan's retail sector has likely undergone a similar transformation with Michiganders directing $26.7 billion toward e-commerce spending with $3 billion going to local retailers.
Yet, according to Dahl, even though the practice of e-commerce is here to stay, consumers still like the option to browse in person.
"Without a doubt, there are a lot of benefits to shopping online from getting things quickly to getting access to new shopping experiences that consumers learn about online through channels like Instagram and Etsy," said Dahl. "But browsing online has its limitations and based on the sheer volume of in-store traffic, especially weeks after mandates were lifted, people wanted to be able to try on items and see their purchases in person before buying them."
Although, store owners cautioned shoppers before touching items, due to the presence of wipes and hand sanitizers, consumers enthusiastically headed into dressing rooms, added Dahl.
4. Mystery shoppers are being hired to check in-store safety.
One new development that's happened in the wake of the pandemic is business owners hiring mystery shoppers to check safety measures, such as employees wearing masks.
"Surprisingly, we've had instances where store employees are choosing not to wear a mask because they see customers not wearing them," said Dahl. "The Delta variant is causing businesses to increase their environmental precautions, and some owners see mask wearing as not just a necessary safety precaution but as part of providing thoughtful customer service."
5. Secret shoppers identify immediate training needs.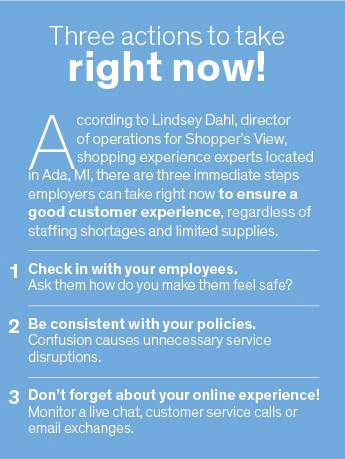 Having a limited labor pool has impacted one area in particular – training. Many businesses hire mystery shoppers to see where training gaps exist.
"With having to contend with an ongoing labor shortage, more business owners are using secret shoppers to find immediate training opportunities," said Dahl. "In the past, we've had owners identify a possible issue then we go in and validate it. Nowadays, we are being asked to identify issues because business owners are busy trying to run both the front and back offices."
According to Dahl, mystery shoppers typically assess wait times and interactions between customers and employees. Now, because of supply chain shortages, mystery shoppers are listening for what items customers want most.
"This harks back to the increased complaints over limited quantities and out-of-stocks," said Dahl. "Yes, business owners want our help in identifying products that are in high demand, but they also see it as a training opportunity because if they know that a favorite item isn't available then they can counsel employees in the moment."