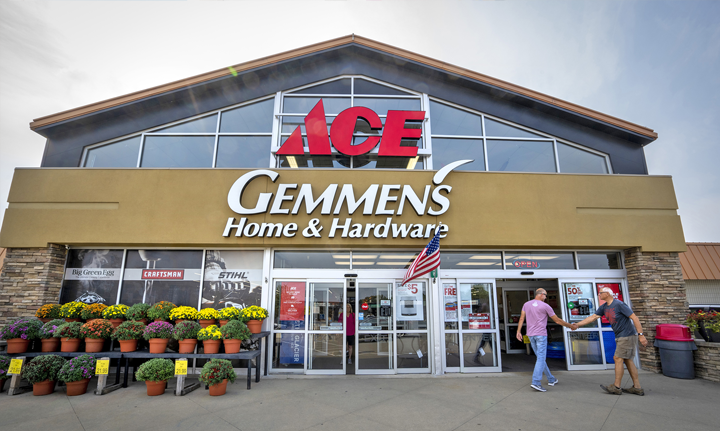 By SHANDRA MARTINEZ
Photos STEVE JESSMORE
Andrew and Jennifer Gemmen believe their boots-on-the-ground approach to operating their store probably best illustrates their passion for both their customers and employees.
Gemmen's Home & Hardware has been around for 65 years, but it isn't past its prime.
In fact, the Hudsonville store was recognized this year with Ace Hardware's 10th annual "Coolest Hardware Store" award. Selected from 5,400 stores around the globe, this coveted recognition is based on how well the store differentiates its offerings, services and culture to meet the needs of the community.
"It really is the epitome of what an Ace store is," said third-generation owner Andrew Gemmen, explaining that the award is about how Ace members put their own spin on the beloved brand to "create an environment that people want to shop and is, more importantly these days, where they want to work."
Connecting with the community is a pillar of their business model, whether it is the store's annual Mother's Day and Father's Day events, special visits with Santa during the holidays or the annual "Ladies Night," which has grown into a highly anticipated local event.
ONLINE SALES SPIKE
The staff has continued to engage the community in fun and relevant ways, even during the pandemic. They created new, safe ways to connect with customers, including virtual visits with Santa and allowing children to virtually nominate parents to receive a special gift for Mother's Day and Father's Day.
"We just did different things like that, where we kind of just had the shift from in-person events to things that could be done virtually, but still make people feel vested and involved," Jennifer said.
In addition to fun events and store promotions, Gemmen's gives back to the Hudsonville community in numerous ways, including supporting many local schools, charities and youth programs. The store also offers a series called Gemmen's Workbench, free, informational sessions — online or in-person — for the community on topics related to home, crafting, lawn and garden, and hardware.
As they have shifted to virtual events, their social media presence has grown. Online sales have spiked and continue to remain considerably higher than in 2019.
Like many small merchants, finding a work-life balance isn't easy since the business is a family affair. The couple's sons, a college sophomore and a high school senior, work at the store. The family makes a conscious effort to go on vacations and unplug from the business.
"Gemmen's is so encompassing to our lives, but we love it," Jennifer said.
CLOSED ON SUNDAY
The store is also closed on Sunday, in keeping with the norms of their conservative community located outside of Grand Rapids. That practice helps them attract and retain a "higher-caliber" staff, Andrew believes. It's also good on a personal level.
"It's a very special day for us as a family. We can plan some downtime and family time outside of the organization together," he said.
Andrew grew up working at the store through high school but stepped away while attending Central Michigan University, where he studied business. After graduation, he briefly worked at Target and Art Van Furniture to experience retail on a bigger scale.
He knew the family's store was where he belonged.
"I've always loved this business," he said. "I don't have a very long attention span, and the hardware business is perfect for that because you're always spinning a few dozen plates at the same time. I love the aspect of the ever-changing products."
Jennifer thinks the break Andrew took during college helped him realize what he loved about the family business.
"He missed everything about it," she said. "He missed being on the sales floor and selling things and helping people find solutions to a problem. He gave himself that space to kind of grow outside of it and realize, 'I actually do like this.'"
A FAMILY TRADITION
As much as they love the business, the couple aren't pushing their sons to follow in their footsteps. Being an independent retailer is all-consuming as they compete against corporate giants with big-budget marketing campaigns and online operations.
"There has never been a moment that our children have ever felt pressured to be that fourth generation to continue that on," Jennifer said. "Our oldest has made it very clear since he could talk that he wants to be at the store. He'll be 20 this fall. Who knows where life will take him? But the boys do both know that there are no expectations."
Gemmen's began in 1955 when Andrew's grandfather, Al Gemmen, bought a plumbing store. He renamed the shop and shifted into hardware. Over the decades, the store grew from one 4,000-square-foot store and one employee to 66,000 square feet and nearly 70 employees. His son, Larry, and his business partner, Mitch Nienhuis, were largely responsible for expanding the size and scope of the store.
The luxury of space allows for a wider and deeper inventory. One of the store's hot products in the past year was the Solo Stove, a fire pit that makes little smoke or ash. The product was initially marketed directly to customers, but Jennifer spotted its potential and Andrew worked with the manufacturer to carry it at the store. He also brought the Solo Stove to the attention of Ace, and it's now available in Ace warehouses.
"These things have been on fire, pun intended," Andrew said. "It's unique products that help differentiate us because we have hammers, duct tape and paints — which you can go anywhere for — but it's those little niches that keep us unique."