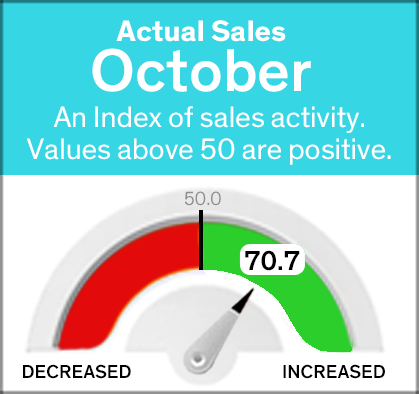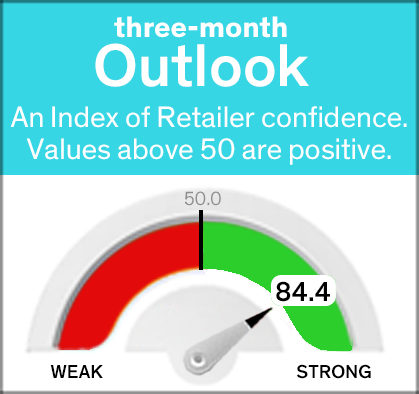 Optimism grows for sales increases through January 2022
Michigan Retailers Association today reports a sizable increase in the October sales performance compared to September numbers.
The October Retail Index survey came in at 70.7, a large leap up from September's 47.6. Seventy-one percent (71%) of Michigan retailers reported a sales increase; 20% noted a decrease, and 9% reported no change.
The seasonally adjusted performance Index is conducted by Michigan Retailers Association (MRA) in cooperation with the Federal Reserve Bank of Chicago's Detroit branch.
The 100-point Index provides a snapshot of the state's overall retail industry. Index values above 50 generally indicate positive activity; the higher the number, the stronger the activity.
Positive Outlook Grows
Seventy-five percent (75%) of retailers predict their sales will continue to rise through January, but 18% said they expect their sales to decline. Seven percent (7%) anticipate no change. That results in an 84.4 Index rating, another increase over last month's prediction Index rating of 68.4.
Holiday Sales Prediction
According to the National Retail Federation (NRF), a record year is likely. They predict U.S. holiday sales in November and December will grow 8.5-10.5 percent over 2020 to between $843.4 billion and $859 billion. In 2020 holiday sales totaled $777.3 billion.
The NRF expects per-person spending to reach an average of $998 on holiday gifts and other holiday items this year. The NRF also predicts that 2 million more people are expected to shop from Thanksgiving Day through Cyber Monday as compared to 2020. Although that's still below the pre-pandemic total of 265.3 million, it's estimated that 158.3 million will shop during this upcoming weekend. Last year the total number of consumers shopping was 156.6 million.
"It's promising to see consumers spending their money locally, especially this early before the holidays. We look forward to the November and December reports, but the optimism among retailers is a tell-tale sign that retail sales have some holiday season momentum," said William J. Hallan, President and CEO of Michigan Retailers Association.
"Michigan retailers deserve this good news as we head toward the end of the calendar year."
Michigan's unemployment rate in October 2021 preliminarily came in at 6.1%. In 2020, Michigan's unemployment rate was 8.1%. In October 2021, the national unemployment rate dropped to 4.6%, compared to September's 4.8%.