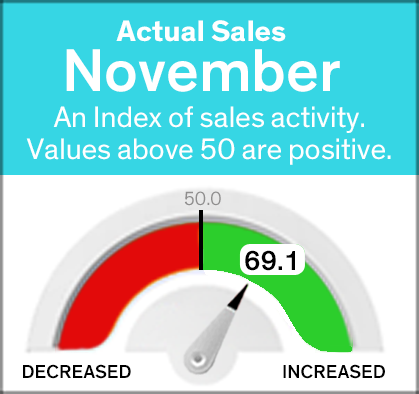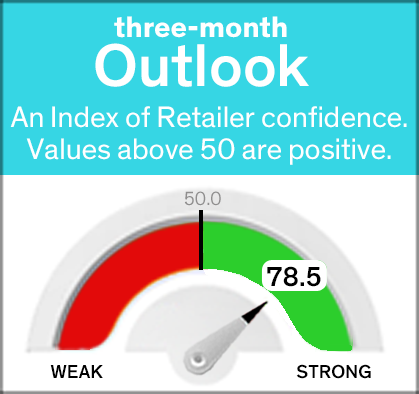 Retailers report strong sales during extended holiday shopping weekend
LANSING, Mich. – Michigan Retailers Association today reports November saw another strong month for retail sales compared to October and November 2020 numbers.
The November Retail Index survey came in at 69.1, a slight dip from October's 70.7. Sixty percent (60%) of Michigan retailers reported a sales increase; 29% noted a decrease, and 11% reported no change.
The seasonally adjusted performance Index is conducted by Michigan Retailers Association (MRA) in cooperation with the Federal Reserve Bank of Chicago's Detroit branch.
The 100-point Index provides a snapshot of the state's overall retail industry. Index values above 50 generally indicate positive activity; the higher the number, the stronger the activity.
Positive Outlook Remains Strong
Fifty-three percent (53%) of retailers predict their sales will continue to rise through February, but 26% said they expect their sales to decline. Twenty-one percent (21%) anticipate no change. That results in an 78.5 Index rating, a decrease over last month's prediction Index rating of 84.4, but still a strong indication of positive activity.
Thanksgiving Weekend Holiday Numbers
Retail Index survey respondents reported their 2021 sales during Thanksgiving Weekend, a top holiday shopping weekend, were higher than in 2020 and 2019. One retailer noted an increase of 75% over 2020 and 16% over 2019, before the pandemic began in Michigan.
"Shoppers have stepped up to support their local stores this year. They've noticed their local stores navigating through numerous new regulations, safety protocols, and supply chain and shipping delay woes and are showing up to their stores to shop local businesses first. It's nice to see, especially during the holidays," said William J. Hallan, President and CEO of the Michigan Retailers Association.
According to the U.S. Census Bureau, November retail sales were up 0.3 percent over October, nationally, and rose 18.2 percent over 2020. The National Retail Federation (NRF) reported a total of 180 million Americans shopped over the Thanksgiving holiday weekend, exceeding initial predictions by 21 percent.
Shopping Early and Still Spending
The National Retail Federation (NRF) also noted shoppers began holiday shopping earlier in 2021, but believes shoppers will continue to shop through December. "We expect demand will remain strong through December, even though consumers started holiday shopping earlier than ever this year," said NRF President and CEO Matthew Shay.
Michigan's unemployment rate in November 2021 preliminarily came in at 5.9%, down from October's 6.1%. In 2020, Michigan's unemployment rate was 8.2%. In November 2021, the national unemployment rate dropped to 4.2%, compared to October's 4.6%.