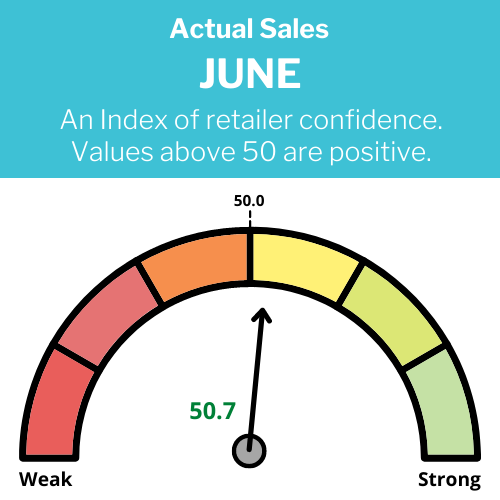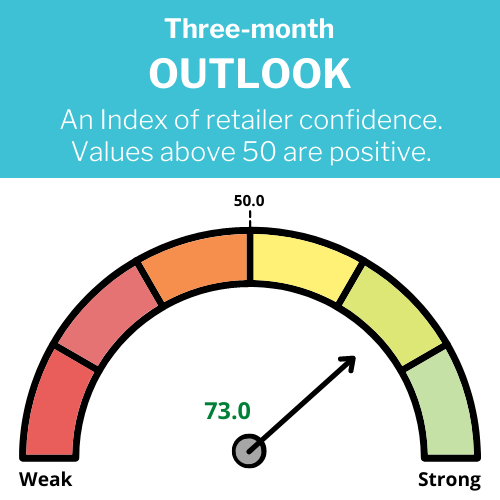 Retailers note hiring and inflation concerns
Michigan Retailers Association today reports that June 2022 sales decreased over May 2022.
The June Retail Index survey came in at 50.7, a decrease over May's 55.5. Forty-six percent (46%) of Michigan retailers reported a sales increase over May; Thirty-nine percent (39%) noted a decrease, and 15% reported no change.
The seasonally adjusted performance Index is conducted by Michigan Retailers Association (MRA) in cooperation with the Federal Reserve Bank of Chicago's Detroit branch.
The 100-point Index provides a snapshot of the state's overall retail industry. Index values above 50 generally indicate positive activity, the higher the number, the stronger the activity.
"As retailers and consumers across Michigan continue to adjust to a post-COVID environment, we are seeing retailers prepare for back-to-school shopping and it will be telling to see whether parents are shopping early due to supply shortages, or if they'll wait longer in hopes to lessen the inflation burden," said William J. Hallan, President and CEO of the Michigan Retailers Association.
"As we head into the holiday planning season, we are continuing to track the changes in the retail market related to inflation and supply shortages going forward," said Hallan.
3-Month Outlook
Sixty-two percent (62%) of retailers predict their sales will continue to rise through September, but 18% said they expect their sales to decline. Twenty percent (20%) anticipate no change. That results in a 73.0 Index rating, an increase over last month's prediction Index rating of 65.6, a strong indication for high sales activity in the next three months.
Increased Hiring and Price Adjustments
Not having enough staff appears to be on the minds of multiple business owners across the state, per the Retail Index survey. Many reported they can't find the necessary help. One business noted that having college students home for the summer has been helpful, but expressed concern about having students head back to their schools in the coming weeks.
According to the Retail Index, twenty-four (24%) of retailers noted an increase in hiring plans over the month of May. Only 8% reported a decrease. Sixty-eight (68%) reported no change.
The Retail Index reports price adjustments over the month of May, among retailers. Fifty-five percent (55%) of retailers noted an increase in price adjustments. Only 8% reported a decrease. Thirty-seven percent (37%) reported no change in adjustments.
In the next three months retailers predict they'll continue to make price adjustments. Sixty-one (61%) expect an increase through September, 5% of retailers expect a decrease, and 34% expect no change.
Michigan's unemployment rate in June preliminarily came in at 4.3%, the same rate as April and May. In June 2021, Michigan's unemployment rate was 6.3%.
The national unemployment rate has remained at 3.6% since March. Last year, the national unemployment rate was 5.9%.