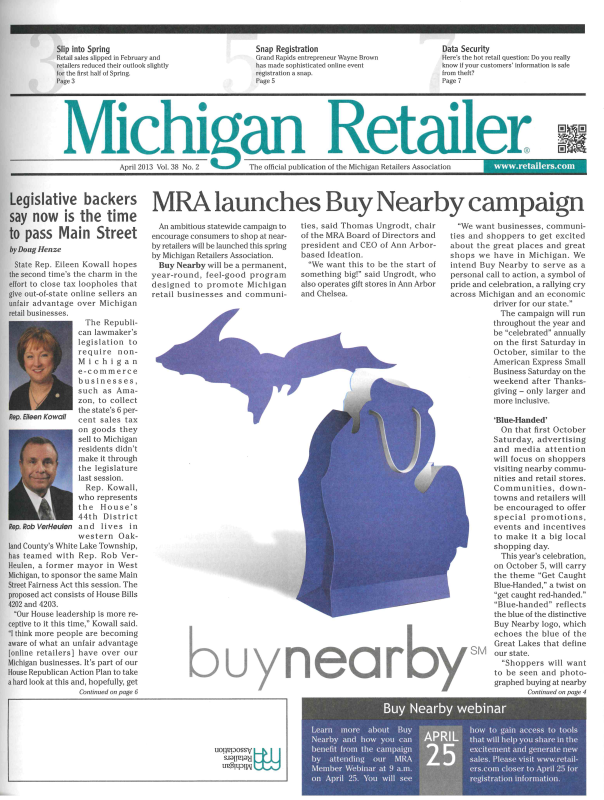 Michigan Retailer
April 2013 | Vol. 38 | No. 2
Every now and then, we stumble upon gems from our archives.
A decade ago, we announced the launch of our Buy Nearby program. We encouraged shoppers to 'get caught blue-handed' on our first October celebration and shared information through a webinar.
Our celebration now spans an entire weekend in October, our mascot, Buy Nearby Guy, whom we affectionately call BNG, attends events around the state encouraging shoppers to Buy Nearby, all while giving the greatest high-fives, and we provide free materials to MRA member businesses – possible through our generous sponsors and donors.
Throughout the years, one thing remains the same: The importance of supporting local stores. Retailers are the backbone of our communities. They employ our family and friends, donate to our fundraisers, and go above and beyond to find the item you're looking for. When you Keep Your Money in Michigan and #BuyNearbyMI, you help funnel those shopping dollars back into our economy.
Help us continue to promote the importance of shopping locally for another ten years, make a donation at shop.retailers.com/product-category/buy-nearby.