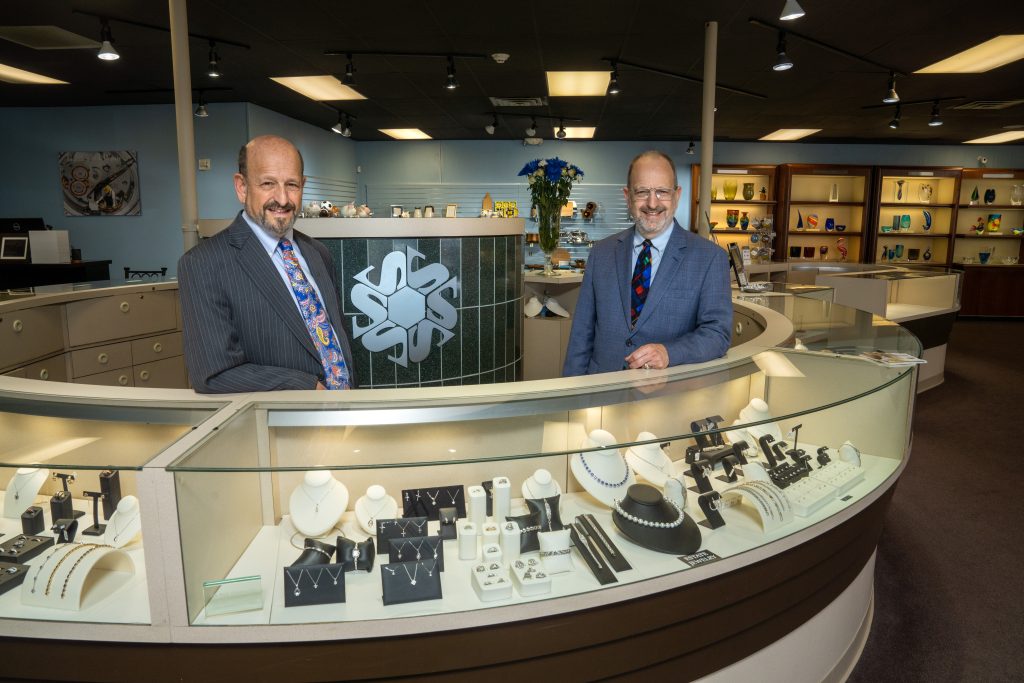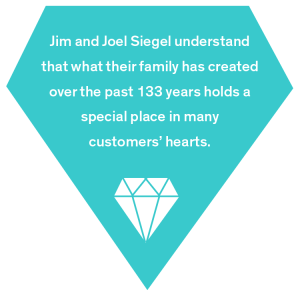 By: Shandra Martinez
Jim and Joel Siegel understand that what their family has created over the past 133 years holds a special place in many hearts.
What began as a watch repair shop in downtown Grand Rapids in 1889 when their great-grandfather Joseph Siegel began repairing pocket watches has evolved and adapted to serve the needs of their customers. Siegel Jewelers has been recognized as West Michigan's premier jeweler, known for its personalized customer service.
Over the decades, Siegel Jewelers expanded to jewelry and became a destination for generations of families buying engagement rings and other mementos for important occasions. Grand Rapids' most prominent citizens became loyal customers. Former President Gerald R. Ford bought an engagement ring for Betty at the store.
Joseph's two sons, Norton and Arthur, joined him in business. Although Norton died early in life, his son, Miller Siegel, eventually fell in love with the business. He came with a business degree from the University of Michigan and a newly titled gemologist degree.
Decades of growth
Miller was passionate about jewelry, the ethics of the business and, most importantly, helping people find the right jewelry to celebrate special occasions.
"My dad worked well into his 80s, so we worked alongside him for a long time," Joel said, adding that his mother, Leslie, also worked in the business. "We got to spend more time with our parents and appreciate them more."
Miller expanded the business, which at its peak during the 1990s had five locations across West Michigan and Ohio.
"My father never retired. He was very involved, and we talked business all the time," said Jim, who joined the business right after college. Younger brother Joel came a decade later after finishing college and traveling out west, where he met his wife.
The brothers divided up duties, with Joel handling the jewelry side of the operation and Jim overseeing everything else, from advertising to personnel issues.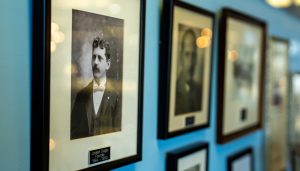 How business evolved
The shop is in Grand Rapids, not far from Woodland Mall, where it had a high-profile location for 40 years before moving to a freestanding store at 2845 Lake Eastbrook Blvd., in 2005. Having operations under one roof is not only efficient but more affordable than leasing mall space.
Over the past 20 years, the store shifted to selling estate jewelry, which now accounts for a majority of its business. It's considered one of the largest and finest estate jewelry dealers in the Midwest, with more than 15 cases of jewelry professionally restored by its own team of jewelers.
"We were having trouble, in effect competing with ourselves because we were selling estate jewelry at substantially less than new," Joel said. "It kept mushrooming. We could pay more to the public when buying their jewelry because we weren't buying it for just the raw materials. Then we were able to turn around and sell it for less than new.
"So it's a win-win for the people who are selling it because we're making better offers and a win for the people who are buying it because they are getting a better value. It's actually a win for us because quite often we could make a little more percentage-wise than we could on other things."
At a time when most jewelers send their customers' jewelry out to be repaired, Siegel Jewelers has a very active repair business with two full-time jewelers. Staff includes credentialed gemologists who appraise and authenticate gems on-premises.
"We strive to be in people's lives," said Jim. "That's why we haven't had much interest in selling on the internet. We think that conducting business in person is an important part of what we offer. So we just doubled down on trying to help customers who want to come in and do business with us."
Taking message online
But that doesn't mean the store isn't connecting with people online. The store does weekly Facebook live shows. One of the most popular was a preview of estate sale items.
"A lot of people watch Facebook Live afterward. We usually get about 75, but for the estate sale preview, we had 200 watching live," Jim said.
The idea came from a consultant. After watching how some other retailers do it, they launched what is now known as "LIVE at FIVE with Lydia & Friends."
"We've grown in how well we do it, and we've only gotten better as we've become more experienced. It seems we have enough content each week for about 20-30 minutes," Jim said. "We try to educate our customers. We've had representatives from some of the lines we carry join the show via webcam. One of the guests was a San Francisco gem dealer, whose line of personalized lockets we are now carrying. We'll highlight our jewelry or appraisal services and things like that. A big part of the show is letting people know what our team is capable of."
The Facebook Lives are hosted by employees. The store has invested in a small set with a backdrop and chairs. It's done at 5 p.m., an hour before the store closes and when customer traffic is light.
Motivated by family, tradition
The brothers are inspired by the work of the previous Siegel generations, especially their dad.
"My father was definitely an innovator, always looking to see how to do things better to bring more value to what we're doing and build a better connection with people," Jim said. "So we're doing a good job of continuing that tradition."
Jim, 74, and Joel, 71, say they have no immediate plans to retire. Long-term, they are preparing for the sixth generation to take the reins one day. In the meantime, they see themselves as more caretakers than traditional owners of the family business.
"We'll either pass it to our grandchildren or have some kind of professional manager on-premises and wait for whoever in the family wants to take ownership," Jim said. "We're stewards of the business for this generation, and so that attitude informs a lot of our decisions and our future planning."
His son, Jaron, who works part-time in the business and oversees marketing is the fifth generation. The sixth generation is a growing bunch. Joel has two grandchildren, and Jim has six grandchildren and one on the way.
"Our goal is to show them how great a business this is and that there's this legacy that very few companies have," Jim says.