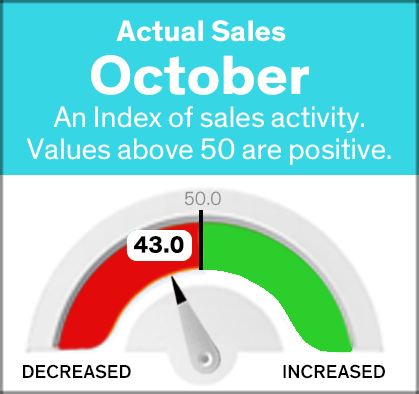 LANSING, Mich. – A slowing economy and other factors has prompted Michigan retailers to report sluggish sales in October compared to 2018.
Retailers also indicate that they expect a slightly slower holiday season than a year ago, but sales will still be robust compared to earlier in the decade.
The October Retail Index survey came in at 43.0, a decrease from October 2018's 62.9, and up slightly from September 2019's 42.7. The seasonally adjusted performance index is conducted by Michigan Retailers Association (MRA) in cooperation with the Federal Reserve Bank of Chicago's Detroit branch.
The 100-point index provides a snapshot of the state's overall retail industry. Index values above 50 generally indicate positive activity; the higher the number, the stronger the activity.
The October survey showed that 34% of respondents reported sales increases over September. Forty-four percent of retailers recorded declines and 22% reported no change.
The Retail Index shows that 47% of Michigan retailers expect increased sales through January, while 32% predict a decrease; 21% expect no change. That results in an adjusted outlook index of 61.1.
"Although the October survey numbers are behind the national trend, shoppers are in a good place to spend this holiday season," said William J. Hallan, MRA President and CEO. "Michigan's unemployment rate is only 4.1% – a good sign that people will feel free to spend for the holidays."
Michigan retailers' optimism has been tamped down by erratic weather, including a polar vortex early in the year and a rainy June, both of which dramatically affected sales. In addition, a six-week strike at General Motors plants makes many retailers cautious about holiday sales predictions.
Nationally, retailers are more optimistic, especially after sales grew 4.2 percent over October 2018. "Uncertainty around trade policy has impacted consumer sentiment recently but ongoing job growth, low interest rates, low inflation and the stock market hitting record highs provide support for consumer spending," said Jack Kleinhenz, Chief Economist for the National Retail Federation.
According to the National Retail Federation, holiday shoppers plan to spend 4 percent more this year. The annual survey says shoppers will spend an average of $1,047.83 this year, up from 2018's $1,007.24.
While Michigan's unemployment rate dropped a tick to 4.1% in October, the national rate rose one tick to 3.6%. In October 2018, Michigan's unemployment rate was 3.8%.
Note: William Strauss, senior economist and economic advisor with the Federal Reserve Bank of Chicago, can be reached at 312.322.8151.