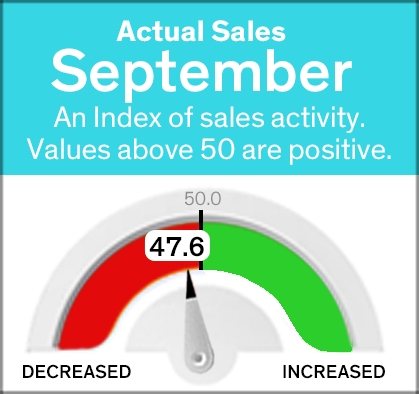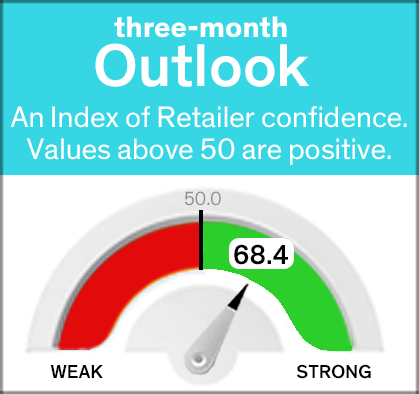 Michigan retailers remain hopeful for sales to finish strong this year
LANSING, Mich. – Michigan Retailers Association today reports a decrease in the September sales performance compare to August numbers.
The September Retail Index survey came in at 47.6, a decrease from August's 61.2. Forty seven percent of Michigan retailers reported a sales decline; 40% noted an increase, and 13% reported no change.
The seasonally adjusted performance Index is conducted by Michigan Retailers Association (MRA) in cooperation with the Federal Reserve Bank of Chicago's Detroit branch.
The 100-point Index provides a snapshot of the state's overall retail industry. Index values above 50 generally indicate positive activity; the higher the number, the stronger the activity.
Positive Outlook Prevails
Fifty-six percent (56%) of retailers predict their sales will continue to rise through December, but 20% said they expect a sales decline. Twenty-four percent (24%) anticipate no change. That results in a 68.4 Index rating, an increase from last month's prediction Index rating of 60.7.
According to the National Retail Federation (NRF), consumers are expected to spend a whopping $10.14 billion this Halloween, up from $8.05 billion in 2020. Per-person spending is expected to increase from $92.12 in 2020 to $102.74. The NRF anticipates shoppers will spend over $3 million each on Halloween costumes, decorations, and candy.
Following the wrap-up of Halloween-related spending next weekend, stores will shift their focus to the upcoming holidays. The October Retail Index report published next month will give an indication as to when shoppers started to shop for gifts.
Many stores are encouraging consumers to shop early to ensure they get what they're looking for.
"Retailers are being hit with a number of curveballs right now. They continue to face hiring challenges, supply chain issues and price increases, not exactly the position you want to be in as the biggest shopping period of the year approaches," said William J. Hallan, President and CEO of Michigan Retailers Association.
One retailer responded they're seeing double-digit price increases from suppliers. Another noted their Mondays are spent re-changing prices on the items in their store.
According to MRA's September retail volume report, clothing and shoe stores volumes are up 88.62% over 2020. The home furnishings industry is up 23.66%.
"Although we saw a drop in sales month-over-month, the 3-month prediction Index number is strong. We hope to see it accurately play out as strong, or stronger, in the coming months. It's important to shop at your local stores, not only support the vital pieces of your downtown, but to ensure that you'll have items under the tree in time."
Michigan's unemployment rate in September 2021 has yet to be announced. In 2020, Michigan's unemployment rate was 8.2%. In September 2021, the national unemployment rate dropped to 4.8%, compared to August's 5.2%.