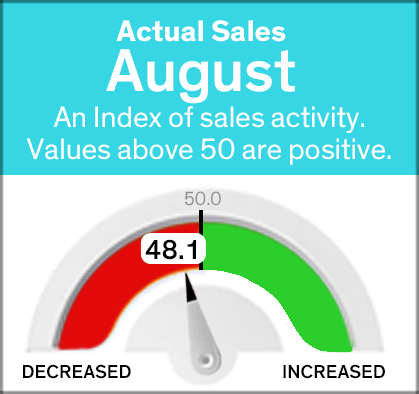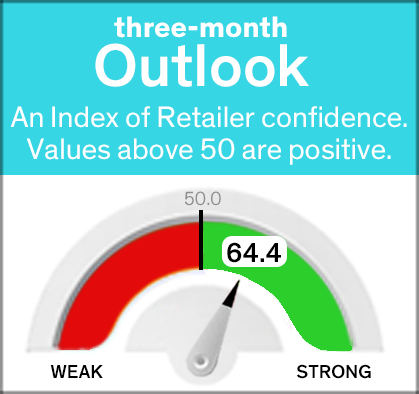 LANSING, Mich. – Michigan retailers reported a small month-over-month drop in August sales after a successful July.
The August Retail Index survey came in at 48.1, a decrease from July's 60.0. The seasonally adjusted performance index is conducted by Michigan Retailers Association (MRA) in cooperation with the Federal Reserve Bank of Chicago's Detroit branch. Still, sales were healthy when compared year-over-year.
The 100-point index provides a snapshot of the state's overall retail industry. Index values above 50 generally indicate positive activity; the higher the number, the stronger the activity.
The August survey showed that 48% recorded increases over July. Forty-one percent of respondents reported sales declines and 11% reported no change.
Michigan lags the national sales trend. The U.S. Census Bureau reported overall retail sales during August were up 0.6% seasonally adjusted from July and up 2.6 percent year-over-year. That follows a 0.9% month-over-month increase in July. Retail sales have been climbing after a record monthly drop while most stores were closed in April, the National Retail Federation said.
Retailers are predicting their three-month outlooks to be slightly under their prediction last month. Fifty-eight percent predict they'll continue to rise in the next three months, but 25% said they expect a sales decline, and 17% don't think things will change. That results in a 64.4 Index rating. The three-month outlook Index rating predicted in July 2020 was 65.4.
"There will be ups and downs as retailers and shoppers get back into their grooves following the statewide shutdown due to COVID-19 earlier this year," said Bill Hallan, President and CEO of Michigan Retailers Association. "We'll likely see this roller coaster for a while as retailers figure out how to adapt to changing consumer shopping habits."
According to the the Federal Reserve Bank of Chicago's Detroit branch, about half of survey respondents sell back-to-school goods.  Fifty-nine percent reported no change in sales while 36% reported decreases.
"Back-to-school shopping was different for families this year, as some students return to the classroom and others are learning online. Students learning virtually may have needed a desk instead of a backpack, for example," Hallan said.
Sales tax receipts in August 2020 increased 7.7% over August 2019 and totaled $814.5 million. Michigan's unemployment rate remained at 8.7%. Last year, Michigan's unemployment rate was 4.0%. In August 2020, the national unemployment rate dropped to 8.4% compared to July's 10.2%. 
Note: Paul Traub with the Federal Reserve Bank of Chicago, can be reached at 313.964.6297.