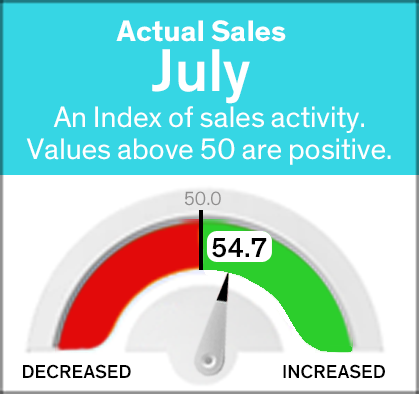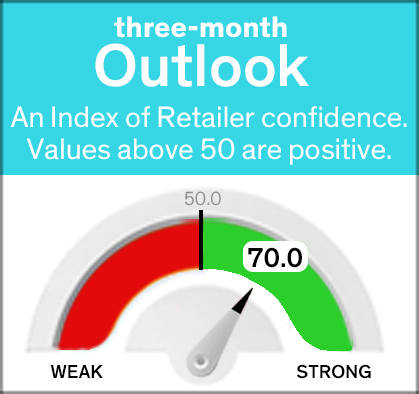 LANSING, Mich. – July was a much better month for Michigan retailers, as parents started back-to-school shopping and summer weather encouraged shoppers to hit the stores after a cold, rainy June.
The monthly Retail Index survey came in at 54.7, a tick up from July 2018's 53.5 and a healthy jump from June 2019's 42.1. The seasonally adjusted performance index is conducted by Michigan Retailers Association (MRA) in cooperation with the Federal Reserve Bank of Chicago's Detroit branch.
The 100-point index provides a snapshot of the state's overall retail industry. Index values above 50 generally indicate positive activity; the higher the number, the stronger the activity.
The July survey showed that 50% of respondents reported sales increases over June. Thirty-seven percent of retailers recorded declines and 13 percent reported no change.
The Retail Index shows that 55% of Michigan retailers expect increased sales through October, while 19% predict a decrease; 26% expect no change. That results in an adjusted outlook index of 70.0 – a positive sign as businesses prepare for the holiday season.
"Many parents start back-to-school shopping in July, but August will benefit from those sales as well," said James P. Hallan, MRA President and CEO. "And while the temptation is to wait for deals on clothing, school supplies and electronics, the selection will be more limited the longer you wait."
As reported earlier, the National Retail Federation estimated families with children in elementary grades through high school are expected to spend an average of $696.70, and families with college students would spend an average $976.78.
The unemployment rate in Michigan was 4.3 percent in July 2019, while the national rate remained at 3.7 percent. In June 2018, Michigan's unemployment rate was 4.0 percent.
The state Senate Fiscal Agency showed that July 2019 sales tax receipts decreased 0.5% over July 2018. Sales tax receipts were $36.3 million below the forecasted amount. Fiscal year-to-date sales tax collections were 2.3% above the 2017-18 amounts through July 2019.
Note: William Strauss, senior economist and economic advisor with the Federal Reserve Bank of Chicago, can be reached at 312.322.8151.