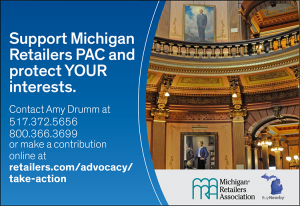 The MRA Political Action Committee benefits the retail community by financially supporting retail-friendly candidates. The actions of state government in areas such as employee benefits, minimum wage, taxes and environmental regulation have a significant impact on the health of your business. It is crucial for the interests of the retail industry to be represented as public policy is developed.
One of the best ways to make your views heard is to contribute to MRA PAC. Your financial support of MRA PAC helps elect public officials who understand the concerns of retail.
Contribute by printing and mailing in this form.
Please note that State law prohibits the acceptance of corporate checks and/or corporate credit cards to political action committees. Only personal contributions are allowed. Check out MRA's Advocacy Fund if you wish to make a corporate or business donation.