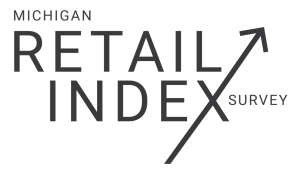 The Michigan Retail Index is a monthly gauge of key retail activity in Michigan. A new Index is released by MRA on the fourth Wednesday of each month.
Established in July 1994 by the Michigan Retailers Association and the Federal Reserve Bank of Chicago, the Index is based on a monthly survey of MRA members. The Federal Reserve assists in collecting, compiling and interpreting the survey data.
The Index tracks year-to-year increases or decreases in retail sales, inventory, prices, promotional efforts and hiring. It also indicates retailers' forecasts in these areas for the next three months.
The Index serves as an important gauge of the health of Michigan's retail sector and the direction of the state's overall economy.
Provide Your Sales Data, Take the Michigan Retail Index Survey