Credit cards, gift cards, mobile processing, e-commerce – we offer it all
Whether you've been in business for years or are just starting out, we have the merchant processing solution that's just right for you. We'll show you – in writing – why you'll benefit from Michigan Retailers processing.
Credit Card Processing
The Michigan Retailers Association understand you want simplicity and you need to save money when it comes to credit card processing. MRA saves members an average of 33 percent on credit card processing fees using an easy-to-understand approach. We service all major credit cards (Visa, MasterCard, Discover and American Express) and offer a variety of deposit options.
With MRA, there are NO hidden fees on the following: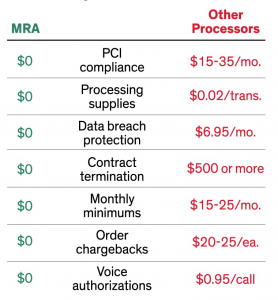 Four big advantages