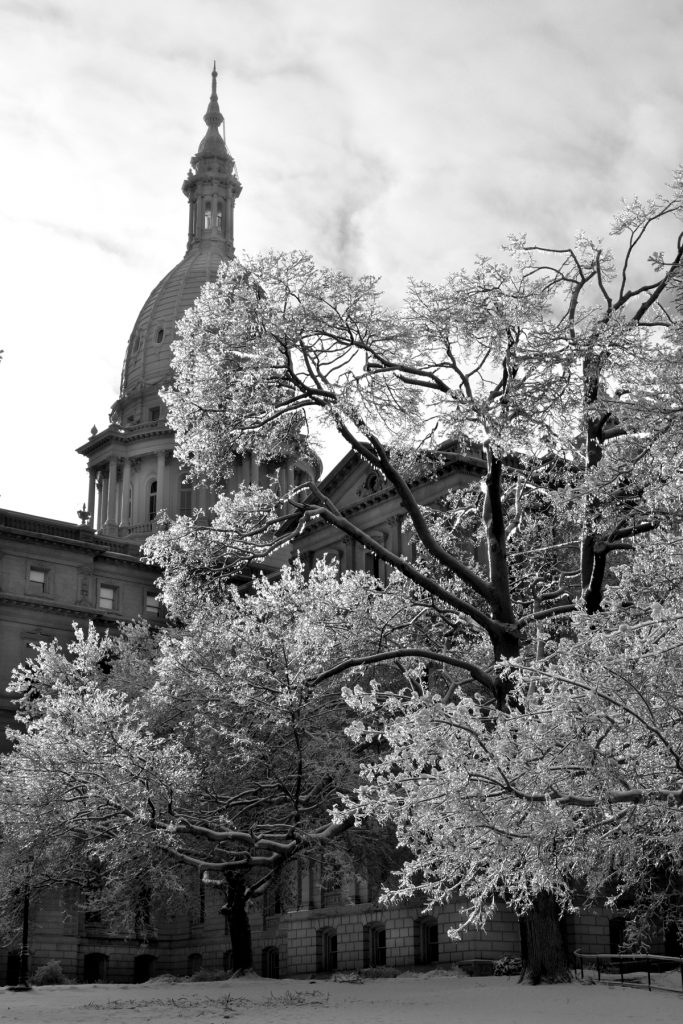 Whitmer's State of the State: lots of work to do
Gov. Gretchen Whitmer gave her first State of the State last night and listed several issues she hopes to tackle, but gave few details about how she would tackle them. She spoke of working together and noted her legislative experience in trying to relate to legislators but said there was a lot of work to be done and told everyone to "get comfortable."
As expected, she mentioned needing to fix the roads but didn't delve into details which are expected to come in March. In her words "pot holes aren't political." Also on her list is improving the state's educational results which she claimed came from failure by state leaders, not teachers. Whitmer mentioned the need to improve talent and the large number of open jobs. One way she hopes to improve that is through what she referred to as opportunity scholarships to help make specialized training and higher education more affordable. Her outlined scholarship would provide up to two years of training or public community college education debt-free to students. This would help the state reach her goal of ensuring at least 60 percent of adults have some post-secondary certificate by 2030. A new program, "Michigan Reconnect" will help train adults in high-demand industries to help fill jobs.
On the more political front, Whitmer also called for the Legislature to expand protections for the LGBTQ community under the Elliott-Larsen Civil Rights Act. And a republican-priority to lower state auto insurance rates made an appearance towards the end of her speech.
Overall, the speech was a different flavor than those of her predecessor, Gov. Snyder. Whitmer focused on reaching out to state workers, women, teachers, the LGBTQ community and ended noting the importance of families and the impact of state policy on our loved ones. She even called for citizen engagement, created the #FTDR (fix the damn roads) hashtag and asked residents and business owners to tweet how they've been impacted by Michigan's crumbling infrastructure. Lastly, she promised to veto any gimmicks, budget band aids or legislation she feels will cut out the right of the people to put forth referendums on the ballot.
House shakes up committee structure
The Michigan House of Representatives will operate a little differently this term as it tries a dual-committee approval process. The chamber has added what are being referred to as "super committees" that will take a second review of legislation before any bills are reported to the House floor for consideration. The four "super committees" include: Appropriations, Government Operations, Judiciary, and the new Ways and Means Committee.
This change may provide some tempering of the previous practice of committee chairs reporting bills that haven't been fully vetted as favors to friends or fellow committee members. A dual-review system will create additional work but should help prevent frivolous or unvetted legislation from making it to the House floor. It also gives retailers double the opportunity to stop bad bills or seek necessary amendments.
In other committee changes, the House Local Government and Municipal Finance committee will have purview over bills impacting local government funding or operations. As an example, this means bills that impact property taxes will be referred to this committee rather than to the House Tax Policy Committee.
Governor bans asking state employee applicants about salary history
Under an executive order issued by Gov. Whitmer state agencies and departments are now prohibited from asking a job applicant about his or her previous salary history until they offer a compensation package. This could signal the administration's interest in pursuing legislation to do the same for private businesses.
AG to weigh in on min. wage and paid leave changes
Sen. Chang (D-Detroit) has formally asked Attorney General Dana Nessel for an opinion on whether the Legislature can adopt a citizens' initiative and then amend it in the same legislative session. MRA members will recall that this is how the legislature made more palatable changes to the $12 minimum wage and paid sick leave initiatives. Several AGs have weighed in on this topic in the past. Former Attorney General Bill Schuette in December wrote that the constitution doesn't specifically say a Legislature can't later amend a citizens initiative. Former Attorney General Frank Kelley wrote that changing an initiative would be a "violation of the spirit and letter" of the constitution. While the AG will review the legislative action, it will ultimately fall to the courts to make a final determination.
Legislative round-up: