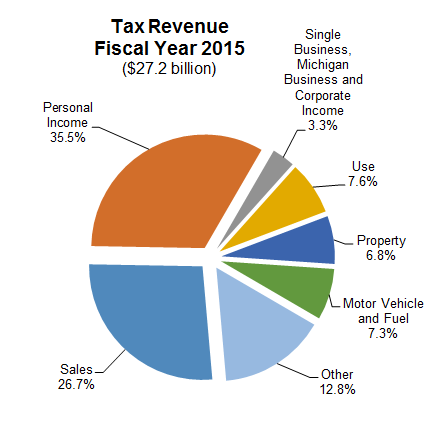 Possible income tax cut or repeal at top of House priorities
The new 99th legislature is more conservative than the previous one, a fact evident in some of the top priorities already identified. At the top of the House's list appears to be serious consideration of lowering or repealing Michigan's personal income tax. The Senate, meanwhile, is focused once again on repealing the state's prevailing wage law.
Currently, Michigan's personal income tax rate is 4.25%. The rate was lowered in October 2012 from 4.35%. Legislators hope to consider lowering the rate to 3.9%, and some believe the tax should be eliminated entirely. The tax generates approximately $8 billion in revenue annually.
Michigan has one of the lower personal income tax rates compared to all 50 states. In the Great Lakes region, Indiana, Illinois and Pennsylvania have a lower personal income tax rate than Michigan. Seven states do not levy a personal income tax. If a reduction or elimination is seriously considered, MRA has potential concerns over how the lost revenue would be replaced. Some states without a personal income tax have a higher sales tax. Filling an $8 billion hole could mean a state sales tax as high as 13% – a retail sales killer.
(The tax revenue graphic at the top left was accessed from the State Budget Office website.)
House announces committees, MRA meets with new legislators
The House finally announced legislative committees on January 26 and which legislators will serve on each. A full list of the committees and their members is available on the House website and Senate website. Retail is a very diverse industry and, accordingly, MRA tracks legislation before nearly all of the various legislative committees. Every two years in the House and every four years in the Senate, the legislative and committee makeup changes and MRA works to bring the newly elected legislators up to speed on retail issues. There are 43 new faces in the Michigan House this term. MRA meets with each legislator individually and has already met with 27 of the new representatives and several of the newly appointed committee chairmen.
AG issues pro-retail opinion on Ann Arbor 'Tobacco 21' ordinance
Attorney General Bill Schuette issued a pro-retail opinion yesterday on the legality of Ann Arbor's "Tobacco 21" ordinance. The ordinance went into effect on January 1 and prohibits sales of tobacco products to persons under 21. The opinion agrees with retailers that state law pre-empts the ordinance, and only the legislature may change the legal purchase age.
The opinion, numbered 7294, finds that the Age of Majority Act pre-empts a city ordinance that provides "a person shall not sell, give or furnish a tobacco product in any form to a person under 21 years of age." The ordinance directly conflicts with state law, since the Age of Majority Act prohibits treating these young adults ages 18-20 differently from persons 21 years and older with respect to their legal capacity to purchase tobacco products.
The opinion was requested by Senator Rick Jones (R-Grand Ledge), chairman of the Senate Judiciary Committee and sponsor of legislation last term that would have pre-empted the ordinance. MRA had suggested that the senator request an opinion in addition to his legislation. The opinion should be published online soon and will be available on the AG Opinion page.
Out-of-state wine retailer files suit over direct shipment ban
As expected, an out-of-state wine retailer filed a lawsuit against the State of Michigan over a new law that prohibits him from shipping wine to Michigan consumers. Indiana-based retailer Lebamoff Enterprises filed suit in the U.S. District Court in Detroit and was joined by three Michigan consumers. Public Act 520 of 2016 allows Michigan-based retailers to use third parties to deliver wine, beer and spirits. The law removed language that previously allowed an out-of-state retailer that holds a license substantially similar to a Michigan Specialty Designated Merchant (SDM) license to use a third party to deliver beer or wine in Michigan. The lawsuit claims that PA 520 of 2016 violates the Commerce Clause because it treats interstate sales less favorably than intrastate sales and also violates the Privileges and Immunities Clause of the U.S. Constitution.
Other important items to note:
GROCERY/CONVENIENCE
LABOR
PHARMACY
REGULATIONS
TAXES
OTHER