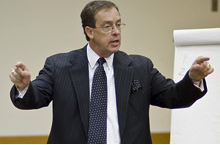 Jewelry store owners, take note: For the price of dinner and a movie, you can get access to a day-long seminar with nationally known sales expert Shane Decker, who will discuss how to increase your sales, stay motivated and take advantage of industry trends.
Decker has provided much sought-after sales training for more than 3,000 stores worldwide, and is a featured contributor to Instore, a major industry publication that targets the American jewelry store owner. He started in jewelry sales in Garden City Kansas, and sold more than 100 one-carat diamonds four years in a row.
Organizers are Orin Mazzoni and Becky Beauchine Kulka (Michigan Retailers Association board officers), Susan Barnett of the American Gem Society (AGS) and Michelle Corcoran of the GIA Alumni Michigan Chapter.
Thanks to The Edge – Software for Jewelers and The Edge Retail Academy, the cost of the seminar is affordable enough that we're encouraging store owners to bring as many staff members as possible.
Admission is $35 for members of MRA, AGS or GIAA-Michigan; $50 for non-members and $25 for any additional salespeople from your store that you would like to bring along. This is an excellent educational opportunity for beginners and experienced salespeople alike.
Here are the details:
The Jewelers' Summit
Sunday, Sept. 30 from 10 a.m. to 3 p.m. (Registration at 9:30 a.m.; lunch included)
Detroit Marriott Livonia, 17100 Laurel Park Drive North, Livonia MI 48152
Want to register? Here's the registration form!
Decker knows what kills sales and what makes them. He has the insights to arm salespeople with ways to talk to customers about jewelry. He reminds salespeople that diamonds, for example, are desired for their emotional voltage, and should not be thought of as commodities.
We encourage you take advantage of this priceless training tool and this rare chance to network with your colleagues.