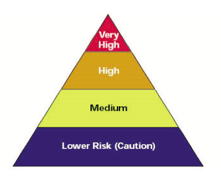 Gov. Whitmer is requiring that businesses create a COVID-19 preparedness and response plan by June 1 or within two weeks of reopening.
We've provided helpful instructions and an easy and effective template that you can use. Feel free to tweak so it applies to your business.
You can download the template by clicking on this link and then clicking again on the orange download button for the template.
Note that the instructions say the following about which risk group is involved:
The included template is crafted for retailers at the medium risk exposure level, assuming proper social distancing and other precautionary measures are in place. It is possible that your business could fall into the lower risk category and, if it does, you should follow the protocols for those types of businesses.
Medium risk exposure is defined by OSHA as those "jobs that require frequent and/or close contact with (i.e., within 6 feet of) people who may be infected with SARS-CoV-2, but who are not known or suspected COVID-19 patients. In areas without ongoing community transmission, workers in this risk group may have frequent contact with travelers who may return from international locations with widespread COVID-19 transmission. In areas where there is ongoing community transmission, workers in this category may have contact with the general public (e.g., schools, high-population-density work environments, some high-volume retail settings).