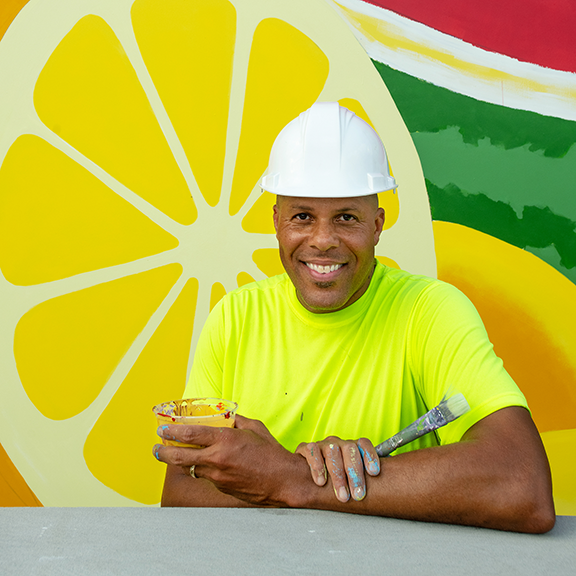 BY MEEGAN HOLLAND
Several Michigan communities have been seeing murals pop up all over their downtowns for the past couple years. The art form has exploded in popularity after some cities started projects that brought in artists from around the nation – even the globe – for festivals that decorated walls of commercial districts.
It happened in Jackson, with the "Bright Walls" festival, and last year in Lansing, with its "Below the Stacks" painting marathon.
Now another mural will add to the 10 that came to fruition through the Below the Stacks festival: A brightly colored cornucopia of fresh fruits and vegetables that spills across the massive back wall of the new Meijer-owned Capital City Market in downtown Lansing, an urban grocery store scheduled to open in mid-October. Since mid-August, artist Brian Whitfield has been in a hard hat and often on a lift, working alongside the construction crews as they all put finishing touches on the building.
The Capital City Market mural makes for an eye-popping, cheerful entrance to shoppers from the back parking lot, especially on a gray winter day.
"Meijer is committed to enriching lives in the communities we serve, and art is a great way to express those ties," said Mitch Cook, store manager. "As you can see with our mural, it shows that our store will help lift the community and businesses by offering fresh food in downtown Lansing, filling a need."
The building developer, Lansing-based Gillespie Group, is known for incorporating color into its building facades. They helped Meijer go a step further with this mural.
"We believe that art is truly important in strengthening any culture and city," said Ashley Brzezinski, director of marketing for Gillespie Group. "It communicates the heart of the people that make up the community. We love what the local artists are doing to add vibrancy to spaces through murals and art pieces."
Partnerships are often what lead to murals that grace the sides of buildings. The Jackson Young Professionals partnered with several organizations to bring together muralists for the Bright Walls Festival in 2018, which helped draw attention to the downtown. It was repeated in 2019, and was going to be revived for 2020 until the pandemic hit. The results have been so stunning that the Chicago Tribune named the small, southern Michigan city as one of the 10 best Midwest places to visit in 2020.
Another notable partnership can be found in East Lansing, the only Michigan city to have a "Percent for Art" program, which requires developers to contribute one percent of their development costs, or a minimum of $25,000, to a work of public art. It could be a sculpture, but some have chosen murals.
If you're a store owner with a blank wall screaming for a mural, such a partnership may be the way to go. Check with your regional arts council for information about grants or other ways to help fund a mural. Many also have lists of artists who paint murals, if you have the budget and a plan ready to go.
Brian Whitfield, a well-known muralist in Lansing who's executing the Capital City Market mural, says you want to have some concept in mind before approaching an artist. Murals often depict topics that have nothing to do with the store – but they draw eyeballs to your building, and that's a good thing. Curious about concepts? Just Google "Bright Walls in Jackson" or "Below the Stacks in Lansing" to see the over-the-top subject matter.
Many artists will encourage you to think beyond the obvious icons in your town. The East Lansing Arts Commission, for example, often tells developers that no, they don't have to incorporate Sparty or other MSU symbols into the artwork.
Murals can be eye candy, or thought-provoking – it depends on what message you want to send. "As a retailer, you may not want to offend any customers. Or you may want to make a statement and say, 'This is us and this what we're going to do.' But then you need to be prepared to deal with any blowback," says Whitfield, who has done historic-oriented murals in Lansing, but also more abstract topics. He also has done interior murals, which are a good alternative if you don't have the budget or a wall for an exterior mural.
"A mural can simply be a doorway," he said.
For your Request for Proposal (RFP), you need to have an accurate measurement of the wall and detail about any windows, electrical boxes or other infrastructure. "The more accurate you can get, the better because then the artist doesn't have any surprises and doesn't have to redesign the concept," says Whitfield.
Once the artist is chosen, several factors go into pricing. Some artists charge by the hour. Whitfield opts to charge by the square footage and the complexity of the mural, because he wants flexibility on time to get the mural done right. If you want a detailed portrait of a person, that will be much more expensive than a mural with large print or a clean-lined landscape, for example. Prices could range from a very low $10/square foot up to $25/square foot.
You'll also need to decide who pays for supplies – does the artist absorb the cost of paint, a lift if needed and the graffiti protective coating? Who primes the wall? Whitfield suggests using a high-quality paint, because the mural will last longer.
And of course, make sure everybody is properly insured for liability.
Once the artist sketches the mural or designs it on a computer, be sure to have several sets of eyes on it to ensure something doesn't unintentionally become the story. Whitfield recalls when someone spotted a phallic image in a bowl of spaghetti that he had sketched for a historic mural that was to grace a block that once had a longtime Italian restaurant. He was shocked because it was totally unintentional, "but once you saw it, you couldn't un-see it!"
Whitfield worked closely with Meijer on the subject matter. He initially had people in the mural, but those came out. Small houses stayed in after some debate among Meijer folks.
"I'm a graphic artist, so I put my graphics arts hat on with a mural – whatever the client wants, you just use your skills to give them what they want. As a fine artist, you can say, 'I do whatever I want and you accept it.'"
Whitfield is a graphic artist for the Michigan Department of Transportation; his design for the Mackinac Bridge license plate was voted the world's best new plate by the Automobile License Plate Collectors Association in 2014. He's also an accomplished fine artist and has sold many pieces through galleries. He was trained at Kendall College of Art & Design and earned an MFA in painting from Maryland Institute College of Art.
He also suggests giving the artist flexibility on time. For this interview, Whitfield was just finishing up the fruit side of the Meijer Capital City Market mural and looking at the vegetable side. He had hand brushed all of it, and sometimes twice for complete coverage.
"I can paint from early morning, with a short break in the middle until it gets dark if everything is clicking. If it's not going well, then mentally you can break down. The apples, mentally, were a struggle. It was really hot and things weren't going right. Paint was drying too fast and the colors weren't coming out right. But when things are clicking, you can just keep going."
And if you want to change the design mid-course, just know that's not easy. "If a mural requires a change, you have to do a lot of planning, while a piece of fine art is easier to improvise," he said.
Once the mural is done, you need to honor it with proper lighting and landscaping. Too many murals go to waste in dark parking lots overgrown with weeds.
Murals have a life cycle. If you want one to last for years, a store owner must be prepared to maintain it – and pay someone to do so. Most artists want right of first refusal to maintain, repair or change their own mural if necessary.
As Whitfield says, creating a mural "is a process. It has a beginning and it has a finish, but it doesn't quite have an end."