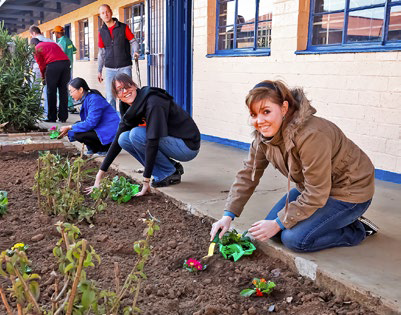 By JENNIFER ROOK
Whether you've been involved in your community for years or wishing your business would "do more," here's a list of ideas to help you refresh and fuel your give back efforts.
The ripple effects of living post-pandemic have altered many facets of business, from shopping to operations to how employees interact with one another. Consumers' desire for transparency, authenticity, and truthfulness from businesses, large and small, has influenced their buying decisions for the past 20+ years as more companies promoted their corporate giving efforts.
Today, there are many studies that cite corporate giving and a business' community involvement as a top purchasing motivator among Millennials and Gen Z. There's clear evidence, however, that lending a helping hand is viewed favorable across all generations.
Yet, the pandemic and other social events over the past 18 months have brought a great focus to what it means to give back to a community.
CRISIS FUELS INNOVATION
Dailykarma.com, a leading site that tracks cause marketing statistics and trends, notes that the pandemic invigorated both businesses and citizens to get more involved in their communities. According to its 2021 study, "What matters to us as humans and as consumers is shifting. New causes are taking center stage. And consumers' demands on businesses are changing. They want their purchases to matter."
If events over the past two years have caused you to re-evaluate your community giving efforts, you would not be alone. According to a 2020 study by Crain's Detroit Business published in 2021, 43 percent of the businesses that participated, with a majority weighing in from SE Michigan, looked to increase their corporate giving efforts over the previous year.
Will this trend continue in 2022? It's too early to tell. In the meantime, here are some ideas to try that may help you to connect (or reconnect) with your community.
"…the pandemic and other social events over the past 18 months have brought a great focus to what it means to give back to a community."
CREATE A COMMUNITY SPACE
If your business has a space that isn't used, consider opening it up. Host coffee "meet and greets" with neighboring business owners or community groups. Set up an idea studio, or a "makerspace" for local artists or start a free resource center. Take a page from the library box idea that became popular in recent years and create one where anyone can pick up and drop off a book. Offer bookmarks or put a sticker in books so readers know it came from you.
CELEBRATE THE GIVERS AND DOERS IN YOUR COMMUNITY
Use your business to showcase your community. If someone in your community has done something notable, tell your customers about it. Profile them in your newsletter or your website, or post something about them on your social media channels. Recognizing local unsung heroes helps to promote goodwill among your neighbors. Prefer to do something low-key? Send a note. It will go a long way.
OFFER THE GIFT OF TIME
Many non-profits need help in getting back to business. Donating one's time is a constant need in the non-profit world, regardless of the cause. As devoted as organizations are to supporting their cause, they also need help in running their operations. As a business owner, devoting your time signals to the community that you are more interested than the bottom line. It's also something that you can involve others in your organization. You can also provide several paid volunteer hours as a motivator by extending them an hour or two of volunteer time each week or once a month.
This may come in the form of having your IT person debug a system or perform software updates. Having your accountant provide counsel on annual tax filings. Or your HR person reviewing benefit packages or your marketing specialist giving a free seminar on digital marketing.
EVENTS STILL WORK
If you want to go bigger, host a special shopping or dining event for loyal clients to help spread community involvement and awareness. This can be in the form of a pop-up store, Facebook Live event, or designating a special item where a portion of the proceeds go to a local non-profit. As popular as these charitable events are during the holidays, it's just as noble to host them throughout the year.
If none of these ideas work, again volunteer your space as a drop-off location for collections of things like food, clothing, or old computers for recycling. Or, your business can create a box of essentials to hand out to families in need that fall on hard times throughout the year or in the event of a natural disaster.
OFFER TO MENTOR
This is a great option if you've been running a successful business for a while. Startups and non-profits stand to learn a lot from you. And you may learn something from them in the process. Plus, new businesses can present opportunities for future partnerships or a new venture.
If you can't handle the commitment consider teaming up with another business to help one or two local organizations. Bring the idea to your next chamber or downtown association meeting to see what can work in your community. Lastly, you can create your own version of a "business vision kit" that includes clear direction for growth, a sample marketing plan, or general start-up documents. You can also schedule an in-person event to gather your peers together to design a co-op kit of business essentials.
HOST A SCHOOL FIELD TRIP
Show and tell is always fun, regardless of age. Even insurance can be exciting to school kids—any excuse to get out of the classroom is an opportunity for fun. Not only does showing the local kids what your business does creates engagement in the community, it also demonstrates that you intend to be in the community for the long haul. Plus, it can be a low-cost field trip option for cash-strapped school districts.
LEAVE A LEGACY – START A SCHOLARSHIP
If you've adopted the highway or built the concession stand for the local baseball league, you may want to consider helping local students. Opportunities range from paying for a student's lodging or books, to sponsoring a full scholarship to a local university or community college. Try to design a scholarship that relates to your business. Own a home repair business? Sponsor a scholarship for a local trade school. A hair salon could sponsor a student to attend cosmetology school. Speak with your financial advisor on how to get started.