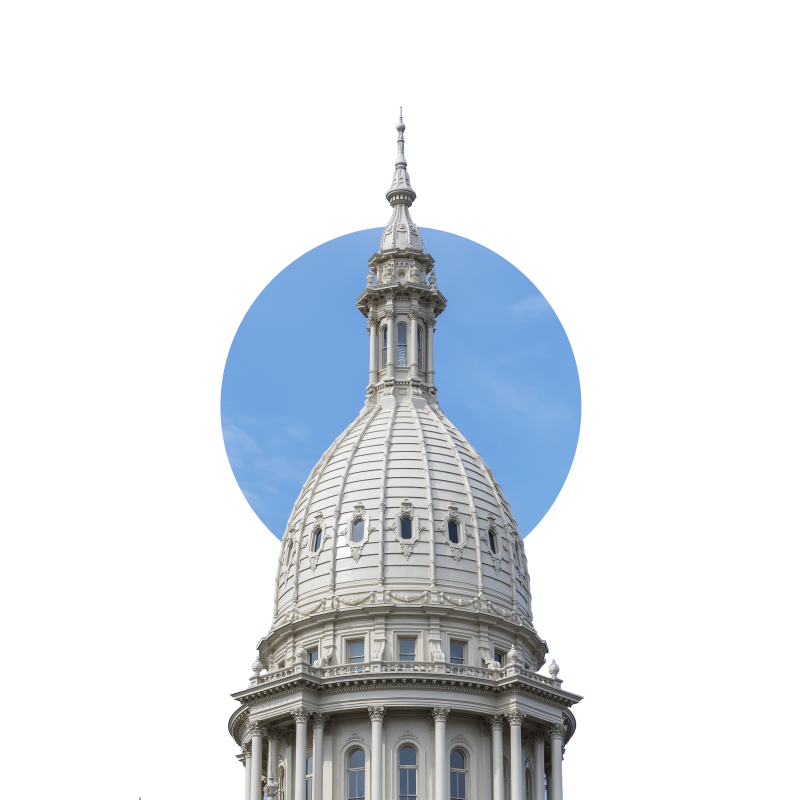 Regulations Affecting Your Business

State set to repeal Right-to-Work law
By the time you read this, it's anticipated that Gov. Whitmer will have signed legislation repealing Michigan's 2012 Right-to- Work law. Once it takes effect, private sector labor unions will be able to require all workers they represent to pay full union membership dues or equivalent fees, in exchange for the benefit of having a bargaining representative. The legislation will not take effect until 90 days after the legislature adjourns for the year. Usually the legislature adjourns in December, and new laws would take effect towards the end of the following March. It's possible the legislature could adjourn early.
Discussions to propose a constitutional amendment to reinstate and protect Right-to-Work have already begun. MRA members may remember that a 2012 proposed constitutional amendment to enshrine collective bargaining rights in Michigan's constitution failed with 57% of residents
voting no.
Changes to driver's licenses/IDs will affect scanning
In the next few months, the Michigan Department of State will begin issuing new Michigan driver's licenses and ID cards without
the magnetic stripe on the back. Cards with the stripe will be completely phased out in early 2028. All Michigan driver's licenses and ID cards will
continue to display a PDF417 generated 2D barcode on the back of the card, which can be scanned using most card reader technology. It may be necessary to update the data mapping of your barcode readers to accommodate the new barcodes format.
If your business scans drivers licenses using the magnetic stripe, you'll want to update your card reader technology to avoid having to manually enter a Michigan license or ID number into the point-of-sale or information system. Until cards are completely phased out, systems will need to be able to handle reading both the new cards and current barcodes. The state has a Barcode Data Calibration sheet that can be provided to software vendors to upgrade or assist with changes.
Expansion of Civil Rights Act to Protect LGBTQ+ Residents Against Discrimination
On March 16, Gov. Whitmer signed SB 4 into law as Public Act 6 of 2023. It will take effect 90 days after the legislature adjourns for the year. The new law expands the Elliott-Larsen Civil Rights Act to extend civil rights protections to the LGBTQ community. The expansion prohibits discrimination based on sexual orientation, gender, or identity or expression in employment, public accommodations and public services, educational facilities, housing and real estate.
The law change codifies a July 2022 Michigan Supreme Court Ruling in Rouch World LLC et al. v Michigan Department of Civil Rights et al. The case was brought by businesses that denied services to customers who were either a same-sex couple or an individual who was transitioning their gender identity. The court found "Discrimination on the basis of sexual orientation necessarily constitutes discrimination because of sex."
WIC is accepting public comments through April 30
The Michigan WIC Public Comment Period is open from March 1 through April 30, 2023. This period provides an opportunity for the public, including WIC Vendors and participants, to formally comment on any aspect of the WIC Program. The WIC Division will then use this feedback to consider policy priorities and make improvements.
Please submit comments to MDHHS-WICOutreach@michigan.gov, or by mail to:
WIC Division
Michigan Department of Health & Human Services
Elliott-Larsen Building, 6th Floor Lansing, MI 48909
---
Deadlines & Reminders
May 11 – Federal Public Health Emergency for COVID-19 expires.
May 15 – Michigan Annual Report Due – Profit and Professional Service Corporations.
June 1 (on or before) – Bottle Deposit Fund Reimbursement Due – Form 2196.
Monthly reminders:
Sales & Use Tax – Monthly & EFT – On or before the 20th day of the following month.
Withholding Tax – Monthly & EFT – On or before the 20th day of the following month.
Retailer's Prepaid Wireless 911 Surcharge – Within 30 days of the close of each month. Receipt of a complete Form 5012 is required regardless of payment method.
Quarterly reminders:
Corporate Income Tax (CIT) Estimated Returns and Payments (Jan. 15, April 15, July 15, Oct. 15).
Sales & Use Tax – Quarterly & EFT – On or before the 20th day of the month following the quarter (Jan. 20, April 20, July 20, Oct. 20).
Withholding Tax – Quarterly – On or before the 20th day of the month following the quarter (Jan. 20, April 20, July 20, Oct. 20).
Unemployment Employer's Quarterly Wage/Tax Reports (Jan. 25, April 25, July 25, Oct. 25).