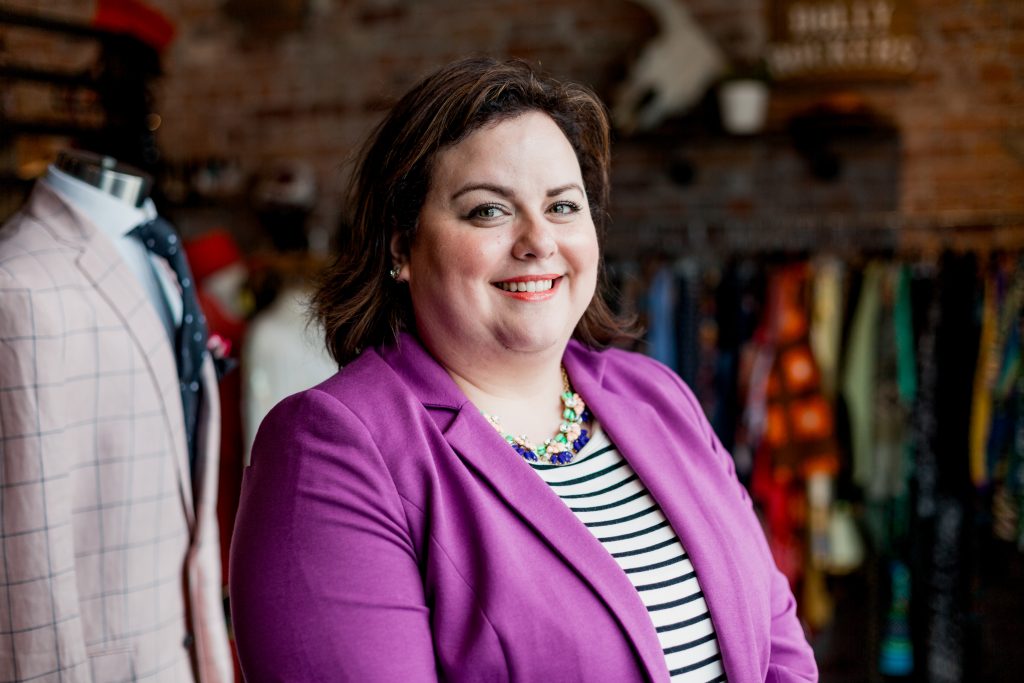 As more shoppers turn online for their shopping, Retail Reality's Sarah Donnelly gives tips about how independent retailers can continue to build a loyal customer base.
By Shandra Martinez
Behaviors changed during the pandemic, especially when it came to shopping. So the million-dollar question is: what will stick and what will revert as fears of COVID fade away?
"I don't see any of the buying habits going away for customers, meaning they want what they want, when they want it, and how they want to get it," said Sarah Donnelly, former director of retail at TechTown in Detroit and now a consultant with her business, Retail Reality, a consulting firm dedicated to supporting independent retailers seeking to remain relevant in an always-changing commerce environment. Donnelly has helped hundreds of retail entrepreneurs develop their brands, launch their locations, and grow their sales and operations.
In a world where people can get anything from anywhere, the only differentiator that retailers have is the service they provide and the experiences they offer. The 20-year retail veteran thinks the retailers that are going to transition successfully from surviving to thriving will master these five areas:
Back to basics. Clientele remains foundational. Long before there were customer relationship management systems to track frequent shoppers' data, retailers knew how to make the shopping experience feel personal by greeting people by name and remembering their preferences. If they are in your store, there is a reason. It is more productive to nurture your repeat customers, rather than spend time recruiting new ones.
Value loyalty. While the way you care for shoppers in your store is key to creating this bond, you can do the same with virtual interactions. Make it easy for customers to be loyal in the way that makes the most sense for their lifestyle by offering as many options as possible to buy things from you, whether that's via a social media link, email or phone. If a customer cannot come into the store, try offering a video chat appointment.
Embracing technology. Shoppers have embraced the efficiencies of ordering online over the past two years. While shipping can be expensive, the key is to roll the cost into the price or try a flat fee service. Another option is the now-ubiquitous hybrid model of buying online and using curbside pick-up.
Streaming events. Livestreaming sales events were one of the big retail successes during the pandemic when many retailers were forced to close their doors or limit foot traffic. Those who had already implemented Facebook live events had a leg up because their customers knew exactly where to go. Many retailers continue to have live events on the same days each week so they have their audience trained. Consider sharing a preview of things to come. If you're not sure if it's worth your time, consider this: Large conglomerates like QVC are doing livestreaming in addition to their cable channels, which shows the power of the streaming audience.
Engaging on social media. Savvy retailers are engaging with customers on social media, whether that's hosting events or answering questions, or even asking questions such as what products customers would like to see in livestreaming. Be willing to experiment. It might take some trial and error to figure out what channels work best for your customers. Once those are identified, consistency is key. Consider having a set schedule. It takes time to figure out where your customers follow you – and where the sales actually happen.
The benefit of online and social media is that you can make sales even when your store is closed or traffic is slow.
"The goal is to make your sales even if there is a snowstorm or whatever happens that shakes up the day to cause your walk-in traffic to shrink," Donnelly said. "Then you already have your book of business because you have your clientele. It's about not counting on one path for sales, but having multiple channels operating to service your customers – be it in-store, online, or livestream, just to name a few."
If you have questions for Sarah Donnelly, you can reach her at hello@retailrealitycoach.com.