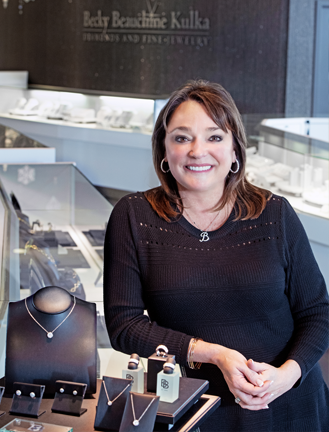 New MRA board chair talks about her retail evolution
By MEEGAN HOLLAND
As Becky Beauchine Kulka looks back on 30 years as a Michigan jeweler, she laughs at her modest beginnings, tears up over the mentors along the way and expresses gratitude for the success of her Okemos store.
She says her path was marked by "flying by the seat of my pants," starting with $5,000 and building it into a 3,000-square-foot business called Becky Beauchine Kulka Fine Diamonds and Jewelry in Meridian Township south of Okemos – also referred to as BBK, as in bbkfinejewelry.com.
It sounds like a mouthful, but ask anyone in mid-Michigan, and they can probably sing the jingle, "Becky Beauchine Kulka," heard multiple times on television for 15 years.
Retailing is never an easy path, especially if you don't come from a family of retailers. It's been 30 years marked by a marriage, three kids, a divorce, lots of networking, taking risks and a lot of business success.
Her latest achievement is her recent election as Michigan Retailers Association's board chair. Her MRA involvement started thanks to her interest in legislative advocacy and the opportunity to network with other retailers. She says she's thrilled to work with fellow board members and the MRA staff: "I have never worked with a group of people that I find more inspiring. They think so out of the box."
Kulka grew up with a Michigan State Police officer for a dad and a teacher for a mom. Her entrepreneurial spirit started to shine in high school, when she took a job at Claire's Boutique piercing ears; in college, she started work at Service Merchandise, where a store manager declared, "YOU will be the diamond girl … and I literally knew nothing about diamonds."
That was the start. She graduated from the Gemological Institute of America and decided to strike out on her own, with $5,000. At age 23, she dove into the jewelry appraisal business by buying a porta-lab, knocking on doors of insurance agents and asking them for referrals.
Two years in, a client asked if Becky could sell her a diamond. Kulka said yes, even though she had no inventory. She found a diamond vendor who took a chance on her and her retail jewelry business was launched.
Today, she has three graduate gemologists on staff, a goldsmith and membership in the American Gem Society, the arbiter of jewelry ethics. And she still tells her sales team: "If a customer asks, 'Can you…?' – the answer is always 'Yes.' And then we figure it out."
Kulka is constantly thinking about trends and how to promote them. She keeps her ear to the ground by attending shows and being active in groups like MRA.
She attended her first big vendor show in Las Vegas in 1995, when her youngest of three children had just turned three months old. "I was raising kids and running a business," she laughs.
The show was life-changing. She made connections with vendors and fellow retailers, bought a software package to design jewelry and found a photographer for her advertising. She held her own with a diamond vendor who underestimated her knowledge, and in the end, it convinced her to make the leap into selling designer jewelry.
"If you sit in your office and you don't get out to see what's happening in your industry, you're missing out," said Kulka. "I'm not about pricing wars. I want to be fair, but even more, I want to be different by offering lines that other stores aren't offering."
She also offers an experience the minute customers walk through the door. There is champagne on tap – and orange juice if you prefer a mimosa. She does everything to make customers feel comfortable.
"People can be apprehensive when they come into my store, especially men," she says. "This may be one of the biggest purchases they make in their life and they know nothing about it. They need your help. I truly believe it's our job to educate someone. We have to really help people" – even if it means recommending a less expensive piece that will be just as beautiful and serve that customer's needs.
She cites retailers that influenced her – the beauty salon employees who treated her as a seventh-grader just as wonderfully as they treated adult customers, and the baby clothing and furniture store that wrapped gifts so beautifully that she looked like a hero to the recipient. "That's what I wanted to do for my customers," Beauchine-Kulka said. "That goes a long way."
"It's all about the experience. It's 'retailtainment' now," she says, adding that she's puzzled how people could buy jewelry online. "I literally touch and feel every single piece of jewelry before I buy it. I want it to feel luxurious. We have a lifetime warranty on our jewelry so it HAS to be good quality." That includes free ring sizing, replacing diamonds up to 20 points and more, as long as the customer comes in every six months to get the ring checked. Because she's a member of Preferred Jewelers, customers can get such repairs done across a national network of jewelers.
Jewelers are in a unique position to see the highs and lows of couples and families. They may end up dealing with jewelry entangled in a broken engagement, a divorce, a disputed estate or even a marital affair. But many times, the encounters can be touching as well.
Kulka recalls ordering an engagement ring for a gentleman, whose fiancé was blind. When it was ready, he brought his girlfriend into the store. "We sat at the table and she didn't know what was about to happen. He proposed to her right then and there." She took the ring, felt every nook and cranny and said, "Oh my god, it's beautiful."
Kulka glows when she tells the stories, and says, "It just reinforces the symbolism of a ring." She feels blessed to be in the profession, and to succeed in it beyond her wildest expectations.
"My career represents my luck in life," Kulka says. "I was willing to take chances when they presented themselves, and it's always worked out."