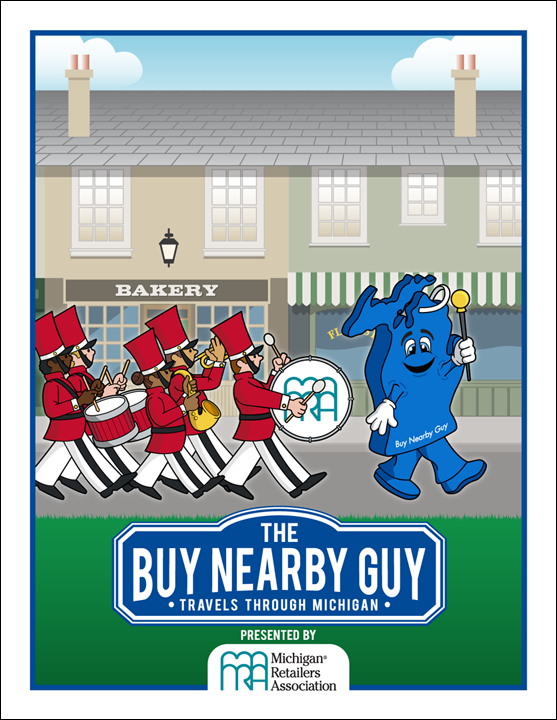 Buy Nearby Guy is out visiting parades, festivals, 5Ks and business expos, as the busy season to promote MRA's shop-local campaign kicks into high gear. And MRA is working hard to make the Buy Nearby campaign as relevant as possible to your downtowns.
This year, we've revamped the coloring book and we're offering each downtown with a Buy Nearby event a $100 gift card to give to a lucky shopper. You can order copies of the coloring book from Rachel Schrauben at rschrauben@retailers.com.
In addition, Meegan Holland, VP of communications and marketing, is giving presentations to downtowns on how to jumpstart small business in their community or how to create their own Buy Nearby shopping event.
MRA celebrates Buy Nearby Weekend on Oct. 4-6 this year, but we're telling downtowns that they should do the event whenever is convenient for them. We provide support by publicizing those events on our social media, loading up local businesses with great promotional materials like balloons and coloring books, and providing talking points to educate shoppers and the media.
The $100 gift card will be given to any downtown that uses our materials and the hashtag #buynearbymi to publicize the event and encourage shoppers to use it to enter our contest. All that participants need to do to enter to win is put up a shopping selfie or take a photo of something they've bought during the event. Using the hashtag #buynearbymi automatically enters them in the contest – and of course, each downtown can add their own hashtag!
If you want to learn more about creating your own event or boosting retail in your downtown, contact Meegan at mholland@retailers.com.